Cries of a babies, odour of phenyl (used for disinfecting the floor), bright sunlight emitting from windows, soft voice of video, muffled voice of a women speaking, was the scene at the mother's ward at the district hospital in Shivpuri district of Madhya Pradesh, in central part of India.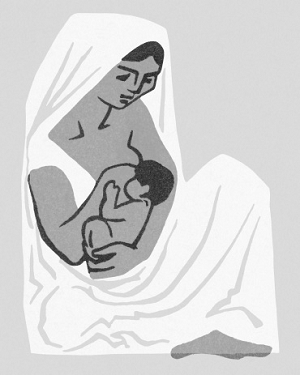 Mothers, with their new borns, born within last 48 hours were lying in the ward. 'On duty' auxiliary nurse midwife, identified by the typical green saree, part of her dress, was helping a mother to sit and learn 'kangaroo mother care', which is a practice of holding a newborn, skin-to-skin (against the mother's chest) which keep the babies warm and help babies which have low birth-weight to get the needed physiological and psychological bonding. Nurse on another bed was helping a mother to breastfeed her child, as she had problems with early initiation.
About 30 kilometers away in Kolaras community health centre has an attached nutritional rehabilitation centre, which has about 10 admitted women with their children with severe acute malnutrition. Mothers are being advised by Geeta, the feeding demonstrator on how breastfeeding and complementary feeding can help saves lives of their kids and they can fight back undernutrition. Since mothers stay here at NRC, Geeta gets a lot of time with them to explain and discuss how important is to exclusively breastfeed their child till six months of age and then on completion of six months, how to prepare and feed semi-solid nutritious food with continued breastfeeding to the child till two years of age. These are simple intervention, technically called as optimal infant and young child feeding practices. As per UNICEF they are lifesaving.
'First two years of life are most important and are forever. Evidence tells us that if child is exclusive breastfeed till six months and given age-appropriate complementary feeding on completion of six months with continued breastfeeding till two years of age, it can help reduce infant mortality. This is very important in State like Madhya Pradesh which has the highest rates of infant mortality and child undernutrition' says Aashima Garg, Nutrition Specialist with UNICEF office for Madhya Pradesh.
Madhya Pradesh state has infant mortality rates of 62 per 1000 live births, meaning that out of every 1000 child born today, 62 will die before their first birthday. This is highest in India. Survey done by National Institute of Nutrition for Government of Madhya Pradesh in year 2010 reported that 52 % of its children, less then five years of age are underweight. Madhya Pradesh's indicators on optimal breastfeeding practices are also alarming with only 43% infants are reported to have initiated breastfeeding within one hour of birth and just a third (31%) of the infants aged 6-35 months were exclusively breastfed till 6 months of age as per District level household survey done in year 2007-08.
The findings of recently released Annual Health Survey (2010-11) of Government of India shows promising improvement in the rates of early initiation of breastfeeding (61.5%) but only slight improvement in the rates of exclusive breast feeding (37%), which is alarming for the state.
'Need is to reach out to all 73 million people of the State with key message of "mothers' milk in the first six months of life makes children healthier and saves their life" Aashima Garg adds.
First week of August is globally marked as World Breastfeeding Week, bringing in attention to the issue and call on States, civil society organization, and media to propagate the message, which is simple and can help save lives of new borns and infants.
Madhya Pradesh's Department of Women and Child Development in partnership with Health Department and UNICEF is marking a 37 day special campaign. It starts on August 1, 2012 and will continue till National Nutrition week which is marked in September. The campaign will have various activities to be undertaken at village, district, division and state level including contests like drawing, illustrations, slogan writing, quiz proactively using various media channels like print, radio and TV to create awareness on the theme, using sms drive, folk programs at rural areas, Youth groups like National Service Scheme will be undertaking activity based quizzes, contests to propagate message among youth, the future parents.