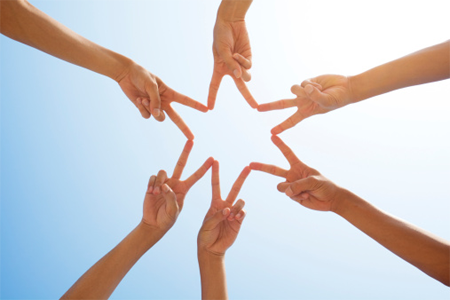 Happy Friendship Day
It is Friendship Day today. Imagine a world without war. Imagine good relation and friendship among all the nations. Would it not be another paradise. Every home will be sweet. Our society will be a 'satsangh'.
It is a day to remind all of us the significance of friends in our lives. Friendship serves as the roots of the tree that we call life. It nourishes and sustains good life. It is also the foundation on which all other emotions like love, fellowship, happiness and success are built up. Life without friends is unimaginable. Friendship is the icing on cake of all the relations with parents, brothers and sisters, teachers, team mates and fellow human beings, even extending to animal words, for example the lion's kindness to Androcleus.
Many of our friends have posted excellent quotes on friendship by Rumi, Osho, Einstein and other thinkers and philosophers. 'A friend in need is a friend indeed' is one such quote that is on every body's tongue. The story of the bear and two friends is known to all of us. Indian epics like the Mahabharata and the Ramayana have illustrated highest form of friendship.
Stories of Sudama and Lord Krishna, Arjuna and Lord Krishna, Karna and Duryodhan from the Mahabharata, and Hanuman and Lord Rama from the Ramayana form the core of Indian sensibility on friendship. Across the world there are numerous such great stories. Chanakya, the third century BC economist and philosophers, has succinctly put a friend as one who gives company in happy and troubled times, in famine, war, at the royal court as well as in the cremation ground:
Aature vyasane prapte durbhikshe shatrusankate
Rajdware Shmashane cha yah tistati sah bandhavah
There is no demand in friendship, no fault finding and no reprimanding. Friendship works at right wavelengths. Friends converse in silence. Long dialogues are delivered by a mild smile. Friendship works at physical, mental and intellectual levels. It is a sublime state of two or more minds. It is always positive, always constructive and always for the good of everybody. Friendship is noble and peaceful.
On this day dedicated to friendship let us wish each other well and make its foundation stronger and stronger. 'Jo tera hai woh mera, jo mera hai woh tera' (What is yours is mine, what is mine is yours) is the great slogan of the day. Happy Friendship Day to all!