I Salute Manipur!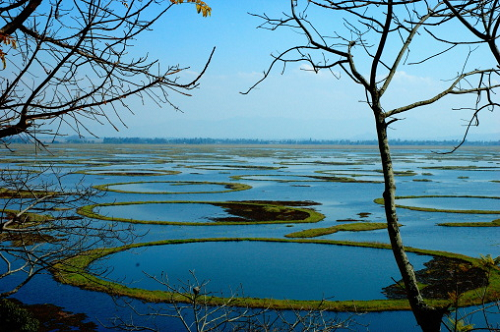 Loktak Lake, Manipur

North East India its people rightly feel is always in the news for the 'wrong' reasons. Portrayed as a region beset with ills and violence armchair academics only discuss issues of ethnicity. I have hardly come across analyses which go to the bare causes, its history and multiplicity of creative voices. Surely one Ratan Thiyam is not enough.

Some years back when I was trying to put together a course on North East Indian literature, a colleague callously remarked that there were no scholars worth the name in North East India in that discipline or area. I was shocked beyond words.

One of the finest creative writing in English today is produced in North East India, or by writers from this part of our country and also, who are based somewhere else, even the diaspora. And this is true for both poetry and prose. In the 80s and 90s it was fashionable for publishers to publish sociological discourses on North East India to sell, it was and still is the paradise for archives and librarians. And, the same is true for its literature, the theme often discussed is violence, forgetting its pure aesthetics, an inimitable use of material which is folklorist, mythic and legendary.

This is just an introduction. Even as I write this, Mary Kom has assured herself of a medal in the London Olympics. That is my subject matter, and a little vicariously, the state of Manipur, from where she hails. This state is almost written off for its violence, corruption (as if other states of the country do not possess them), but the suffering of its people for over the last three decades, the interminable AFSPA, the tragedy of the civilians in both the valley and the hills, caught between the state militarism and militancy, the pangs of suffering of a lion hearted woman fighting for her rights, to be more precise fasting for these rights over the last eleven years, are things which are to be pooh poohed. Yet over the last many years the state has emerged as the number one or two in the field of sports. Every time I go there I wonder how these smiling faces, wrought with so many wounds, can even smile.

It is no wonder that the a journalist of passion and deep sentience, Sudeep Chakravarti could write such a book half of its story focusing on the tragedy of Manipur.

The positivity of this state, its excellence in sports, literature and the arts are never highlighted. The national media does not focus on these grand positives highlighting only acrimony and dichotomy, such as the valley, hill divide, clamouring about the road blockades which are caused by devious political reasons, and because of which the common man suffers - food, medicines,essential commodities, are all stalled entry. Yet in the midst of all the bedlam of chaos, workshops and seminars are held by highly motivated academics.

I know of a person from the hills of Manipur ceaselessly campaigning for peace and a better environment, in the society, in schools and colleges. But who has heard of Leban Serto? He is a passionate advocate of an unified state. For once the media must speak about commonalities, not differences. And Mary Kom has always been brilliant. This lady has won the world championship five times.

In the beginning of July I had gone to Manipur to attend a seminar on Literature. A wonderful seminar, brilliant researchers who presented their findings were its hallmarks. I could only marvel at the resilience of the people, the organizers who went about their chores smilingly. But at the back of my mind was that disturbing thought, which troubled my inner self, prodded at my conscience: how they suffer, yet look at their charming spirit, their bonhomie, their adherence to their tradition and cultural roots, typified by charming attires.

In Manipur we find the never say die spirit. I salute it. I cannot prolong this essay, compressed thoughts such as these measured with acuity of feelings can only be marked with brevity. But they should be spoken out loud!


Image (c) Gettyimages.com

06-Aug-2012
More by : Ananya S Guha
---