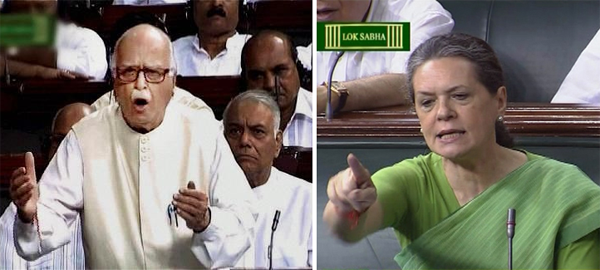 Congress circles alerted a section of the media that Mrs. Sonia Gandhi would be "aggressive" after Mr. LK Advani made a faux pas in parliament one day before it actually happened. Either the Congress leaders were stupendous astrologers or the drama in parliament was pre-planned. Satisfied that a section of the media had indeed been alerted beforehand, I am of course convinced that the drama in parliament was stage managed. Watching the proceedings on TV reinforced my view.

Without hurting the feelings of Mr. Advani, who is an ardent movie fan, I will have to say that I would award the Oscar to Mrs. Gandhi. Her gesticulation and repetition of the words, "Withdraw! Just one word! Withdraw it!" displayed the best of the Method School of acting even as TV cameras remained focused on her.
However, thespian thoughts apart, what did the soap opera enacted in parliament signify? The first tentative dance steps of the tango between Mr. Advani and Mrs. Gandhi have been taken, but what will follow?

The tango is a complicated dance and quite often beginners trip and fall down. But to understand how the dance is intended to proceed we must read the script of the soap opera being staged. For that attention must be directed to the recent controversial views expressed on Mr. Advani's blog. Mr. Advani has opined that in the next general election neither the Congress nor BJP might acquire sufficient strength to put up their candidate for Prime Minister. He saw the possibility of a third party Prime Minister backed by either of the two parties heading an unstable government that would not last.
Mr. Advani's blog created controversy and invited fierce criticism. He was accused of demoralizing his own party before the election. I do believe that Mr. Advani has been misunderstood. He was not demoralizing his own party but warning the Congress. He was saying that if the present drift continues both national parties would be marginalized to plunge the nation into chaos. And it would appear that he said this with the tacit approval of not only Mrs. Sonia Gandhi but also the big business corporate lobby that desperately seeks more decisive governance in order to pull the economy out of stagnation.

The logical conclusion that follows is that a Congress-BJP alliance is the only quick-fix option to restore stability and a semblance of governance. Neither party could be held hostage to blackmail by smaller regional parties. But to achieve this difficult goal adverse opinion in both parties would have to be overcome. That is what it seems Mr. Advani and Mrs. Gandhi might have been attempting. The ice must be broken for a substantive dialogue. Mr. Advani's earlier written apology to Mrs. Gandhi over her alleged foreign bank account did not deliver results.
A Congress-BJP alliance makes political sense.

On March 9, 2012 I had pointed out:
"There is no serious division between the Congress and BJP regards foreign or economic policies. The combined strength of both parties in parliament would make the emergent government stable and impervious to pressure by its current regional allies. At the present critical time facing the nation the government could function more decisively till it completes its term in 2014."
If a Congress-BJP alliance were to emerge there would be of course considerable resentment in sections of the Sangh Parivar as well as among the regional parties both of the NDA and the UPA. One suspects that some inkling of this move has spread among politicians. Note the sudden clarification provided by Mr. Nitish Kumar. He has said that while he opposes Mr. Narendra Modi's candidature as Prime Minister he will not be an aspirant himself. He further stressed that only a BJP leader should be the Prime Minister of an NDA government. He said that he had an individual in mind but he would not disclose his name. It would not surprise if the RSS had shared some thoughts with him.

I have a clear idea about Mr. Nitish Kumar's BJP candidate for Prime Minister but I too would not like to disclose his name. It is heartening that Mr. Nitish Kumar after voting for Mr. Pranab Mukherjee as President has returned to his moorings like the proverbial prodigal son. The prospect of creating a new alternative from among the regional parties to unseat a Congress-BJP alliance at the centre would appear quite daunting.
However, if the Congress-BJP alliance were to emerge at this critical time it would be the best thing for the nation. A Congress-BJP alliance would create a bad government. That would considerably improve the present situation in which we have no government. Most important, once the space for an alternative occupied by a phony opposition party like the BJP is vacated, a genuine alternative might emerge to fill the vacuum.

Read the next sequal: And Now, Congress-BJP Tango?