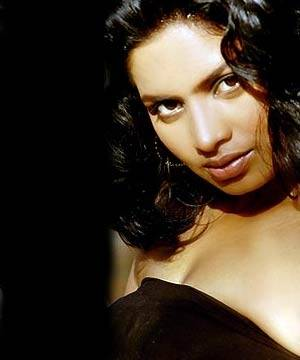 Seema Azmi is the golden girl of the silver screen. Her outstanding achievement in the dazzling world of fame did not affect her spontaneity. She is creating waves in Bollywood and national theatre. The silver screen experiences made her more close to man and society. With the training in National School of Drama, she is never tired of enriching her acting career with an unusual zest for life .
Remember Rani of Chak de India? Yes, nobody can forget her impressive role in that film. She was Seema Azmi, an actress with outstanding talent and perseverance, the girl who had dream in her eyes to remain in the heart of the viewers an actress rather than a star and to do the acting sincerely and with devotion, after passing out from the prestigious National School of Drama. To be an actor you have to be a child –wrote Paul Newman. Seema even after her success as an actress did not lose the feel of a child in spite of all the maturity and experience. That is the great thing about her. Since her debut in Chak de India, she is engaging the cinema goers with each and every appearance of hers in a number of films, tele films, tv serials and dramas.

For an actress to be a success, she must have the face of Venus, the brains of Minerva, the grace of Terpsichore, the memory of Macaulay, and the figure of Juno and hide of a rhinoceros. Seema Azmi might be lacking in many of these qualities but her innocent rather than enticing smile, appealing eyes and a cute figure have all the irresistible charms for her fans. But more than her physical potentials, she wins the heart of her fans by being spontaneous in her acting oeuvre and yet she is humble in her self assessment without the least ego which we usually do not find in a successful actress of her stature. She always wanted to do something which might give her an identity as an individual who has to do things also for others. She did not want to die just like a rank and file, as she believes that one should not only live selfishly for oneself. So acting is a commitment for her rather than as a mere profession for making money, and she wanted to commit herself wholly to acting or to something related to the creative field. Today, it is not surprising that Seema is creating ripples simultaneously in Bollywood and in the national theatre.

Being originally from Azamgarh, she uses her surname as Azmi. Her father was in the Railways and was posted in Guwahati and that time she was born. Then her father got transfer to Delhi .She did her graduation from Delhi and studied in the National School of Drama. Seema had come into the focus after playing in a number of films, short & tele films and a number of serials in these few years of her acting career. She played a major role in The Exotic Marigold Hotel directed by John Madden. Seema played important roles in Saas Bahu aur Sensex a film by Warner Bros Pictures and in Deepa Mehta's Water. There are a number of telefilms Mithun, Dand for DDI by Rajeev Raj and Unn Hazaaro Ke Naame directed by Sidharth Sen Gupta in all of which she played either lead or major roles. Viewers see her in a number of TV serials such as Dwarikadhish by Sagar Pictures, Rishta.com, Seven by YRF TV directed by Sidharth Anand Kumar, Upanishad Ganga directed by Dr. Chander Prakash Driwedi, Aap Ki Antra directed by Sanjay Soorkar, Savdhan India on Life Ok. She has performed in the acclaimed play of Girish Karnad 'Wedding Album' under the direction of Lillette Dubey and the play has been performed in various states of America, and in London, Muscat, Dubai, Singapore, Bangkok, Lahore apart from various places across India. The films about to release with Seema Azmi in the major or lead roles are Mohall Assi by Dr.Chander Prakash Driwedi, 3 Mega Pixel by Divakar Ghadake and Bumper Draw by Rashid Khan. Her major role in Dr. Chander Prakash Driwedi's Mohall Assi will amuse the viewers. She will be going to do another film in lead role in Raambhajanwa Zindabaad.

But still Seema Azmi would like to introduce herself as a trained actor from the prestigious 'National School of Drama' and this actress is now creating waves in Bollywood and the national theatre. Asked what she looks for when selecting a character when her roles in all the movies are varied, Seema smiled and replied, "I always try to take a role which gives me a challenge to do something different each time and show my range." The professional training from NSD gave her the specialization in acting, a broader understanding about it and also a skill required for prospering in the field. But at the same time she learns why it is necessary to become a perfect human being. Training from an institute is essential before coming to acting. Asked if the institutional training affects her spontaneity, Seema says it enhanced her naturalness " Now I am much spontaneous than before. Only training gives you to sustain spontaneity till the film shots get ok or in ever performance…. You get better and better in every show or take."

What does Seema feel about Mahesh Dattani's Sara? She says that Sara is her dream project. Unfortunately she has not done many shows because of some technical reasons, but she will come shortly with more shows. It's a very challenging play for an actor because it's a solo performance and it's a real life character who has gone through all the ups and down in her entire life. And to represent that character on stage live and justify her big responsibility and simultaneously to keep the audience entertained for that one needs to have courage. She is very thankful to her writer Mr Shahid Anwar who has given her the chance to do this play and to her director Mr Mahesh Dattani, the Sahitya Akademi winning writer who believes in her potentials and capabilities to portray the character of Sara.

Most of her three films are quite women-oriented. Only in Chak De and Bumper Draw she played in a different type of film. Seema explains: "All my films which I have done were subject oriented rather than women oriented whether its 'Water', Chak de India', 'Saas Bahu aur Sensex', 'The Best Exotica Marigold Hotel'. Seema always wanted to do good films, and it means a meaningful subject with entrainment value. Seema is getting the right offers but in a very less number but she is quite positive and says that once people see her in a good or challenging role they will be definitely going to cast her for the film.

We all know the Bollywood scene is always filled with parties and get-togethers. Is Seema a social person or does she stays away from the glitz and glamour of the industry? Seema smiled from the other end of the telephone and said : "I am not a very social person, as I don't go for parties and all but I would like to meet people one to one or on social site, that way I am quite comfortable."Asked if simple life and family values contradict with your role in the industries, Seema unhesitatingly said: "No not at all. I don't mix my personal life and my professional life together both are very different from each other's and I value both equally."
Her favorite actors are Tom Hank, Robert de Nioro, Jack Nicolson, Nasiruddin Shah ,and actresses are Julia Robert, Goldberg, Smita Patil, Rekha and Vidya Balan. Three actors with whom she would like to play the role of heroine are Aamir Khan, and Irffan khan and Prabhu Deva. Every great actor has main source of inspiration. Seema frankly says "My situation and my condition are my inspiration for my work and people around me those who support me and those who don't support me." She is reluctant to tell the names of favorite directors whom she would like to work with but she is eager to work with all new talented directors and directors who think she is good for their particular films in some lead roles or challenging characters.

Life is a stage and we are all actors and actresses. Seema never forgets this fact of the stage and films. She knows how to strike equilibrium between life and films. The silver screen makes her life golden with varied experiences about man and society. This is her outstanding achievement which very few can have in the dazzling world of cinematic glitter. Seema knows that the fame of an actor is won in years , but it may be lost in minutes and seconds.