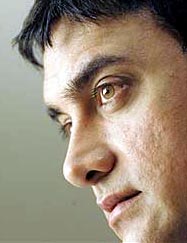 He was in Spain, attending a friend's wedding and participating in the Imagine India film festival, when Fanaa's producer Aditya Chopra and director Kunal Kohli informed Aamir Khan about the ban imposed on his latest release by cinema associations in Gujarat, allegedly under pressure from the BJP. The BJP Yuva Morcha has been demanding that Aamir apologize to the people of Gujarat for his "anti-Gujarat" stand in support of the Narmada Bachao Andolan (NBA) and his "anti-Narendra Modi" remarks. Calm, a little philosophical, but resolute, the star told in an interview on telephone from Madrid that he has no regrets about his stance, and that he won't say sorry. Excerpts:
Did you anticipate the stalling of Fanaa?
Earlier, when I decided to support the NBA, the BJP stopped the screening of Rang De Basanti in Gujarat and forcibly took it off the screens. So certainly, there were chances that they might do so with Fanaa.

They are opposing your stand as anti-Gujarat, anti-development...
I'm doing what I feel is right. I did what I felt was right. I stand by it. My concern was for the rehabilitation of the farmers and the adivasis who would be deprived of their homes. What's wrong with voicing this concern? Is the BJP trying to say it is not for rehabilitation, that no compensation should be given to a farmer who stands to lose his land?

Media reports say the protest has also been prompted by certain remarks you made against Narendra Modi...
For a few hours that he went on fast, I had said that when he breaks his fast and puts food in his mouth he should remember that the food has been grown by farmers. If that truth is difficult to swallow, if it's reason for them to come on so strong and powerful, then so be it.

Last year, I also spoke about the Gujarat genocide on the programme Walk the Talk on NDTV. I had said that people killed in Godhra and its aftermath were not Hindus or Muslims for me. They were Indians, and whoever was responsible for the carnage was anti-Indian and anti-national. If that was the reason for this (ban), so be it.

How does it affect the film and you as a star?
The losses would be above Rs 5 crore. But that's a separate issue. I'm not thinking about how it would affect me as a star. The issue here is of the concept of democracy. If the people of Gujarat are annoyed with me, they have the choice not to go to the theatre, not to see my film, not to support me. But it's wrong for any organization to use its might to force them into it.

A lot of time, money and effort have gone into a film and then the audience doesn't get to watch it...
It's unfortunate. People do find ways to watch a film if they want to, but there would still be huge financial losses. And, what about people losing their land and houses? I think that's a far bigger, deeper issue.

What action do you plan to take now?
In life, nothing is in our control. The maximum we can do is to do what we believe is right. I strongly believe that each one of us has to fulfill our karma, to do what he or she feels is right. The BJP should do what it feels is right, the people of Gujarat and India should do what they feel is right.

There are many avenues I could take recourse to. There is the legal option, I could seek help from the film industry and the various film associations, but on this issue I want the people to decide. The people should decide if this is the kind of political party they want. It's an indication of how the BJP can use violence and force. Not just can ' they are doing it and intend to keep doing it. The BJP is a political party that has time and again believed in using brute force. They have no value for human life. The BJP is a strong entity. It can do much worse than what it has already been doing.

Would you have a dialogue with the protesters?
Why should we? It should be their decision, not ours.

Would you apologize?
What should I apologize for? What wrong have I done? I am happy and proud of what I did.