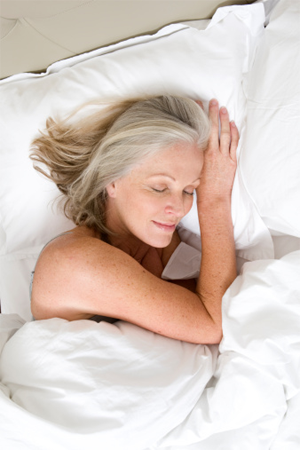 Sweet sleep everybody loves it, wants it, but then those who do not have it, only know how painful it is. Yearning for good sleep is not going to get you sleep, until you treat the cause of your insomnia. It may be mental, physical, and can be even due to wrong diet-regimen and conduct.
Ways to get good sound sleep
and get recharged positively -
Have a easy to digest light dinner atleast 90 minutes before your sleep time. Remember not to take coffee-tea or even too much of water after evening time. Rather drink sweet self-cooled milk. After dinner walk a little, listen to soft music and if needed do only light work. Avoid exposure to strong lights, as constant computer work or watching TV. Just, before going to the bed, go to toilet then have a light splash or at least wash off your hands-legs and face, gently rub them and wear light clothes. Get the bed ready with fresh clean bed-sheet, you can also get sweet fragrance or fresh flowers by your side, shut off the sounds, have only dim white light or none. And then finally sit on the bed calmly. Try out relaxing meditation; forget off the sorrows and stresses of life. Do forgive those who have hurt you. Get pleasant, recall your happy moments. Chant a prayer - "Om" or any of the positive energy and lie straight in bed, straightening your body and treating mind as if this is the last night with a new life to follow. Closen your eyes as the sleep kisses you.*
Conditions Applied

Have nutritious food. Avoid junk-foods in your diet and practice proper routine throughout the day. Also, to note, it's very important to have a nice relation with all we meet in day, so that we have nothing to grieve at night. Yes, you can write down all experience of the in diary, as a signature of the day and shut it off, before going for this precious event. Talking to loved ones and your inner voice is courtesy. Remember, the man who is always courteous, enjoys all court !
So, dear, have a nice sleep! Sweet dreams!
Shhh !! ---Shhh !! ---Shh !!
Still missing it? Then you may have some related ailment or are too stressed of, just come to Ayurveda.
It will help you diagnosing the vitiating dosha (body force/energy) and your type of sleep disorder, since each one is special, definite measures to suit you are prescribed. From simple medicinal remedies to sodhana chikitsa like shiro-dhara there are ample of scopes that proves of immense help.
Some handy tips to re-assure
Massaging body with luke warm oil is a relaxant. At night-time you can rub a little oil over your scalp and feet.




Drinking sweet self cooled milk with a pinch of pippali powder or honey refreshes.



If you are suffering with hypertension Ayurveda herbs like sarpagandha, tagar can help you. For mental stress sankhapushpi, brahmi and proper thinking are calm guard. If it is the respiratory distress or abdominal discomfort or joint pain preventing you from sweet sleep, then too there are definite ways. You can speak to your doctor, he is there to help you. Ayurveda is there for all.
And yes, dear whatsoever, do not fall addict to sedatives, drugs or alcohol to achieve this free birth-right…Sleep is exclusively free.
So, Sleep well, and recharge up for the self-awakening – True freedom!