Adieu! V.V.S. Laxman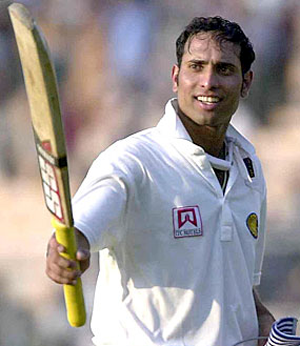 VVS Laxman never spit chewing gums on the cricket ground but he turned down the opportunity to play International Cricket in his hometown by dramatically announcing his retirement from International cricket with immediate effect. The whole country is now taken aback when the glorious 16 year career marked by several innings of extreme grace came to an unexpected end with the 37-year old VVS Laxman made his sixer of immediate retirement.

As the hero in a Greek tragedy faces catastrophe after the denouement, so does go out V.V.S. Laxman, the veteran of 134 tests who played for India without any personal aspirations to fulfill. All passions are now spent and calm of mind seems to prevail in spite of controversies all around. Laxman is unselfish and has contributed immensely when the team wants him. Test cricket would be boring without this great team player who always kept his country's success and need ahead of his personal aspirations. He played with great deal of pride for his country. But the reward given by the ICCI selectors might have hurt him and his thousands of cricket fans who were mesmerized by his art of playing for India are simply astonished.

At the time of announcement of his retirement, he was dressed in a sharp formal suit with his wife listening to him with moistened eyes. But Laxman looked confident and serene. He was to play for the Indian squad for the home series against New Zealand starting next week although in his opinion it was the right time to give the youngsters a chance in home conditions ahead of international assignments coming up next year. It was a tough decision to take, something similar that happened to Dravid and Ganguly. Saurav Ganguly who was nearly heckled by the Indian Cricket Board and the Selection Committee that time now took sides with Laxman who, however, tried to save their face and justified his retirement by saying that he had listened to his inner conscience for taking his decision.

The inner story seemed to be a different one from that meets the face. Chairman of selectors, Krishnamachari Srikkanth, who will retire next month, is now being focused for his foul role in Laxman's retirement although outwardly the Chairman praised Laxman for his great contribution to International cricket on behalf of India. Saurav and Rahul Dravid had to go earlier. All of them won many matches for the country and all these cricketers too had to go before their time. In Saurav Ganguly's opinion, the selectors' judgement has hurt Laxman the most.

Srikkanth's selection policy would be detrimental to Indian cricket's progress. By mere balancing, the Indian team cannot perform well. Srikkanth did not have the communication skills to deal with seniors. Probably Laxman was compelled to agree that the Newzealand series would be his farewell series. So the announcement comes so unexpectedly.

Laxman represented India in 134 Tests, scoring 8781 runs at 45.97. He made his debut against South Africa in the home series in 1996 but shot to the limelight with a knock of 167 against Australia in Sydney in 2000. Perhaps his greatest achievement was his 281 at Eden Gardens in Kolkata in 2001, against Australia, then the highest score by an Indian batsman in Tests. Part of a record stand with Rahul Dravid, it set up a stunning victory for the home team after following on and ended Australia's consecutive 16-match winning streak. Laxman last played an ODI in 2006 but had, by then, become a regular in the Test side and played his 100th Test in 2008, against Australia in Nagpur. Laxman made six of his 17 Test centuries against Australia, with an average of 49.67 in 29 Tests and success both home and away.

Adieu Laxman ! Srikkanth drew the laxmanrekha for you and you did not want to go beyond it.
19-Aug-2012
More by : Dr. Ratan Bhattacharjee
---