The Rise and Rise of Manmohan Singh
In my stars I am above thee;
but be not afraid of greatness:
some are born great,
some achieve greatness,
and some have greatness thrust upon 'em.
- Malvolio in Shakespeare's Twelfth Night
In the fabled royal durbars of Delhi, rulers come and rulers go, but the courtiers stay on. That's because they're supposed to be nimble-footed, know when and how to shift their loyalty to the powers-that-be and, above all, never fail to give the advice the ruler of the day wants to hear. In our checkered medieval history when rulers changed fairly frequently, the art of shifting loyalty was assiduously cultivated by the courtiers.
The past master in that craft was Amir Khusro, his considerable literary achievements notwithstanding.
In 1260, Khusro arrived in Delhi and managed to get his first job in the court of Mamluk Sutans. Thereafter, there was no looking back. He continued as a courtier during the reigns of one Mamluk ruler after another.

In 1290, defeating the last Mamluk ruler, Jalaluddin Feroz Khilji usurped the coveted throne of Delhi. Khusro, as a clever courtier, swiftly hitched his loyalty to Khilji rulers. It goes to the credit of Khusro that amidst political somersaults he vigorously maintained his literary pursuits.

In 1295, Alauddin Khilji did what was common among rulers of the time i.e. kill the ruler and capture power. So, when his uncle, the King was embracing his nephew to facilitate him on his victories, Alauddin stabbed his uncle and declared himself as the Sultan of Delhi in 1296. Khusro later accompanied Khilji in his military campaigns in 1310 as the court chronicler. This is also the time when Khusro was deeply influenced by the great Sufi saint Nizamuddin Auliya.

On the death of Alauddin in 1315, Khusro again switched his loyalty to the new king Mubarak Khilji. In 1321, in the true style of Muslim rulers Mubarak Khilji too was murdered and Ghiyath al-Din Tughluq came to power. That is the time Khusro embarked on writing his Tughluqnama.
The year 1325 is momentous indeed in medieval Indian history. Sultan Muhammad bin Tughluq came to power. Nizamuddin Auliya died, and six months later so did Khusro, the royal poet - prolific indeed, having been associated with the royal courts of more than seven rulers of the Delhi Sultanate - a man of truly memorable multi-cultural, pluralistic identity.

In Khusro's Footsteps

Manmohan Singh has many an endearing attribute in common with Hazrat Amir Khusro the legendary poet, composer, inventor, linguist, historian, scholar and, above all, as a long-enduring courtier. Like Amir Khusro, Manmohan Singh too dutifully served seven rulers before he found himself catapulted by a unique twist of events.

He served seven Prime Ministers to the very best of his abilities: Indira Gandhi (in both her incarnations, namely, before and after the Emergency), Morarji Desai, Choudhary Charan Singh, Rajiv Gandhi, V P Singh, Chandra Shekhar and then Narasimha Rao as Finance Minister.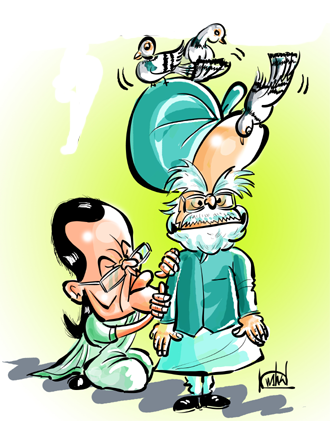 Like Amir Khusro, Manmohan Singh is a great survivor of our times. In the post-Nehruvian phase of our politics, Prime Ministers have come and gone, ideological ground shifted –or at least appears to have been - but he managed to keep himself entrenched in important positions as part of the governments core group on economic policies for good two decades. He managed – isn't 'maneuvered' more appropriate? - to work with almost every Indian Prime Minister after Nehru, as part of each government's core group on economic policies. And finally, the dimple-cheeked Dame Luck smiled on the Lame Duck. (You know whom am I referring to.)

He was, during the first phase of Indira Gandh's Prime Ministership, Economic Advisor, Ministry of Foreign Trade (1971-72), Chief Economic Advisor, Ministry of Finance (1972-76), Director, Reserve Bank of India (1976-77). The economist-cum-amateur politician was equally eager to serve Morarji Desai and—hold your breath—Choudhary Charan Singh. (Party labels didn't matter to him. His motto, like Khusro's, was: serve -well-whosoever-is-in-power.)

He was Director, Reserve Bank of India (1977-80) Secretary, Ministry of Finance, Department of Economic Affairs (1977-1980).

When Indira Gandhi bounced back to power in January 1980, he once again, as the most versatile civil servant, offered his services. He was Member Secretary, Planning Commission (1980-1982), Governor, Reserve Bank of India (1982-1984); and Member, Economic Advisory Council to the Prime Minister (1983-84).

After Rajiv Gandhi took over the reins on his mother's assassination, Manmohan Singh was again too ready to help the new Prime Minister. He was Governor, Reserve Bank of India (1984-1985), Deputy Chairman, Planning Commission (1985-1987) and Secretary General, South Commission, Geneva (1987-1989).
Great Indeed!

There isn't much doubt in my mind that the adjective great will continue to stick to Manmohan Singh's name—great time-server or Great Favourite of Dame Luck, or Great Lame Duck or Great Fiasco. This, history will decide. Meanwhile, let's see how, as the Bard said, our hero had greatness thrust on him.

In case of Manmohan Singh greatness was thrust upon his unwilling shoulders not in one fell go—as for example in case of Rajiv Gandhi - but in two instalments: first his appointment as Finance Minister by Narasimha Rao in 1991 and then as Prime Minister in 2004 when Sonia Gandhi's heeded her well-honed Catholic conscience and decided to hand over the reins of office to Manmohan Singh – politically, the most harmless and therefore (as Americans say) the most available candidate for the post.

Take, first, his appointment as Finance Minister. After Independence in 1947, India adopted and followed the Nehru's socialist policies. In the 1980s, Prime Minister Rajiv Gandhi on taking over after Indira Gandhi's assassination dared to initiate some reforms. However, in 1991, when Narasimha Rao took over the reigns after Rajiv's killing, the country had a bankrupt treasury and faced an unprecedented balance of payment crisis. That this desperate situation was the result of half a century's socialist economic policies and Rajiv Gandhi's own reckless imports to catapult India into the 21st century some two decades ahead of the calendar. (We as a nation have a knack of either lagging far behind time or forging far too ahead.) We had to mortgage 67 tons of gold to the International Monetary Fund as part of a bailout deal, and acquiesce into the economic restructuring dictated to us.

A desperate Prime Minister turned to a seasoned economist—a veteran of fourteen budgets and a reputed administrator - I G Patel, to join him as Finance Minister to bail the country out. Patel, who had just retired as Director, London School of Economics, declined Rao's offer. It was a rare gesture on part of a civil servant whose community itches to serve the country till their last breath so that the funeral too is on the State. Pressed by Rao to suggest someone else, Patel recommended Manmohan Singh. "But he is a dyed-in-the-wool Nehruvian Socialist," Rao must have asked. Patel must have assured him that the real economists are amenable to any political orientation: just give them a brief and they know how to build the case. Recovering from a bypass heart surgery, Manmohan Singh plumbed for the job when the Rao offer arrived. The rest, as they say, is history.

Again, in 2004, Sonia Gandhi having staked her claim for Prime Ministership realized instinctively that there was very deep and wide-spread popular resistance to her being accepted an head of Government. Her darling son—the apple of her eyes, as the phrase goes –was too inexperienced to be thrown in the pit. Her search for someone to hold the fort and step aside when commanded to do so, finally zeroed on Manmohan Singh who, besides being a real political light weight had built a reputation of absolute reliability. So on May 22, 2004 Manmohan Singh was sworn in as the thirteenth Prime Minister of the Republic. Indeed, a unique case of Dame Luck choosing a most unexpected dark horse.

Khusro, as you've seen, served seven kings but couldn't ever dream of ascending the throne. Manmohan Singh did. A rare feat indeed!

How would future judge him? I'll attempt my assessment in the second installment. However, I'm sure the Congress Party's own history won't be so kind to his record. Like Narasimha Rao, he is destined to end as the fall guy simply because the Queen Dowager and her family can do no wrong.

Related Article : Character of Dr. Manmohan Singh