Viewed in the context of poetry being written in India, Indian English poetry, in spite of a distinct idiolect of different practitioners, has evolved a distinct form and content of its own. At its best, it centers on a deeply personal experience of homelessness, alienation and disorientation.
The poetry of alienation, as any student of modern poetry knows, is not characteristic of Indian English poetry alone. A large part of modern poetry the world over, in Europe, America, Asia and Africa explores human loneliness under the crushing impact of the city, a poetic preoccupation that dates back to Baudelaire; the famous English critic Frank Kermode called it "The Myth of the Imperial City." However, it is the unique personal perception of the situation that constitutes the achievement of any modern poet.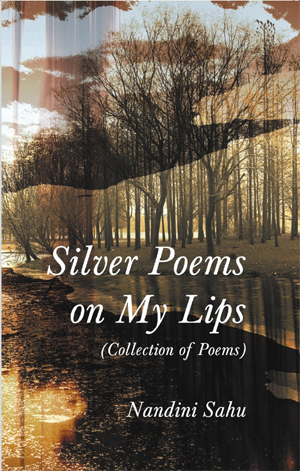 The poems of Nandini Sahu ably presented in her third collection of poetry, Silver Poems on My Lips, acquire a haunting quality because of her unique treatment and expression of the most common theme of modern poetry everywhere. Her earlier two collections poetry, The Other Voice and The Silence, had also got wide critical attention. There may be other valid ways of reading and writing poems for those who can read them in the contemporary context and co-text of present day Indian English poetry. But, in Sahu's case what strikes most is her deft handling of torment through novel images and metaphors. The sharp contrast between the poets' thematic preoccupations dealing with disruptions and discontinuities on the one hand, and metaphors imbued with collective memories of the life of Odisha and the rest of India on the other are presented by her in a poetic language.
Most of the poems in this collection are deeply evocative. Signature of an Invisible Time, Puri Beach , An Evening at Konark, That Foot are poems that make the reader ponder over Sahu's successful use of her cultural, racial and familial past. Their irony and poignancy are very haunting. Though there are several eminently readable, appreciable poems in this volume, they all add up to one single long poem which seeks to find a home in the homeless and heartless world—precisely, belongingness. The recurrent theme of the tragedies surrounding her verse is the objective-correlative of the book's thematic preoccupation. In short, Nandini Sahu, through her poems, has built a fragile but fascinating world of her own which also becomes our own because of universalization of individual experience through the deft handling of everyday metaphors:
"Time may boast that
It can uproot man.
But we are reborn
In thoughts, memory, nostalgia
When we pioneer."(Time, the Rolling Stone, p.110)
For Sahu, exile becomes death's agent in spite of sweet voice of green leaves. In the fragile world of her poetry the symbols of continuity and celebration like time, space and the 'jungle within' become metaphors of living. No spring has the memory of the previous one therefore:
"…Tighten your fist. You are enlightened to
Pick one—the coffin or a life of action."
(Who Says Death is the Only Truth? p.102)
I am sure that every reader of poetry can resonate with the world from these poems no matter what background s/he comes from. That Nandini Sahu is a born Odia is hardly important, while what matters is her sensitivity and universality as a poet in search of a unifying magic that couples dream with reality. All that is Odishan in her poetry may be poetic as every poet has a birth-place within. But in Sahu's case, it is a universal approach that moves the soul. Every poet is concerned with human relationship and man's continuity or break with nature. If Sahu's Odia background makes this quest lyrical, it is same with the tragedy of urban poetry where the loss of link is a lament. In fact, Sahu is both rural and urban, which is vividly eloquent in the poem 'My Home'. Love, unity with life, suffering, loss of identity, erosion of human values, destruction of the self, search for the eternal, celebration of living, joy of giving – all these are the recurrent themes of her poems. But the thing is that Sahu's poems are not typical saccharine-imbued love poems, they are more like the nostalgic reminiscences of love that once existed. It is by far possible for a reader to read these poems repeatedly and discover new subtleties in their reflective and poignant themes. This is a sparkling gem of a book that all poetry lovers would like to dip into again and again.
The poem Burden of Unspoken Words is concerned with the loss of identity. One can be lost in space as well as in time; we are familiar with being lost in the urban environment. Twentieth century's poetry was obsessed with it. But how would a woman conceive of being lost? And where will she search for the lost identity? The answer is obvious – in poetry. The poem 'The Dry Sands Beyond' unfolds the native landscape like a narrative of creative-myth. Sometimes the poet narrates a single, simple, everyday experience and creates a metaphor. Before the circle is complete a slight eccentric version starts another circular movement.

Sahu's poetry is subtle and reflective. As the tassels of her poems come alive with a certain strain of confessional musing, it becomes difficult for anyone to avert their gaze. Even as you read the stark, emaciated verses, you are struck by the feeling that there is an inner storywriter struggling to break out. It is not as if the poems are verbose, most of them are quite precise, it is just that in their economy of words they manage to encapsulate the feeling of a narrative soaked with emotions. Sahu writes without moralizing, but the subtle devotional stain is there, and there is also the poignant generosity of faith.
Even though most of the poems have been rendered in first person, they are pleasantly lacking in self-consciousness or artificiality. The feelings of love, of heartbreak and separation are expressed in a way that is in sync with ennui-ridden realties of life. Readers can empathize with the lines because of the feeling that through her poems, the poet is addressing them directly. These lines from the poem titled, "Spring, the Step Child" are certainly worth dwelling upon:
"Now evenings are tired.
Some swindler has abandoned the dusk.
Nights are longer than ever. Spring, my step-child
Carries life on her feeble shoulders."
Sahu divides her life between Odisha and Delhi, maybe that is the reason why many of her poems carry nuances of a cross-cultural outlook. They definitely have a postmodern feel about them, something that the emerging class of neo-liberal urban Indians can empathize with. Like in the poem "War":
"…Gitas, Qurans, Bibles
Are folded, guns encumbered.
What reminisces
is a past
that eclipses all future,
annihilates us in death.
In war. Futile war."
Nandini Sahu astutely avoids politics and its games; she prefers to speak of a woman's dilemmas. Hers is a world of women entangled in the web of relationships; a world in which they try to find alternatives to break away from the cocooned domesticity; a world in which they are out to confront their conditional socio-cultural-familial selves. "Other than putting questions to the world around, I prefer to focus the torch of enquiry inward", Sahu asserts rejecting adherence to existing trends. She is given to self-doubts and knows not how to retreat. The inner demands and social propriety stand at loggerheads and generate conflicts, and the resultant challenges tear her apart—giving birth to poetry. Sahu makes her poetry many dimensional by crowding the pages with women who have tried and failed and tried again to grapple with themselves in different contexts.
Sahu keeps experimenting with images from contemporary life, society and her desire to express universal experiences of love, separation, family relations, suffering, meaninglessness and urban chaos. At times the connections between the images are sketchy and tentative with connecting patterns of sound, rhythms and rhymes. The pursuit of the thirsty poetic soul ends with the last poem, 'Can I Start Living Now?' Sahu's ever-flowing river is in the centre. The river is wide and deep and is flowing for thousands of years. The boat is small and narrow. Those drifting with the boat are unable to cross the river. The river is also a shroud. How can you cross a shroud? The river is an illusion and the boat also is an illusion, life and death and the groping in between are illusions. Suddenly the poet turns into a rolling stone and the revelation comes in a flash. True, life may be an illusion, so may be death. But the forest that is poetry is real. And in the words of canonical poets like Nandini Sahu, we shall continue our exploration of poetry.
Silver Poems On My Lips by Dr.Nandini Sahu, Authorspress, Delhi, 2009, pp123, Rs.150