Trial
Sometimes I think, that in life there are always 'existential ' issues. When I read Kafka's 'Trial' in my younger days, I did get its genesis, that sometimes we are controlled by factors, beyond our control! Reasons or logic cannot be perhaps adduced. It just happens and we have to accept it or them, with steely cognition.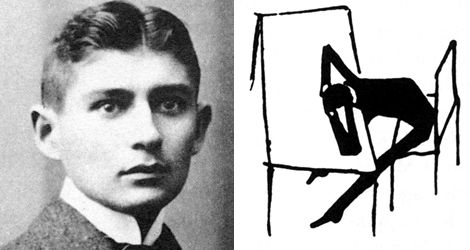 Kafka's novel set off a terrific fear in me, I felt I was in many ways a victim of such circumstances, or worse it could happen to me anytime. I was a wary, and at times a suspicious individual. The existential positing that circumstances beyond our human control, can take over was not obviously attributable to a God mandate. It was not a question of sin either, it was just a happening, a cognition of external circumstances, which could take possession of an individual, and make him fearful to the marrow of his bones. Yet, Kafka's protagonist was intrepid in his own way, and was only a passive spectator to what was happening in his life. He was summoned for a trial of which he had not any clue. But slowly as the events progressed, or regressed he was stolid and impassive.

Truly speaking that is a gory situation of life that one can experience. Yet how real was the plot, can this actually happen, does it happen. But there is an inner reality to the story, which obviously has deep workings of metaphorical levels. It was this striking metaphor that I feared, the unknown, the untenanted and the unperceived. Life's trials were not only physical, there could be a mental onslaught to a person, by apparently inimical forces, yet these forces were acting by a sense of 'duty'. The fault was not with the individual, implementing the diktat, the fault was and is with the original cosmos, the cosmic appearance of dismantling, subversive, forces whether it be the state, the police or the law. The forces are external, trauma is internal and subjective.

For years I lived with this Trial obsession and crisis. Then, I read his 'Metamorphosis' which went one step further and spoke of an individual's physical change to a degenerative insect. Again, this was a metaphorical quest, and seeking of identification with a nether, ghostly world. In a way, that novel was more subversive, it ranged from extremities of threat perception, to a rotten condition of degeneration, physical and intellectual.

The India of today is damningly threat perceived. We do not know who will kill whom, when a bomb blast may take place, when train accidents may occur, when a person can be raped etc etc. We are fearful, and we may be a victim. But the rest of the world is also not far behind. Syria, Afghanistan, Iraq, Egypt - these are all examples of depravity, made not so much by the individuals of these countries, but by external aggressors. Think of what is happening to children there, when they should be playing and studying in school. The Gaza strip is another such example of depravity, torture and insanity.

The Trial is not a quest. It happens, and will continue to happen in vicious cycles, given the bloody history of the world.


Images from Kafka's Trial

27-Aug-2012
More by : Ananya S Guha
---