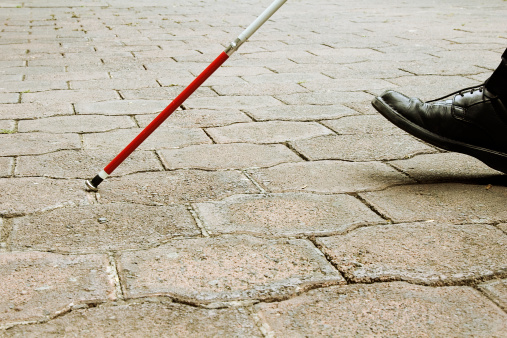 Here are some tips on how to help or assist a blind person. This can be an acquaintance or friend, but blind people often visit the same places as sighted ones. Bus-stop, railway-station, college, university, school, worship-place, work-place, mall, beach, restaurant or whatever, so it might occur you've never known any blind people but you just encounter one when you are shopping or going to a pop concert, wedding, social gathering etc. So it's always helpful to read this information.
Helping the Blind Get Around

When you meet a blind person who apparently may need your help finding his/her way, don't push or pull him/her in the direction of you assumption. Ask him/her if you can help him/her find his/her way or what he/she is looking for. Sometimes it's enough to tell the person where to go. Be specific during giving oral direction to his /her "left" or "right", not "here" or "there". "Here" and "there" are vague direction in nature. Also don't point in a direction. Totally blind person surely, can not follow your pointing direction. Sometimes you'll need to lead a blind person. It's most usual to let the blind person grab your elbow with his/her hand. So, blind people will feel your movements; such as, go down/up or taking left or right turns. But sometimes it's appreciated to warn him/her about things like steps. Never grab a blind person's cane to lead him/her. It looks embarrassing. Also, when you push a blind person like he/she is a shopping trolley, you'll probably both look embarrassing.
If you are waiting for bus on bus-stand/stop/station please guide him/her about bus number example, (85 Kurla East)
If you are on railway-station then guide about exit or, entry, bridge or subway, reading indicator / screen about train status, platform number. Also make sure blind person will not fall down on railway track.
When you are near zebra-crossing, traffic-signal or the place where many people are crossing the road. Help blind people to cross the road.
If you happens to traveling by bus or train along with blind commuter guide him/her about their desired destination.
If you see the blind person in the premises such as: college university, school, public office, help him/her to fill up the appropriate forms and applications and read notice-boards. Become his/her reader. To read study material. Write his/her exam papers.
Always leave a door or window completely open or completely closed. Half-open doors may not be felt with the cane. You can show a blind person a chair or bench on putting his/her hand on the back or arm. It's not necessary to push someone in the chair.
Conversations with Blind People

It's often polite to identify yourself when entering a room where a blind person is, and certainly when starting a conversation with him or her. Especially when the person doesn't know you very well yet, he/she may not recognize you by your voice. When you want to say something to a blind person, always talk to him/her and not to someone who's with him/her. It's not necessary to speak extra loud to a blind person; most have normal hearing and therefore will have no difficulty understanding you. When speaking to a blind or partially sighted person, look directly to them so that they can follow your voice with their eyes and face you. It's not necessary to avoid words like "look" and "see". The blind person knows what they mean and they are part of normal language. It's rather strange to say "listen television" because the sentence should be "watch television" and a blind person will know what you mean. Some blind people like to talk about their disability and some do not. It's nice to ask the person if he/she is comfortable talking about his/her blindness. When leaving the room, tell the blind person that you are going, so that the blind person won't talk to the air.
What to Remember?

When encountering a blind or visually impaired person, first think of what you should do if a sighted person was in the same situation. For example, if you don't like something a blind person does, tell him/her so. If you have questions about someone's blindness, it's better to ask the blind person about it than to for instance whisper your assumptions to a friend. Sometimes, people may not feel comfortable talking about their disability, but they'll tell you so. Never treat a blind person as if they're retard or crazy; they'll understand you if you just talk to them and act the way you would do around sighted people.
The most important to remember is: do not think that, "you only help blind persons. They also can help you in many ways - provided your heart and eyes are open to learn and accept it".

Read Also: Integration of the Blind in the era of Globalization

Image (c) Gettyimages.com