'What Young India Wants?' Chetan Bhagat, Rupa, Rs.140, pp181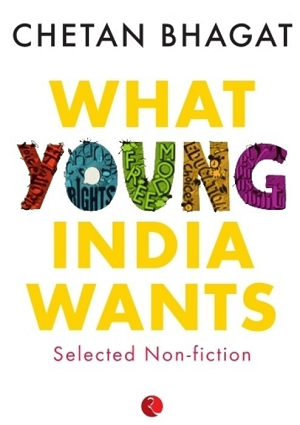 Chetan Bhagat is a much sought after author these days. He had widened his activity from fiction to analyzing facts, on vision of the country and its future. Bhagat's education took him away from India for a lucrative job abroad but his passion for writing brought him back to his India which transformed him into a full fledged author and columnist of many writings.
His selected essays and columns titled 'What Young India Wants?' is an interesting book. The most appealing facet of these essays are their brevity. Chetan Bhagat expresses what he thinks very precisely. The essays and columns are divided into subjects like 'Our Society', 'Politics', 'Our Youth', and also a couple of short stories. His preface 'My Journey' details how his life has interestingly changed from an international investment banker to an popular writer.
The problem with the media today in India is they go by name in most of the cases than identifying a new talent. Chetan Bhagat is a name which sells now like hot cakes. So every media and every institution tries to woo him to share his thoughts. Do all the essays and columns thought provoking?
Well, some of them are good but he says nothing new. He too wants a corruption free government, a pollution free atmosphere, education for all, commitment towards work and action with vision. But, every Indian, political leaders and intellectuals keep talking and writing about these but in reality there is no action. Why? Basically, every Indian is only good in preaching and not in practicing. As in a movie where a dialogue went like this: 'We all want to see a good man, but not to be a good one'.
The majority of the Indians have turned into mercenaries and youth are either hyper sensitive or hyper indifferent which lead to a chaotic society. The book of Bhagat is definitely worth reading for its sincere and engaging contents. But, whether it will bring any change at least in the minds of the youngsters? Doubtful.
Remember, even after his most popular 'Five Point Someone', and also the mammoth success of '3 Idiots' as a movie in reaching larger audience, there are still craze and scramble for engineering education, entry into IITs and suicides because of failure in academics.
Unfortunately, that is India.