How to Look Young – Tips for Men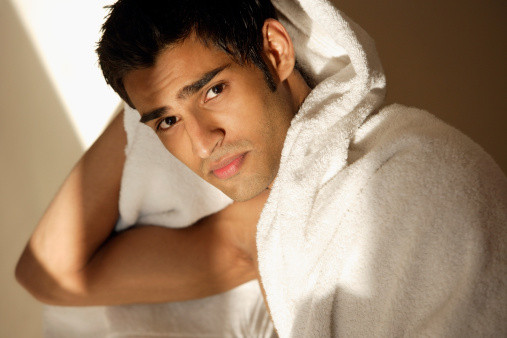 Looking young and energetic boosts confidence of man. Here are few healthy useful tips for men to look younger than age.

Lose weight. Over weight makes a person to look older than his age.

Exercise regularly. Consult qualified trainer to plan both cardio and weight training exercises to give a good shape to body.

Losing weight helps to keep the body healthy. It keeps diabetes, hypertension and other age related diseases at bay. Regular exercise detoxifies body and gives young radiant looks from inside.

Keep away from habits like smoking, alcohol, marijuana and other recreational drugs. These addictions speed up the ageing process. Eat healthy foods.

Say good bye to fast foods and soft drinks. Include lots of fresh green vegetables and fruits in diet. Weight loss, healthy diet, exercise and no addictions help men to boost their sexual life. These habits improve conditions like erectile dysfunction, premature ejaculation and low libido. Active sex life keeps men young, toned and healthy.

Drink plenty of water. Water increases moisture level of skin tissue and prevents drying and wrinkling of skin. Skin looks young and glowing when hydrated well. Keep your facial hair well groomed. Clean shave gives a good appearance. Shaving also helps to remove dead cells and facial skin looks healthy and radiant. Use after shave lotion. This helps to constrict the open pores and slows down the process of wrinkling. After shave lotion can be used even after bath.

Apply moisturizer at night. Apply more on sides of ear, forehead and sides of eyes where usually wrinkles appear as aging progresses. Regularly use a facial scrub to clean face. Scrubbing helps to remove dead cells. Apply sunscreen lotions and wear cooling glasses when you step out in sun. This helps to slow down the aging process of skin. Get a good hair cut which suits your looks.

Trimmed hair gives a very good look. Take precaution to prevent hair loss.

Stress is the main cause to speed up the ageing process. Take a break from regular routine to reduce stress levels. Get a good head massage and body massage from a qualified massage therapist. This helps to reduce stress.

Practice Yoga and Meditation. These relax body and mind.

Laughter and humor keep our body healthy. As our ancestor said "laughter is the best medicine". Laughter reduces pain and stress. It improves the flow of oxygen to the heart and brain. It helps people to feel young and enthusiastic.

Rediscover the hobbies which are left behind. Indulging oneself in hobbies like Sports, painting, music etc help to forget worries and activates mind.


Image (c) Gettyimages.com

03-Sep-2012
More by : Dr. Krishna R.S
---