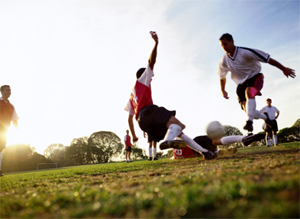 For a nation whose people love mathematical permutations it seems somewhat surprising that football is not more popular in India. Whilst cricket remains the national obsession there are nascent signs that football is beginning to attract support in areas other than West Bengal, Sikkim, Kerala and Goa.

During the last World Cup (Football that is) cities such as Kolkata were bedecked with the colours of either Argentina or Brazil, poorer districts in particular were eager were to demonstrate their allegiance. Support was passionate and furthermore intelligent, something the sporting authorities in India and beyond seemed blissfully unaware of. Such raucous, colourful and partisan support for a foreign team is viewed as rather odd and even rather boorish by some in India's sporting authorities. Yet fervent interest goes a long way to explaining the changes that are afoot at grass root level that make both the case for far greater investment in football in India as well as the sub-continent potentially beginning to make a name for itself in the world of football.

India as ever remains an enigmatic nation, one of contrasts and contradictions. A country prepared to spend astronomical sums on its military and space exploration, yet one with little desire to ensure all its' own people are properly nourished and going to school. Whilst economic progress is palpable, the world's largest democracy seems obsessed with building up financial reserves in a capricious manner rather like a farmer who amasses an immense mountain of manure in the corner of one of his fields and is loathed to spread it around.

With a burgeoning population, sport becomes ever more important not just as a leisure activity, but also as a safety value, one that enables the young in particular to let off steam in a constructive manner, especially as the vast majority are shut out from democratic process by the political elite. With schools and universities becoming ever more competitive, physical relaxation though sport is all the more important for new generations who are being placed under more and more pressure to achieve academically.

For many young Indians, especially young males, their release comes through the powerful trinity of competitive sport, Bollywood and new technology. The latter in particular has opened up new horizon that has awakened an interest in what is happening in the wider world. Ever eager to assert their own identity, some young males have discovered inspiration in the form of Football – the Beautiful Game, a sport that is truly universal and the economic and media superpower of the world of sport. What seems surprising is that normally savvy Indian investors have been incredibly slow to recognise the growth potential. Football in India still seems to be viewed as a poor man's game, and as such still suffers from insufficient investment and media attention. It is particularly sad that some of those who head up football in India seem quite content for this backwater status to continue. Cosy complacency apart, young Indians themselves are determined to assert themselves and it is in such individuals that salvation is at hand.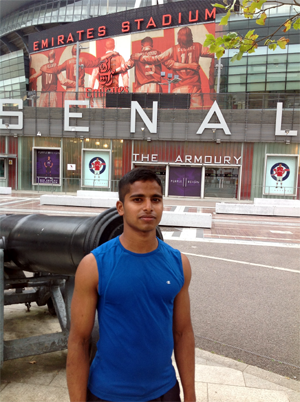 Diljith Rajan Punnakkal (22) embodies this hunger to succeed. A deeply thoughtful and intelligent individual, he has a keen understanding of the challenges face by those wanting to make it in football in India and beyond, as well as an appreciation of the factors that are holding back Indian football as a whole.

"For Indian players there is a real lack of international exposure, there are many talented footballers, but people are not getting to hear of them. India is an enormous country and its population and the large number of states makes things difficult." He pauses and then adds; "We also suffer from inadequate coaching, poor facilities and a lack of opportunity."

Most football pundits would be hard pressed to name more than a couple of Indian players who have managed to gain international interest, with Baichung Bhutia having made the move to Bury FC in England and another striker Sunil Chhetri signing for the Portuguese side Sporting Lisbon earlier in year. The point made about coaching is a very pertinent one, some effort has been made to address this weakness, with India and Brazil signing an agreement in 2006 to establish a scheme to train Indian coaches and footballers.

Diljith is keen to labour his point about coaching; "... internationally there has been a lot of development in new techniques in recent years. Physical fitness is a real issue, as is access to a balanced diet and good nutrition. If you follow the English Game, even at a lower level games start fast and are often very physical. Some Indian players are not use to such a style and foreign clubs often doubt whether they will be able to adapt...Compared with some Europeans I suppose I am quite short, my height is similar to the great Argentinian player – Diego Maradona. He has been an inspiration to me; a tough, intelligent player, a person who always read the game far better than his opponents. A brilliant footballer, is a footballer who thinks ahead.". As Diljith speaks he sparkles with enthusiasm and justifiable pride; "... my team mates call me 'Liza' after the French international Lizarazu. I love to move and share the ball. It is important to anticipate the game and anticipate your opponents. Dummy moves require intelligence and you must always respect your opponents".

Essentially a midfielder, who has learnt to play with both feet, Diljith is something of a dynamo on the pitch. His running style is not dissimilar to that of Dutchman Dirk Kuyt, and as a midfielder he admits to modelling himself on the Spaniards Xavi Hernández and Andres Iniesta. "I like the fact that Spain plays with more cohesion and Spanish players seem to read the game more effectively."

Hailing from Kerala, Diljith is somewhat of an autodidact, and in the early days self trained; "Personal discipline is very important, I train 4-5 days a week and aim to go to the gym 3 times a week. Diet is important too. Potatoes and pitta bread help, especially as they are cheap. I don't eat junk food and believe you should take good care of yourself." He believes in personal discipline, and takes pride in his family and his Indian heritage.

Like many aspiring Indian footballers Diljith's love of the game began early with him following the likes of Dempo SC (Goa) and his own talent being spotted and resulting in him being offered the chance to play for one of Kerala's leading clubs Travancore Titanium. At this point he faced a dilemma, either to follow his dream or ensure that he acquire a qualification that would give him options for the future. With his father a farmer of between 50 – 56 coconut palms, his mother a retired Health Inspector for the Kerala State Government and an elder brother who is a student in Mangalore the moment of truth had arrived.

"Even if I make it in football, I cannot be a footballer forever. I know it is important to have qualifications and so I decided to come to England to study for a Diploma in Hotel Management. As an Arsenal supporter, it has been like a dream come true, I even train in Finsbury Park. It is wonderful to follow a club that has featured talented players like Tomáš Rosický, Jack Wilshere and Robin van Persie – although sadly van Persie has recently left us (Arsenal) for Manchester United." He admits that life in the UK is tough, but is equally convinced that his game has improved greatly; "...there is so much Indian footballers can learn from European coaching and training techniques. It is extremely competitive here, but I hope that my time in London will give me greater exposure and maybe the possibility of some trials".

Diljith is philosophical about his situation, he understands that possessing talent and determination is often not enough that said, his application and desire to perfect his skills is inspiring and he is certainly an Indian player to look out for in the future.

Back in India, it is not just at a grassroots level that attitudes are beginning to change. The commitment and drive of individuals such as Vijay Mallya has helped East Bengal FC and Mohun Bagan AC to consolidate and develop their commitment to the game, even the Blue Tigers, as India's national football team is known, has appointed a Dutch Manager (Wim Koevermans). With some real vision and investment there is no reason why India's love of football should not grow and flourish, and Indian players such as Diljith Rajan Punnakkal be given the opportunity to shine and gain the recognition that they deserve.