My Secretry Diary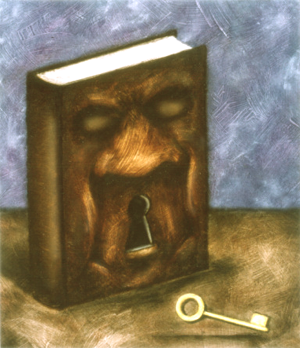 This time my Secret Diary spoke to me. Why don't you write on my pages, which are lying unused and unfurled? Turn their pages on, flesh them more with your deeds, misdeeds, words, achievements. In other words fill them up. I remember you used me, but now you have kept me under lock and key.

Am I such a usable creature, wanted, unwanted according to your petty whims and desires? You, human beings are gloatingly self sufficient and insufficient according to your opportunistic ways. You are exploitative, egotistic, but when you are down you weep and pray. If you don't need me now, tell me so !

No, I cajoled: you are my Secret Diary. I will write on you, when I want to keep my thoughts close to my chest and heart, when my beating, pulsating mind throbs with my wanton thoughts, when I re discover myself and unfold lies about others.

Oh stop it, it said, you people simply use us, to write books to sell, we are to be sold in the market, so people make money. But a book is reflection of a world. So write (on me). Alright I sighed. I will write, but all these thoughts will be tightly closeted in this nether world. Only posterity will know what I wrote.

Firstly I am now embarking on my autobiography. It is not a rag to riches story. It is a rag to rag story. I went to school and overstayed, because examinations, to be specific passing them was, and still is, not my forte. My forte now is writing, all gleaned from untutored and unlettered wisdom. Not from school, nor college, nor university. But I went to all three, and in all three I found a bit of sham, a bit of learning, a bit of spoon feeding, but not much of learning, only teaching, and a bit of cheating.

Some people cheated (in examinations) but they were not caught. I never did that, so my results were middling! When I went to work, I found that the people who did not do much work got their promotions meticulously. I also found that people fudged bills. I found that things like medical bills were sources of income, which the State had unofficially given. I found that people came to office late and left early. I found that they spent two hours for lunch. I found that they were more interested in their chairs and tables, their almirahs and locks, keys than their work.

I also discovered that when they did not want to work, they took leave, They took medical leave, when they were not sick. And when they were sick, they prolonged their leave even if they became well. They gossiped about their fellow mates, played politics, in fact the office was a political ground. They blandished their so called superiors wildly and shamelessly.

Oh stop it, you louse my Secret Diary shouted. You are merely writing, what I have already recorded!


Image (c) Gettyimages.com

06-Sep-2012
More by : Ananya S Guha
---