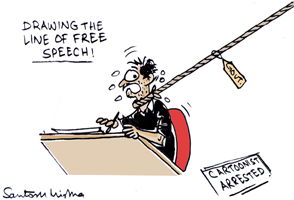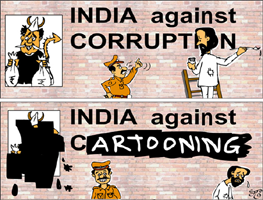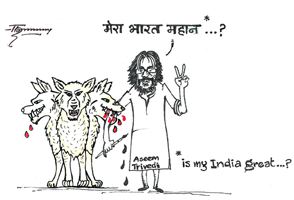 The recent arrest of an young cartoonist, Aseem Trivedi once again underlines the intolerance of governments towards freedom of expression. Earlier the Chief Minister of West Bengal displayed such intolerance by targeting her ire towards an University Professor for his alleged defamation of her in his cartoon. Now it is the Home Minister of Maharashtra who is enraged.



Let us examine the charges:



Sedition and defamation of the Indian Parliament and the Indian Flag. How can we prove that this is sedition? Sedition means actions which go against the interest of the country threatening disunity and disruption of the unified fabric or integrity of the country.

When charges were made against Binayak Sen, charges of sedition were also flimsy, so much so that only through the Supreme Court's intervention did he silence his critics and the kind of hate campaign and animadversion that was launched against him.

The same kind of tirade and spurious accusation is assailed against Aseem Trivedi who comes from a family known to have contributed to nationalist causes. So the whole matter is that no one can say anything against politicians, and they seem pretty well united on this. That is why perhaps the Lok Pal Bill has been kept under an animated suspension, that is why also all politicians rose up unitedly to speak against Arvind Kejriwal and his supporters.

The politicians in our country are highly insecure today and feel threatened as never before because there is now a consciousness among the youth especially to save the country from its tarnished and despicable image of being corrupt, open to all kinds of weaknesses including sex, pornography and what have you. Also their proclivities in using the wrong forces to pit one community against another has come into sharp focus.

According to a school of thought the recent trouble in Assam has been the handiwork of disgruntled politicians. In fact, the trouble in Assam has provoked anti Muslim feelings which could have repercussions world wide. Despite the insistence of local and indigenous groups in Assam that the clashes are not ethnic or religious, some people have been hell bent in making these clashes ethno religious. So everything about politicians are sacrosanct. They cannot be satirized nor can cartoons be drawn about them.

Vallabhai Patel, Nehru, and Ambedkar took cartoons in their stride and laughed at themselves. When Attenborough first contemplated making a movie on Gandhiji and confided this to Nehru, Nehru told him not to deify Gandhiji but to show him "warts and all". Gandhi had the ability to laugh at himself and so did the breed of politicians who worked selflessly for the country in the wake of the country's independence. Now let alone laughing at themselves they want others to cry. I fear that if things go on like this then we will have the rule of authoritarian or totalitarian governments and our very blue print of democracy will receive a rude setback.

In fact, after these two episodes of attacking cartoonists and social workers the concept of democracy in the country is reeling under the shadow of mobocracy. We have to make a judicious and wise choice between the two.

Can we do it?

In a way all the protest movements that are taking place in our country are a reflection of the deep seated disenchantment that has taken roots among both the young and the old. Since the majority of the population of the country are the youth who are not only well educated, but highly intelligent and want to maintain the integrity of the country at all cost, unsurprisingly they are playing a major and pivotal role in such protests. To strangle their voices is to kill democracy and suppress their intelligent resilience. I do not think they will capitulate, I think that they will resist such an attack on their rights, their intelligence and their freedom of expression. I also feel that the political leaders must not only be sensitive to their feelings but also must channelize them for the good of the country, for social work and for a real empathy for the poor and the downtrodden.