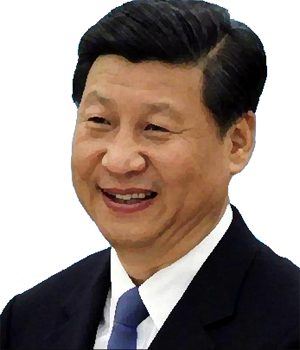 Speculation worldwide has erupted because China's Vice President Mr. Xi Jinping disappeared from public view since the start of this month. This is a crucial period. Mr. Xi is expected to replace President Hu Jintao after a few weeks. Not only foreign commentators but even China's Internet is buzzing with rumours about the reason for his absence. There are theories about his illness, about an injury acquired through sport or a car accident, and of course about possible power struggle preceding the assumption of office by a new team of Chinese leaders.
Speculation about a power struggle naturally arose after the ouster of powerful Chinese leader Mr. Bo Xilai and subsequently the dismissal of President Hu Jintao's top aide responsible for leadership security, Mr. Ling Jihua, whose son was involved in a controversial car accident. Speculation about a power struggle in China's opaque political system has not only been fuelled by Mr. Xi's absence from public attention but also from President Hu Jintao's lack luster performance at the Asia-Pacific Economic Co-operation Summit in Moscow a few days earlier. So conspicuous was President Hu's subdued performance that President Putin had to explain that probably his Chinese counterpart was "preoccupied with domestic problems".
Mr. Xi's absence from public appearance was not merely measured by time but more so by the important meetings he skipped. He did not meet during this period US Secretary of State Hillary Clinton, Singapore PM Lee Hsian Loong and the Premier of Denmark Helle Thorning-Schmidt. Cancellation of these meetings by the leader touted to succeed President Hu Jintao weeks from now understandably fuelled rumours. In all likelihood a simple explanation will soon emerge to prove that all the speculation was but a storm in a teacup. The Chinese government is secretive by habit.
However, if Mr. Xi's absence is in fact in anyway connected to a power struggle the most crucial meeting that he skipped has not attracted the attention it deserves. The South China Morning Post reported:
"The nation's leader-in-waiting, Xi Jinping, was conspicuously absent from another public event yesterday - an emergency meeting of the Central Military Commission - fuelling further speculation about his health… Xi, who is the CMC's only civilian vice-chairman as well as the country's vice-president, would have been expected to attend because the CMC chairman, President Hu Jintao, was attending the Asia-Pacific Economic Co-operation forum summit in Russia ."
Now that indeed might be cause for justified speculation. An emergency meeting of the CMC without any senior civilian attending it does raise a few eyebrows, doesn't it?