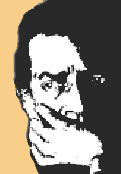 For decades now, Hollywood traditions have defined the making of films, but there have been many creative directors who have transcended the rigidities and made filmmaking an international phenomenon. One such director was the late Satyajit Ray.
Ray's films are a moving example of the power and grandeur of films as an aesthetic form, which speaks to diverse audiences, across geographical boundaries. Ray was a prolific writer, and the strength and distinction of his films derive from the screenplays he wrote himself.
He had a reputation for being ingenuously creative within the limitations of modest budgets and scant equipment. His films are a rare blend of intellect and emotions. There is a precise, studied control in his films, yet he succeeds in evoking deep emotional responses from his audience. Despite the acute sensitivity of his films, there is a noticeable lack of melodrama. His cinematography is invisible, yet pervasive.
From 1962 on he composed the music for all his films, and designed the publicity posters for his new releases. Ray was also a composer and graphic designer. Satyajit Ray's films are both cinematic and literary at the same time; using a simple narrative, usually in a classical format, but greatly detailed and operating at many levels of interpretation. His first film, Pather Panchali established him as a major film director, winning awards – Best Human Document, Cannes, 1956 and Best Film, Vancouver, 1958. Considered as a part of The Apu Trilogy – these movies narrate the tale of a boy's life from birth through manhood; the other two films being Aparajito (The Unvanquished, 1956) and Apur Sansar (The World of Apu, 1959).
His later films include Devi (The Goddess, 1960), Teen Kanya (Three Daughters, 1961), Charulata (The Lonely Wife, 1964), Nayak (The Hero, 1966), Asani Sanket (Distant Thunder, 1973), Shatranj Ke Khilari (The Chess Players, 1977), Ghare Baire (The Home and the World, 1984), Ganashatru (An Enemy Of The People, 1989) and Shakha Prashakha (Branches Of The Tree, 1991). Agantuk (The Stranger, 1991) being his last film.
Satyajit Ray was born on May 2, 1921, in an intellectual and affluent family in Calcutta, India. His grandfather was a distinguished writer, painter, a violin player and a composer. His father, Sukumar Ray was also an eminent poet, writer and illustrator in the tradition of Lewis Carroll and Edward Lear. While still at school and college, Ray became a film and Western classical music fan. He studied art at Santiniketan and worked as a junior visualizer in a British-run advertising agency. He spent 13 years there, became a full-time filmmaker after success of Pather Panchali.
In 1950, with absolutely no experience in moviemaking, Ray started working on the film and on August 26, 1955; Pather Panchali was finally released in Calcutta. The film did only moderately well in the first two weeks but was a box-office hit later. The success of Pather Panchali gave Ray total control over his subsequent films; in all his numerous functions — as screenwriter, director, casting director, and composer. In the mid – 1980s, after 40 years of filmmaking, Ray's schedule of about a film a year was interrupted. While shooting, Ghare-Baire (Home and the World) in 1984, he suffered two heart attacks and his son, Sandip Ray, completed the project from his detailed instructions.
Ill health kept Satyajit Ray away from active filmmaking for about four years. In 1989, he resumed making films using Ibsen's An Enemy of the People as the basis for his Ganashatru (Enemy of the People, 1989). This was followed with Shakha Prashakha (Branches of the Tree, 1990) and Agantuk (The Stranger, 1991). This series of three films were to be his last. Many film critics and film historians found these films a marked departure from his earlier work. In 1992, He accepted a Lifetime Achievement Oscar from his sickbed in Calcutta through a special live satellite-television event and Bharat Ratna (the Jewel of India), the ultimate honor from India.