Ten Commandments for Naturally Beautiful Skin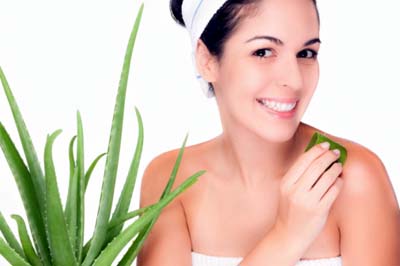 Ayurveda, the ancient system of healing from India, has a holistic approach to skincare. Here are ten tips from this tradition to help you keep your skin looking soft, smooth and supple all-year round, year after year:
You shall respect the rhythms of the seasons. According to Ayurveda, the ancient system of holistic health from India, working with Nature rather than against her is the first law of well-being, and your skin is no exception. Winter is the ideal season to provide deep nourishment for the skin, Spring the perfect time to do a detoxification routine, and Summer a time to protect, protect, protect. Use common sense to synchronize your diet to be in tune with the seasons as well - eating too many hot, spicy foods in hot weather, for example, increases the chances of skin breakouts.

You shall perform a makeover of your cosmetics and skin care paraphernalia. Throw out anything laced with heavy chemicals. Even if it's impractical to adhere totally to the admonition "If you can't eat it, don't put it on your skin," there are lots of choices in natural, botanicals-based skin and beauty care to experiment with. And once you've experienced the softer, subtler nuances of natural textures and fragrances, you'll be loath to go back to anything artificial or chemicals-based.

You shall pay attention to your diet. Feed your skin from within with a choice of appropriate foods to keep it looking clear, healthy and radiant. Cooked leafy greens, plenty of fresh seasonal vegetables and lots of sweet juicy fruits are excellent for the skin. Rich in natural antioxidants, they help protect the skin from damage by free radicals, reactive oxygen-based chemicals widely linked to disease and aging. Don't completely eliminate all fat from your diet: a judicious amount of healthy fat helps keep the skin soft, supple and lustrous. Drink lots of water through the day, but don't drink too much water (or any other beverage) with meals.

You shall develop healthy eating habits. Eating mindfully is very important for the health, and appearance, of your skin. For your body to use everything you eat, you have to help it digest and assimilate the sustaining values in foods and efficiently eliminate the rest. Something as simple as a little bit of fresh ginger and lime juice before a meal can help stoke the digestive fire. Don't drink ice-cold beverages or too many carbonated drinks - they hamper digestion. Eat only when you're hungry, focus on your food at meal-times, and take a few minutes to sit quietly after a meal. Simple things, but what a difference they can make in the long-term!

You shall make a full-body massage an integral part of your day. When you discover the range of benefits a warm oil massage can deliver to your overall well-being and especially your skin, you'll never think of a massage as an occasional luxury. A full-body self-massage can be done before your morning bath or shower, or an hour or two before you go to bed (wait a couple of hours after a full meal, though). Use a carrier oil such as coconut, olive, or almond, and add 4-5 drops of a favorite essential oil per 2 oz. of base oil for added bliss. A massage helps increase circulation, helps the body flush out toxins, and tones the skin, keeping it looking soft and smooth and supple.

You shall get enough quality rest. Okay, so eight hours of beauty sleep for everyone is an outdated notion, but make sure you are getting the quantity of rejuvenating sleep your body requires to function at optimal levels. It is pretty much impossible to turn back the negative effects of ongoing sleep deprivation - when it starts showing up in lackluster skin and pouches under the eyes, it's way too late. Your skin is like a mirror - it reflects everything that's happening inside your body, and mind. When you've had enough rest, your high energy levels and general well-being will be reflected in glowing skin and clear bright eyes.

You shall actively fight stress. The silent killer 'a modern plague' the hidden threat - stress has many names, and none of them is pretty. A stressful lifestyle is a fertile environment for damaging free radicals to flourish and undermine your health and appearance. Moderate exercise, yoga postures, meditation techniques and breathing exercises can be helpful in combating the negative effects of stress. The daily massage can help too. Aromatherapy, music therapy, laughter and the company of friends with a youthful, positive attitude towards life can help balance your mind and emotions. Pay attention to planning to reduce time-related anxiety and crises. Working towards daily bliss, a little at a time, can have big pay-offs in terms of lasting beauty that stems from deep within you.

You shall never skip your daily skin care regimen. Being regular with a basic program of skin care is key to consistently beautiful skin. Performing the four basic steps of cleansing, toning, moisturizing and nourishing twice daily - as you get set to start your day and again before you go to bed - will keep your skin clean and healthy. Again, try to use natural products as far as possible - gentle products that won't strip the natural moisture balance from your skin, yet cleanse and tone it effectively. Skin care products rich in botanicals can provide long-term support for your skin: Ayurvedic skincare products contain potent natural made-for-your-skin herbs like Gotu Kola, known to be a collagen enhancer, Sensitive Plant, which helps skin resist damaging effects of the sun and aids in nerve regeneration, and Flame of Forest, also known for helping to prevent sun damage as well as cooling rose petals and even spices like ground turmeric, considered excellent for the skin. Consider adding a daily herbal supplement to help the skin from within.

You shall explore the world of do-it-yourself natural skin care aids. Not everyone has the time or the temperament to make up custom skin or bath aids from scratch every day, but do try it occasionally: you'll have fun and your skin will be grateful. Blend your own aroma massage oils, or make your own facial mix or a fragrant sachet of herbs and spices to scent your bathwater with. Experiment with different floral waters - sprayed on the skin, they can tone it and the subtle aroma will linger pleasantly around you. Again, look for high-quality, natural products, and test to make sure your skin is not sensitive to a particular kind. A simple thick mixture of rosewater, whole milk and oatmeal is a natural facial cleanser. Watermelon puree on skin exposed to the sun can help cool and soothe. Cucumber slices or pads of cotton-wool dipped in rosewater placed over the eyes for ten minutes can act as instant stress-relievers.

You shall define your own concept of beauty. Just as beauty is a function of the beholder, your outer image is a reflection of your mindset. A positive attitude about yourself will help you project an aura of confidence and radiance that will enhance your appearance. After you've done all you can to develop healthy, regular diet and lifestyle habits, and pampered your skin with nourishing, natural skin care aids, sit back and feel good about the way you look all year long; healthy, radiant, beautiful!
Note: Information presented in this article is solely for the purpose of imparting education on
Ayurveda
and is not intended to diagnose, treat, cure or mitigate any disease. If you have a medical condition, please consult a health professional.
08-Mar-2001
More by : Vasu Nargundkar
---
---
| | | |
| --- | --- | --- |
| | very very nice subject to read and to follow for beautiful skin.but still i like to ask you about the ayurvedic.dollie | |
---
Hi,

My skin is a combination type and a lil prone to breakouts, which oil and an essential oil should I be using for massage? Can it also be used for face?
---
| | | |
| --- | --- | --- |
| | love the tips | |
---