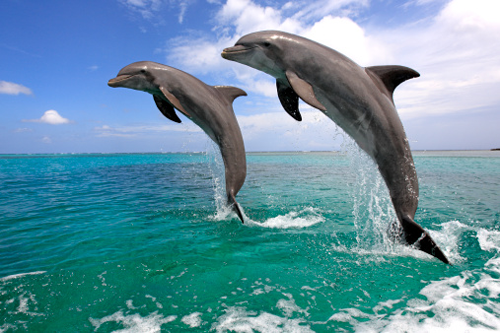 Satpada in Orissa, is an ideal retreat for those fond of the sun, the sands and the sound of water gently lapping at one's feet. In this secluded haven, far from the madding crowd, one can break away and escape even if for a brief moment from the humdrum routine of daily life. Situated one hundred and twenty kilometers from Bhubaneshwar, there are two approach routes to Satpada - by land via Puri, or preferably to go to Chilika by land and then on to Satpada by motor launch. The second route offers the advantage of a journey over water on the picturesque
Chilika
Lake
.
Satpada is famous for its Dolphin sanctuary. The dolphins are largely reclusive and rarely can travelers catch sight of one still, the main thrill of the journey lies in the beauty of the lake with the sun shimmering idly on its waters. The journey takes around an hour or two; depending on how leisurely a pace the travelers wish to take.
Satpada, situated in an estuary, is a tiny island, one of the many on the mouth of Chilika.
Relatively unknown to the holidaying masses who flock by the thousands to any famous tourist spots, Satpada, retains it pristine purity. It hardly covers an area of two or three square kilometers, with one solitary bungalow, a pine grove and a small retinue of tourism officials. The lake is the most wonderful shades of blue with the purest sand, un-spoilt even by human footprints.
Located close to the opening of Chilika to sea, the island itself is a birdwatcher's paradise, with many varieties of birds coming over in winter. One of the most beautiful parts of the island is a hillock in front of which lies the expanse of an endless sea and on the other, the sparkling waters of the ChilikaLake. The beach is also perfect for camping and bonfires. The weather is temperate, with warm days and cool nights, with a perpetual breeze carrying the incessant music of the waves. The pine grove that covers one-fourth of the island offers a shady recluse for picnics. The entire stretch of the beach is virtually deserted and a virtual paradise for collectors of shells and various colored pebbles that litter the shores.
Though provided with the most elementary necessities, the overwhelming presence of the sea, dominating all human presence is enough to compensate for the lack of amenities. For a quick lunch, there is the Barkul Government Guest house, which offers luscious crab curry, a specialty of the area. There is also a Dolphin interpretation centre cum marine museum that provides interactive information on the Irawaddy Dolphins and the bio-diversity of the Chilika region. The number of Irawaddy dolphins at Satapada is estimated to be more than 100. However, the mortality rate has crossed 10 per year. Plying of motorized boats and large fishing nets are stated to be the reasons behind the death of these beautiful and peace loving mammals. Only traditional boats are allowed in that part of the ChilikaLake, which has been declared as a dolphin sanctuary.
Satapada: A Dolphin Sanctuary
Fact File
Famous for : Dolphin Sanctuary, Migratory Birds and Rajahansa Island
Located at : ChilikaLake, Eastern Coast of Orissa, India
Distance From Bhubaneswar: 50 KM
Mode of Transport : Road (Bus and Taxi); Boat from Chillika
Nearest Airport Bhubaneswar : 50 KM
Best Time to Visit : Round the Year