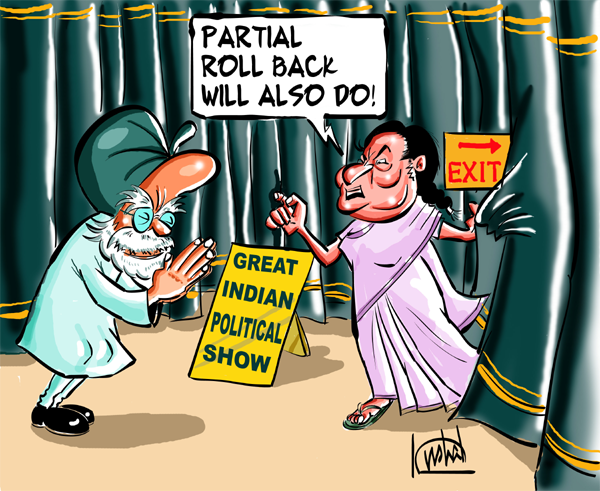 Netaji during the Independence days gave a call for 'Delhi Chalo'. Mamata seemed to have modified it and now gave a call for 'Delhi Chodo'. Mamata euphoria prevails now in Bengal. But it will fail to create an all India wave. Her jihad against Manmohan Singh government policies is welcome but this obviously involves more risks than rewards. Risks because, the UPA will not fall immediately as there are many new friends.

Nitish Kumar who is now craving for the coveted special Bihar package may rush to the rescue of the falling ship which Mamata deserts more emotionally than rationally . Mulayam Singh Yadav is already getting his reward for his political ditching of didi by promise of support to Congress during the Presidential elections. The UP is going to get the special packge. Such packge was being prepred for Mamata's West Bengal too. Now there is every chance of its going to Bihar if the new friend Nitish to the surprise of everybody comes forward to the rescue of UPA.

The Central Finance Minister Chidambaram has already given such hints about new friends although he did not mention the names. Mamata is now a greater foe than BJP for Congress. There are indeed risks for Mamata, because, TMC will now have to fight Congress and CPI(M) all alone and there is every possibility that the two old friends who in UPA I fell out, will now come closer on the excuse of fighting communalism. Even on Thursday Mamata has expressed support for the issues against which BJP organised the bandh on Sept 20.

Bharat Bandh is successful although Mamata has taken enough pains to convince the media that Bengal does not have any need to organise such bandh. The illogicality of her argument is more apparent when she says that bandh is the ultimate weapon that can be used by poor people for voicing their anger and grievances against bad governance. How does she come to such a conclusion that she is providing good governance and there is no need for bandh in the state where even innocent professors are arrested for drawing cartoons, the same thing repeated by Congress only a few days later?

Mamata may rue her lost voice if TMC would have stayed in the UPA. Now who will care for her? There is further risk, if Mamata decides to join the NDA coalition in the next Lok Sabha election, her minority vote bank will be worst affected in the state and CPI(M) will try to fish in the dirty water. In that case, Mamata may fail to gain nothing but a lease of euphoria.

What makes Congress most furious is that Mamata appears very much whimsical to them since the Presidential election. The Wikileak once made it exposed that Sonia personally regards the Left as more reliable than Mamata. A friend in need is a friend indeed. Mamata shares the BJP perception that Congress is a sinking ship. As the wise rat she deserts it quickly. But is not too quick – the million dollar question is now on the lips of every one, nay even on the lips of her own supporters and party men.

Mamata is at the moment most uncomfortable in her stand. She is not in a position to go to either of the camp of Modi or Nitish. Congress and BJP led any coalition cannot be her choice. Even the new platform that she might share with Anna Hazare is no longer available to her as Annaji made it clear that he was against forming a political party. Team Anna is divided over the issue of taking a political plunge. Hazare made it clear that he does not support the anti-corruption movement taking a political plunge. Explaining his stand against fighting elections, he had said his appeal was that they should not fight elections.

Congress showed its adroitness in managing the majority vote in the Parliament. No mid term poll will occur as both BJP and Congress do not want it. Regional parties like that of Mulayam, Mayawati, Karunanidhi or even Nitish do help little in decentralization. Their manouevres only intensified chaos. Recently, the jihad of Mamata only added to the prevailing chaos. With the help of birds of same feather flocking together, economic reforms will continue. Only Mamata will be a scapegoat. She may get some mileage in the ensuing Panchayat elections. But in the next Assembly election people may be oblivious of her sacrifice. Public memory is very short, very short and the Mamata eurphoria may die even before the Lok Sabha election 2014.