The Congress Government stands reduced to a minority Government with the withdrawal of the second largest political coalition partner –the TMC led by West Bengal Chief Minister Mamata Banerjee. The Congress Government claims that it still has a comfortable majority with Mulayam Singh and Mayawati providing outside political support. The political life-support system claimed by the Congress Party is an adulterated one, for the simple reason that both these Uttar Pradesh duelling political rivals have no ideological affinity with the Congress. They continue to support the Congress Government under personal and political compulsions. Like adulterated milk getting curdled, both these UP chieftains can politically curdle the Congress Government at any time.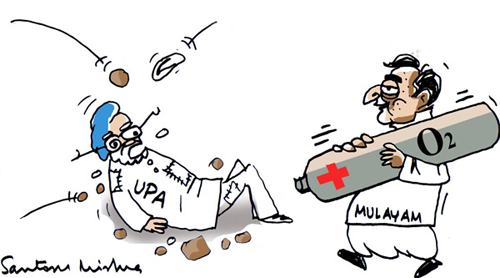 Both Mulayam Singh and Mayawati have a history of adopting politically expedient policies. Principled politics have never been their forte' like the Congress Party. Had they implicit faith in the policies and leadership of the Congress Party to run a Coalition Government they would initially itself elected to join the Congress-led Government. Yet both of them decided to adopt the strategy of 'outside support'. This was political expediency at its height.
The major and root cause of such unprincipled political coalitions is that the Congress Party, the SP and the BSP tussle for the same vote-bank, namely the Indian Muslim vote-bank under the guise of that exalted term of 'secularism'.
Mulayam Singh has been publicly asserting that his party is prepared for early mid-term General Elections and that his party is in the process of completing the selection of candidates. He was further buoyed by the outright victory of theSamajwadi Party in the recent UP Assembly Elections. What is then holding him back then? If media reports are to be believed it is the Damocles sword held by the Congress via the CBI in the Disproportionate Assets Case pending with the Supreme Court. Another twist has recently been added in the media that in the controversial TATRA Scam case some decisions lead to tenure of Mulayam Singh as Defence Minister, which is also under CBI investigation.
Mayawati does not seem to be in a hurry smarting under her losing the UP Assembly Elections to the Samajwadi Party led by Mulayam Singh. She is waiting to re-consolidate her political strengths before she indulges in political gambles against the Congress Government.
Against such a political landscape, there is no surety that both Mulayam Singh and Mayawati would continue their political support to the Congress Government till 2014. This is best exemplified by the Congress Prime Minister's assertion recently that if the Congress has to go down it will go down fighting.