A lone frequent flyer, I have always found books rescuing me hugely, especially saving me from exchanging plastic pleasantries with fellow passengers.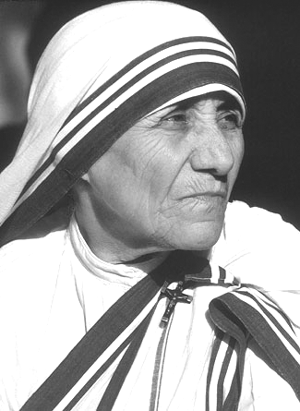 Few years back while touring to South Korea, I picked up Mother Teresa's biography authored by Navin Chawla and found myself absorbed after reading and deplaning. The book engulfed me phenomenally making me access and read all the books I could on her life. In the meanwhile all these years, I had been telling my best friend Anindita about my desire to visit one of Mother's Ashrams, as she had been visiting one of the Homes for mentally challenged and old age people for the past few years regularly.

For the last five years she had been asking me to accompany during her visits to the (Ashram) Home and somehow I could never join her. At times it was a pressing deadline or international assignment that stood in the middle of my wish to visit the Ashram. This year to save me from last moment excuses, she announced the date of her visit in advance. And I gave my word to be there.

Anindita and Shyam, her husband had brought lunch for the inmates and was awaiting my arrival. I reached late by fifteen minutes braving the snarling traffic and my own conflict of emotions that I am dealing at present; struggling hard to put my life back on track; of course in the first place I do not know if it ever was on the track. The moment I stepped an inmate (girl) hugged me affectionately as Anindita had already apprised them about my arrival. She knows all the inmates by names and faces and is well-bonded with them. I was choked with emotion with sudden gush of acceptance for who I was, not for what I could do. Being mentally challenged the way she communicated her love cannot be missed out.

All the inmates greeted me with smiles and acceptance. My delayed arrival elsewhere would have invoked anger; but here all the inmates sitting at the dining hall with their empty plates and empty stomach were waiting for me – an unknown face with joy and there was no expression of complaint. I was fighting back my tears hard until another inmate (girl) touched my palms; took my hand in hers and touched my cheeks. I could not control my tears anymore. The young sister at the Ashram was smiling at me.

Apart from the volunteers, the way inmates take care of each other is amazing witness of so much flow of love and easy acceptance. The joy and gratitude they expressed in spite of all their sufferings with no complaints is commendable.

As my stream of my tears refused to stop, suddenly an aged inmate came near me leaving her food wiping my tears and smiled at me. What touched me was how could so-called mentally challenged people be so sensitive and love unconditionally? And for few months I had been so hard on myself chasing domestic love. Probably now I comprehend Mother's quote, "Love to be real, it must cost - it must hurt - it must empty us of self."

I have resolved to come to the Ashram again and again to empty myself to learn to love. After all I need the inmates far more than they need me because they are the ones who taught me the essence of the quote – "when you don't have anything, then you have everything."

Comments on this Article
---
First thing First- good that u could finally make a long awaited trip to the Ashram. And so rightly u felt that being nothing is everything , being simple is beautiful.... always . I am happy for you !!!
Writing of course no one can beat you as it goes without saying that u write wonderfully........
---
we have embraced many beautiful memories in our life, but the one we admire the most are when we are loved unconditionally.
"Love is a force that connects us to every strand of the universe, an unconditional state that characterizes human nature, a form of knowledge that is always there for us if only we can open ourselves to it"
"Give love and unconditional acceptance to those you encounter, and notice what happens."................well written soumi, you are blessed to have encountered such a bliss. Not many even get close to it

---
| | | |
| --- | --- | --- |
| | Loved the simplicity in your writing..U hv expressed urself like a flow of stream without any heavy words.... Straight from heart. | |
---