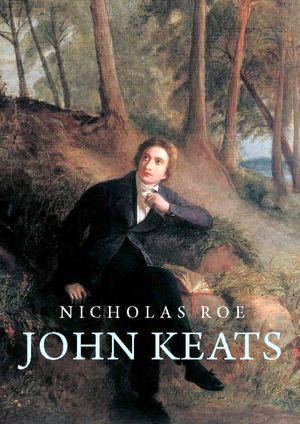 Biography of a poet like that of Keats is always shrouded in mystery as his poems. Like Shakespeare's sonnets, Mona Lisa's smile and the Sphinx, the poetry of Keats are also ever mysterious for their objectivity and non biographical nature. Like Shakespeare, Keats also remained silent about many of the incidents of his personal life and he despised the 'impalpable design' in a poem. Facts of life very rarely explain the facts in the drama of Shakespeare. In a similar way, the poetic persona of his poem bleeds profusely in many poems, but Keats as a person was not such a sentimental figure at all as Nicholas Roe tried to prove in page after page of his biography of Keats. On the contrary, Keats was a sturdy youth before falling a victim of the fatal disease, tuberculosis. It is impossible to believe that Keats, a poet who discovers beauty in the midst of ugliness of life, had to take opium to forget the pains and sorrows of his personal life.

"What imagination seizes as Beauty, is Truth" for Keats. The tragic failures of his life and love have the least effect on his poetry as his poetic motto was 'negative capability'. He was the most objective among the Romantic poets. He could transcend the personal into the impersonal. The 'I' of his poem is very rarely Keats himself.

But Nicholas Roe has given us a new Keats in his recently published biography and I had to succumb to the gravitational pull of the outstanding biography in which Roe has challenged some of the conventional ideas prevalent about Keats. He pays close attention to the source of Keats's poetry and tries to discover the mind which feels rather than the man who creates. But the book has some highly debatable areas. In the earlier biography Keats written by Andrew Motion we did not get a direct biography. Instead of a straightforward biography, Andrew Motion gives us Wainewright's first person, fictionalized confession in his biography Keats (1999). But nowhere it is suggested in Motion's biography that John Keats wrote famous poems under opium influence. On the contrary Motion focuses on the vigour of Keats's character as well as his verse. He challenges the sentimental cliché about Keats that he was a sickly dreamer concerned only with art for art's sake.

But what frustrates us in the wonderful biography John Keats: A New Life of Nicholas Roe recently published by Yale University is that he tried to give the same age old cliché about Keats. It is really painful to know that Keats was also an opium addict like Coleridge or Thomas De Quincy. But the argument that Nicholas Roe gave is not a strong one. It is chiefly a wide guess work as no mention of it is there in the letters of Keats. It is still to be ascertained that John Keats was an opium addict.
According to Nicholas Roe, Keats might become so after his brother Tom's death Even if one analyses only one poem 'Ode to a Nightingale', one can clearly understand that Keats despises taking anything that is related to intoxication. The poem 'Ode to a Nightingale' begins with the pictur of 'drowsy numbness' and Hemlock drinking. But we should not ignore that the poet himself wrote in 'Ode to a Nightingale',
"Away ! away! for I will fly to thee,
Not charioted by Bacchus and his pards
But on the viewless wings of Poesy".
It is true that Keats wrote in the same poem a little earlier:
"My sense, as though of hemlock I had drunk
Or emptied some dull opiate to the drains."
It is very difficult to believe that Keats was an opium addict as, he himself clearly gave his preference later in the poem for 'the viewless wings of poesy'. Yes, such thoughts of taking of opium or any such drug came to his mind. So he used the word 'as though' which clearly shows that he was in two minds. But at one point in the poem, Keats gave a strong argument. Being a poet he possesses imagination and does not feel it imperative to take any sedative or wine.

Yes, the poet gave ever sensuous description of wine in the poem:
"O, for a beaker full of the warm South,
Full of the true, the blushful Hippocrene,
With beaded bubbles winking at the brim
And purple-stained mouth"
Just imagine that even after giving such an ever tempting description of wine, the poet gives vent to his reluctance to take wine 'not charioted by Bacchus and his pards'.
Nicholas Roe comments that Keats became an opium addict. But that seems to be an injustice to a poet like Keats whose imagination was totally different from that of Coleridge. He was the most stable among the poets of the Romantic school. His supernaturalism was based on Greek myths and Hellenism while Coleridge's imagination was induced by opium in many of his poems such as Kubla Khan.
The new thesis about Keats's opium addiction needs to be reconsidered. Or a wrong message may reach the reader. Insightful observation and narrative clarity often lack in some scholarly work. This is also to some extent true about Nicholas Roe's scholarly book. It reaches some harsh conclusions about the great genius of Keats without any concrete proof. Some of which may create a wrong impression about Keats and his imaginative creativity. Keats was orphaned as a boy, trained as a doctor before becoming a poet, and died in Rome at age 25.
Immediately after his death, Shelley mythologized him in the elegy "Adonais," which helped create the myth of Keats as the quintessential poet. In this original biography, however, Motion has provided a thorough examination of the social, familial, political, and financial forces that shaped the real man rather than the poet of myth.Nowhere the question of Keats as an opium addict arises. His concept of beauty is never linked to any opium inducement. Nicholas Roe's thesis is not only a misrepresentation of a fact, but an exaggeration of a damn guesswork. In his over enthusiasm, Nicholas brought Keats and Coleridge in the same bracket.
There is a basic difference between the nature of imagination of both the poets. Poverty, talent and early death – Keats story with a doomed love affair at its heart represents an ideal passion and tragic loss. But it is only an aesthetic perception for the ever poetic soul. Even about the relationship between Fanny and Keats, too much of sentimentalisation has been done over the years. But we should not forget that Keats set off for Italy in spite of the bitterness and sorrow which ensures that a certain toughness is there in Keats. In spite of the headlong, devoted, agonized rapturous – an ideal of passion, Keats like Shakespeare in his sonnets remains more or less impersonal. Nevertheless, Nicholas Roe's biography cannot be dismissed as a dizzy imaginative pastiche or it cannot be sent to the dusty stack of scholarly cogitation. It gives us a fresh peep into the creative mind of Keats. But we should cautiously be infatuated by some of his enticing conclusions about Keats.