'The Krishna Key' by Ashwin Sanghi, Westland, Rs.250, pp 475
How do you like to read a novel on the lines of the famous 'Davinci Code' in the Indian milieu?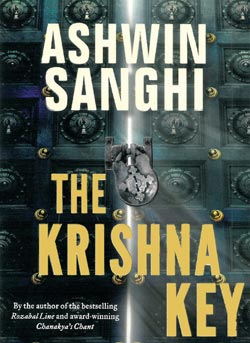 The answer to this question is Ashwin Sanghi's 'The Krishna Key'. The entrepreneur turned novelist, Sanghi's writing style and in depth research keep the pages filled with information, theories, references, inferences, interpretations in abundance.
Krishna is the most celebrated God of Hindu culture whose life before five thousand years is not only a matter of great interest but provides ample scope for spinning yarns which could make us sometime wonder what a colorful personality he is. He was a delight of philosophers to philanderers because of his multifaceted character.
Though claimed as a novel of fiction, Ashwin Sanghi tries to create a make believe world of murder, mystery, religion, faith, philosophy, science and love. Because of this and his simple but racy narration, the four hundred and odd pages make the reader glued to the book. The parallel presentation of a part of Bhagavatam and the Mahabharata add extra charm to the novel.
But one cannot but feel surprised the reason for the serial of gruesome murders till one crosses three hundred pages or so. However, as the mystery unravels, in my opinion, it is not very logical because the character in search of the truth and the one who execute the search and the murders sound too weird to be real.
Nevertheless, the novel takes the common man through the innumerable roads and lanes of Indian history, interlinking the faiths of different religions of the world, science, symbolism, art and the most modern theories of science.
The book is highly readable. The end and conclusion may likely to make some disappointed. But, that is unavoidable; but the effort is laudable.