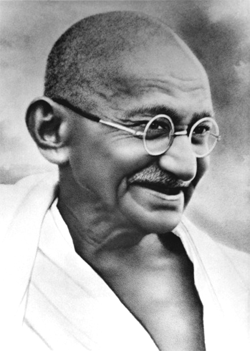 Today is Gandhi Jayanthi, the birthday of Mahatma Gandhi. 143 years back on this day Mohandas Karamchand Gandhi was born in Pore Bandar, a sacred place of pilgrimage for every peace-loving citizen in the world. None would have believed then that a frail child like him shall one day shake the world by his simple principles of truth, peace and non-violence. But he did, and the world remains grateful to him.
Human history has recorded many wars fought with deadly and modern weapons, many triumphs and an equal number of defeats, too. But there was just one war without any arsenal, the weapons were just truth and non-violence. And it was led by Mahatma Gandhi, often mocked by the opponents as a naked fakir.
Not many had given him a remote chance for a possible victory over the British, the monarch of warfare, be it on land, sea or in air. But ultimately he landed on the coast of supreme success and could air his views on the strength of 'Ahimsa', non-violence. Non-violence, he smiled, is the weapon of the strong, and violence, the weapon of the weak.
Love was his religion. Spirituality was the icing on the cake of his philosophy. When so-called reformer like Lenin thundered, 'There is no morals in politics', on the other hand Gandhi strongly believed, 'Politics without spirituality cannot achieve anything good.' And good he did achieve, since peace is 'sugar and honey' of the mankind. World leaders like Martin Luther King jr., Nelson Mandela, Desmond Tutu, Barck Obama, Suu Kyi and many more have used Gandhi's sharp weapon to win important battles.
We in India feel greatly proud that this 'naked fakir' was born here, walked on its soil, preached his simple principles and laid a strong foundation for love, friendship, fraternity and thoughts of co-existence among the comity of nations. On this day, the day of his birth, let us greet each other and keep the flame of his spirits burning bright ever for the good of our society and mankind.