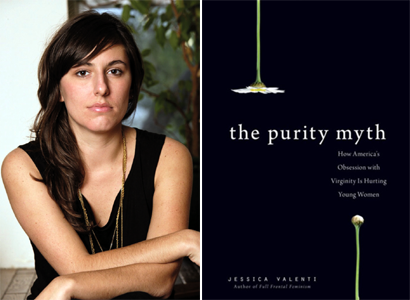 Jessica Valenti's The Purity Myth
Sex before marriage has been seen down the ages as dirty and unethical in premarital love. The wait-till- marriage concept prevails in nearly most of the love stories. The virginity concept is still overwhelming. Very rarely the lovers used to taste the forbidden fruit of sex and they live under the scare of leaving the paradise of innocence.

After marriage Yarrow no longer remains unvisited. But nowadays the number of people who advocate in favour of having sex before marriage is increasing. Premarital sex is not always ponies and rainbows. Without sex, love affair remains holy and pure. For such lovers marriage becomes a discovery – on first looking into a new island and the joy of Cortez as Keats imagined after reading Homer.

It is a question of making choice if people should have sex before marriage. The modern generation of lovers, a majority of them want it before they're married. It is an argument that making choice of having premarital sex isn't a moral failing. On the contrary, it may often prove to be a great, healthy, overwhelmingly positive choice. But that depends on the lovers themselves and the depth of their relationship.

If the marriage does not occur at all after such occurrence of physical relationship, mental trauma is a possibility. It is nearly like a rape if sex occurs without marriage. Usually, in many cases love at first sight does not succeed and the first love affair has an abiding effect on the young mind. Any marriage after that very rarely works.

The question is more than social, moral and ethical; it is psychological. The man or woman one loves first time in one's life is not easily forgotten. If sex occurs such relations have awful impact on the unsuccessful lovers. It is a great betrayal and many crumble under the pressure.

Who wants virginity more - men or women?

The very word 'virginity' originally means sexually inexperienced women, but has now evolved to encompass a range of definitions, as found in traditional, modern, and ethical concepts. It is the state of a person who has never experienced sexual intercourse. Like chastity the concept of virginity has traditionally involved sexual abstinence before marriage, and then to engage in sexual acts only with the marriage partner.

The big debate has started if it is at all necessary to remain virgin before marriage. Two lovers can know each other very well even without having premarital sex.

In her book The Purity Myth Jessica Valenti argues:


"While boys are taught that the things that make them men – good men – are universally accepted ethical ideals, women are led to believe that our moral compass lies somewhere between our legs".

Valenti envisions a future for women without a damaging emphasis on virginity, including a call to rethink male sexuality and reframe the idea of "losing it".

Love is a physical and mental adjustment more than everything else. It teaches how to negotiate our own requirements with someone else's. Wait–till–the–marriage group seems to be more happy than have-sex-now–and–here group. The latter group regards by sex, an orgy of pleasure.

Waiting with patience till marriage one may discover a rare contentment. It may give one a fulfilling relationship. A well-rounded, compassionate and self-assured person very rarely approaches the beloved for sex before marriage which is a social commitment as well. In marriage one assures the other of stability in relationship. So premarital sex is to some extent a lack of responsibility.

Romantic love is chiefly Platonic and such lovers are hardly sexual predators. Aggression is not preferred by the romantic lovers. Purity peddlers construct a false universe where there are pure virgins who wait until marriage, and then there are slutty whores who are going home with different men every night of the week. So the concept of premarital sex is not justified.

Sex and love are two different concepts altogether. Some argue that sexual compatibility is necessary for a great marriage. It is very difficult to judge sexual compatibility without having sex. Therein lies the necessity to have sex before marriage. This is something like the compatibility test conducted by the tribal men and women before their marriage. Men and women are given to stay together for three nights in the same room and if they are not found compatible, they do not go for marriage. In this case men are chosen by women for their life partners in the matriarchal societies which exist in the Garo Hills.

There is no insistence that premarital sex is dirty or perverse. But only thing is that it is not desirable to have sex before marriage for better understanding. It is really difficult for couples to engage in real talks about their sexual needs and desires before marrying.

The Purity Myth is an important and timely critique of about pre-marital sex and why it is more problematic for girls and women rather than for men. Analyzing cultural stereotypes and media messages, Jessica Valenti reveals the overt and hidden ways our society links a woman's worth to her sexuality rather than to values like honesty, kindness, and altruism. She takes on issues ranging from abstinence-only education to pornography and exposes the legal and social punishments that women who dare to have sex endure.

The book The Purity Myth offers a powerful and revolutionary argument that valuing girls and women for their sexuality needs to stop. Valenti maintains usual balance of intelligence and wit in her book. It is a personal and engaging book in which a woman brilliantly outs the virginity movement and cultural misogyny. She throws light on a bourgeoning cult of abstinence-only education and purity balls and a deeply entrenched myth that so long as a girl is pure, she is moral. But even this demythification does not fully justify premarital sex and the virginity cult.

From a practical point of view it may be argued that sexually frustrated marriages are both miserable and common. Mismatched sex drives and bad marriages may be prevented to some extent by having premarital sex. It is still for many very difficult to talk about sex as a positive, moral, pleasure-affirming choice. So the long-wait-till-the- marriage concept prevails in spite of some deviation from it. Visualisation of sex on television, in music and in advertisements create some illusions about sex before marriage. It may not always be taken as a reality. In the end of her book, Valenti argues that the health and well-being of women are too important to be left to ideologues bent on vilifying feminism and undermining women's autonomy.