When have you seen a clean family entertainer last time? Probably, it is a difficult question to answer in the present day milieu. When films are just banking on stars' power, foreign locales for dance and action, the variety of stunts, the curves of the heroines and computerized cacophonic music at the highest decibels and ahem a lot of blood and gore to satisfy the vicarious depths of violence of the human psyche, here is one movie which is developed on a down-to-earth character without any extraordinary frills.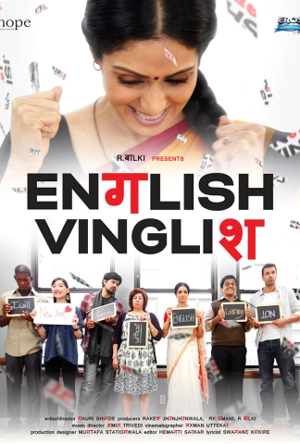 'English Vinglish' is, indeed a pleasant surprise. Sridevi, who had been at the pinnacle of popularity perhaps before a decade and half, stages a dashing comeback with this, straight forward movie with least cinematic components.


It is the story of the angst of a neglected and frequently snubbed mother and wife whose culinary skills and unadulterated love for the family and children alone are her strengths. Her weakness is her language skill in English. Adding to her misery, she was packed off to New York all alone to assist her sister in preparing for the marriage of her daughter who had settled in the US. The foreign land gives jitters to the dumb housewife initially; but, soon Sashi Godbole recovers from it and it provides her an immense courage to go all on her own to join a crash course in English. That leads to a lot of engaging characters and situations leading the story to an (un)expected but enjoyable climax.


Sridevi as Sashi simply excels in her new find role and fills almost all the frames with her natural performance. In her plain but dignified persona in colourful saris and perfectly plaited hair she looks more appealing and glamorous than most of the skimpily clad, exaggerated coiffeur heroines.


The supporting characters and actors are natural adding to the value of the movie.


Gauri Shinde, the debuntant woman writer director has perfectly made a movie on a woman whom we could come across in life at any point of time.