Stress and Black Money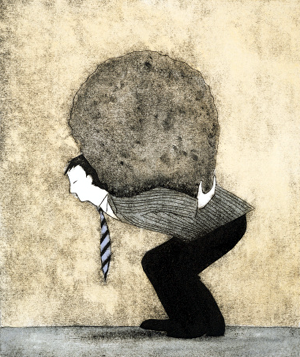 The governments all over the world keep on giving statistics; on the basis of their parameters; about the crimes and black money in different countries. Some of us; grieve about crimes and black money. But in general; we do not go to the roots of crimes and black money and may develop either guilt (as we too may be "criminals" and own "black" money); or helplessness (as we cannot act against these). This causes Stress.

Should we not go to the roots of crimes and black money and stop getting bogged down by the smart and callous or the shallow and populist elements (inside and outside), which causes Stress?
Let us understand; that our perspective, policies, laws, rules, conventions, traditions, motivations, urges, aspirations, ambitions, habits; in personal and social life; determine the degree to which our higher self governs our lower self. In personal life; this determines the values which we nurture and are governed by; and in society; it determines our leadership in different fields; which we adore and get governed by.

The degree of appropriateness of constitution, laws, rules and the expenditure of the taxes; administered by us and/or our leaders in turn; determine; the degree of justice, peace, harmony; and the honest and timely tax payment and honest tax collection; or generation of black money; and darker money amassed through; cheating, misguiding, swindling, stealing, exploiting, robbing, adulteration, extortion, bribing and other devious means (e.g. through laws, rules, statutes such SEZ, and unjust land acquisition).

It is said by the immortal visionaries; that when all the spiritual, religious, philosophical, ideological and strategic efforts; are funneled into perspective, policies, plans and programs of individual and global blossoming; through Namasmaran (Jaap, Jap, Jjikra, Simaran, Sumiran i.e. remembrance of true self); by billions of people; the crimes and black money i.e. Stressors inside and outside would subside.
Image (c) Gettyimages.com

06-Oct-2012
More by : Dr. Shriniwas Kashalikar
---