Chanakya's Chant by Ashwin Sanghi, Westlands, Rs.195, pp.448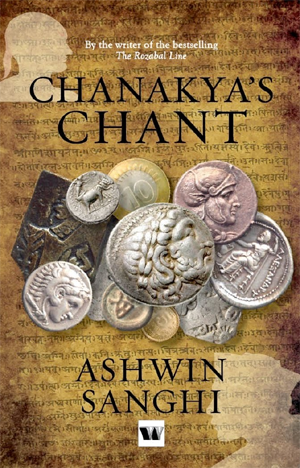 'Chanakya's Chant'
is publicized as a historic fiction in the thriller genre. It, in fact, turned out to be more realistic and contemporary adventure of recent genre. Ashwin Sanghi, the entrepreneur turned author's second novel narrates in parallel what would have happened nearly a half million years ago and what happens now in the realms of ruling community. The proceedings are similar; full of vengeance, thirst for power, greed, double crossing, cruelty, political chicanery and completely amoral acts.
While reading the novel, I felt that India has not changed over centuries and will never change even after centuries. Though claimed as fiction, exaggerations apart, many of the happenings then and now only mark the absolute Indian hypocrisy, indiscipline, avarice for pelf and power, total dishonesty, lack of consciousness and please name and add any vice, you have it.
In the older part of the story dated about 2300 years ago, Chanakya, the author of the famous Arth Shastra, a treatise on political maneuvers describes how he ruined the kings, big and small, to provide Magadha's throne for Chandragupta Maurya. He acts with least qualms and annihilates the persons (not necessarily enemies) who come in his way to achieve his mission. The present day part Gangasagar Mishra manipulates in the existing political scenario to make Chandini Gupta as the Prime Minister of India. Both are ruthless Brahmins.
It is said that anything is fair in love and war. It should read in politics too. Many of the machinations executed by either Chanakya or Gangasagar are unethical, nauseous for a conscientious reader to say the least. If this is the history of the past India or the present and future India, and history keeps repeating like this we need not have to feel anything proud about it.
If you relish political thrillers keeping your conscious aside, this is a book for you. Enjoy!