Psoriasis is an immune-mediated, noncontagious, genetic disease manifesting in the skin and/or the joints. Psoriasis is a, lifelong skin disease.
Causes of Psoriasis
These are unknown but it is believed to have a genetic component. Most researchers agree that the immune system is somehow mistakenly triggered, which speeds up the growth cycle of skin cells. A normal skin cell matures and falls off the body's surface in 28 to 30 days. But a psoriatic skin cell takes only three to four days to mature and move to the surface. Instead of falling off, the cells pile up and form the lesions.

Risk factors to trigger Psoriasis
Emotional stress
Injury to the skin
Some types of infection and reactions to certain drugs
Stress can cause psoriasis to flare for the first time or aggravate existing psoriasis.
Injured or traumatized areas. This is known as the "Koebner phenomenon."
Vaccinations
Sunburns
Scratches can all trigger a Koebner response. The Koebner response can be treated if it is caught early enough.
Certain medications, like antimalarial drugs, lithium and certain beta-blockers, are also known to cause people's psoriasis to flare.
Other triggers may include weather, diet and allergies.
Triggers will vary from person to person and what may cause one person's psoriasis to flare may produce no reaction in another individual.
Types of Psoriasis
There are five types of psoriasis.
Plaque: Most common form of the disease
Guttate: Appears as small red spots on the skin
Inverse: Occurs in armpits, groin and skin folds
Pustular: White blisters surrounded by red skin
Erythrodermic: Intense redness over large areas
Plaque Psoriasis:

The most common type of psoriasis is called plaque psoriasis. It is characterized by raised, inflamed (red) lesions covered with a silvery white scale. The scale is actually a buildup of dead skin cells.

The technical name for plaque psoriasis is psoriasis vulgaris (vulgaris means common). Plaque psoriasis may appear on any skin surface, though the knees, elbows, scalp, and trunk are the most common locations.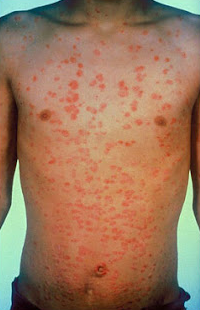 Guttate Psoriasis:

Guttate psoriasis is characterized by small red dots (or drops) of psoriasis. It often appears on the trunk, arms and legs. The lesions may have some scale.

Guttate psoriasis frequently appears suddenly following a streptococcal infection or viral upper respiratory infections.

There are also other events that can precipitate an attack of guttate psoriasis: tonsillitis, a cold, chicken pox, immunizations, physical trauma, psychological stress, illness, and the administration of antimalarial drugs.
Inverse Psoriasis: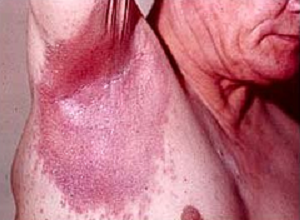 Inverse psoriasis is localized in the flexural surfaces of the skin, e.g., armpit, groin, under the breast, and other skin folds.

Typically, it appears as smooth inflamed lesions without scaling and is particularly subject to irritation due to rubbing and sweating.
Erythrodermic Psoriasis: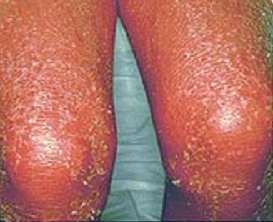 Ordinarily erythrodermic psoriasis appears on the skin as a widespread reddening and exfoliation of fine scales, often accompanied by severe itching and pain. Swelling may also develop.
Pustular Psoriasis: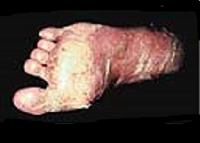 Pustular psoriasis is characterized by pustules (blister-like lesions of noninfectious pus) on the skin. The pus consists of white blood cells in the skin. It is not an infection, and it is not contagious. It may be localized to certain areas of the body, e.g., hands and feet, or it can be widespread. It tends to go in cycles of: 1) erythema (reddening of the skin), 2) formation of pustules, and 3) scaling of the skin.
Special Conditions of Psoriasis
Conception, Pregnancy and Psoriasis

Psoriasis, in and of itself, does not affect the reproductive system of a woman or a man. Some women report their psoriasis improves or worsens during pregnancy.

Psoriasis often changes because of pregnancy.

In the postpartum phase, psoriasis usually gets worse, most often within four months of delivery.

Psoriatic arthritis

Psoriatic arthritis is a chronic inflammatory disease of the joints and connective tissue, was first described in 1818 by a French physician, Baron Jean Louis Alibert, About 10 percent to 30 percent of people with psoriasis also develop psoriatic arthritis, which causes pain, stiffness and swelling in and around the joints. Both genetic and environmental factors seem to be associated with the development of arthritis. The immune system plays an important role.

Signs and Symptoms

Psoriatic arthritis causes stiffness, pain, swelling and tenderness of the joints and the tissue around them. Movement of the joint(s) may be difficult.

Some cases of psoriatic arthritis cause deterioration of the spine and deformity of the joints, leading to disability. It can develop slowly with mild symptoms, or it can develop quickly and be severe.

Major symptoms include
Generalized fatigue
Tenderness, pain and swelling over tendons
Swollen fingers and toes
Stiffness, pain, throbbing, swelling and tenderness in one or more joints
A reduced range of motion
Morning stiffness and tiredness
Nail changes; for example, the nail separates from the nail bed and/or becomes pitted and mimics fungus infections
Redness and pain of the eye, such as conjunctivitis
The disease can develop in a joint after an injury and may mimic a cartilage tear.
Muscle or joint pain can occur without joint inflammation.
Tendonitis and bursitis may be prominent features.
Swelling of the fingers and toes can suggest a "sausage-like" appearance.
Psoriatic arthritis affects the distal joints in fingers or toes. The lower back, wrists, knees or ankles also may be affected.
Homoeopathic Treatment for Psoriasis
Homoeopathy is one of the most popular holistic systems of medicine. The selection of remedy is based upon the theory of individualization and symptoms similarity by using holistic approach.

This is the only way through which a state of complete health can be regained by removing all the sign and symptoms from which the patient is suffering. The aim of homoeopathy is not only to treat psoriasis but to address its underlying cause and individual susceptibility. As far as therapeutic medication is concerned; several well-proved remedies are available for psoriasis treatment that can be selected on the basis of cause, location, sensation, modalities and extension of the psoriasis. For individualized remedy selection and treatment, the patient should consult a qualified homoeopathic doctor in person. Few important remedies for the homoeopathic treatment of psoriasis are given below:
Arsenic Album – excellent psoriasis remedy in which psoriasis, worse by cold application and wetness, better by warmth.

Sulphur – great psoriasis remedy helpful in so many other skin manifestations also.

Kali Brom – remarkable psoriasis remedy in which there is syphilitic psoriasis. Skin cold, blue, spotted corrugated, large, indolent, painful pustules.

Kali Ars – Kali Ars is a very well proved psoriasis remedy with patches on back, arms and spreading from elbows; scaly itches, scaling off leaves behind red skin.

Thyrodinum – one of the best psoriasis remedy for chilly and anemic subjects. Dry impoverished skin; cold hands and feet.

Radium Brom – psoriasis of penis, itching eruptions on face oozing, Patchy erythema on forehead .
Disclaimer: Information provided is for the sole purpose of imparting education on Homoeopathy and is not intended to diagnose, treat, cure or prevent any disease. If you have a medical condition, please consult your physician.