Janice Pariat's Boats on Land
Reading Janice Pariat's short fiction was very gratifying on many counts. Janice Pariat is a young writer, originally from Shillong, worked in Delhi and now is based in the School Of Oriental And African Studies London, for higher studies. She is a frequent contributor to "India Today" and "Outlook" frontrunner magazines in the country.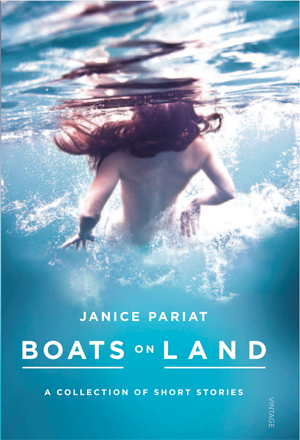 I first came across her writings as a poet on international e zines and websites. The first thing that struck me in her very cadenced and sensuous verse was a stamina in her poetic style, deep evocative images ranging from Shillong to London, to the baroque architecture of the West. She has now published her first collection of short stories in English, by Random House India entitled: "Boats On Land".

I relate to these stories in many ways, as they are about an ethos which I intimately know and love, the pine clad hills of Shillong. She infuses her stories with mysterious if not mystical elements of mantras, the Khasi belief in Thlen, or some kind of ritualistic "snake worship" to propitiate the Gods, the story of fairies ("puri"), the colonial days, its arid hangover, ethnic demands in the 80s and 90s by local organizations etc.

I find distinct autobiographical elements interwoven into the texture of these stories, such as the convent school she studied in and sudden forays into the tea gardens of Assam, where she lived for a considerable part of her life. Above all, a major thematic concern seems to be love and relationship, from the adolescent to the adult, broken and tortured relationships which can be consoled by deep memories of the past or a rejuvenating childhood. Against this the backdrop of animosity towards outsiders, which Shillong faced in the eighties and nineties. There is no historical twist to the stories, but each one is set against a realistic background: colonialism, post colonialism, and Meghalaya after the inception of statehood facing troubled times due to recalcitrant voices, which seem to be ubiquitous. Inside this is the relationship between the local and the 'dkhar' or outsider.

Having a distinct felicity for expression, which is poetic and which can capture natural beauty Janice Pariat's short stories are not only evocative but present a political situation which creates conflict or interests, between say the local and the outsider or the 'dkhar' which in Khasi means in a generic sense outsider. However, bearing the brunt of political situations in the 80s and 90s when she was a young girl in her adolescent stage of her life, evokes deep memories and sensitivities which she looks at squarely and unabashedly.

There is more than a sprinkling of Khasi terms used in her stories, some of which she explains and translates for the benefit of the reader. "Boats on Land" is a series of short stories with a metaphorical interest and significance. One obviously does not expect boats on land but on seas, and it is this paradox which is the culminating force of Janice Pariat's short stories. They are very well written and at times very poetic. I for one can adjust myself to the inexorable wonder of the short stories which are disfigured in terms of time, continuity and space; as I have lived in this part of the country all my life and have seen the small town syndromes from ravishing beauty and innocence to change for better or for worse.

12-Oct-2012
More by : Ananya S Guha
---