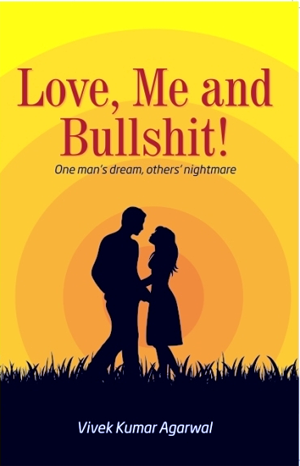 Love, Me and Bullshit! is a debut novel by Vivek Kumar Agarwal, who has worked with top-tier banking and consulting firm and is currently setting up a media venture. Love, Me and Bullshit - as it is suggesting, the title of the book is very interesting. Author had decided to be a writer though he was very confused before writing his maiden novel; didn't know how to write and finally managed to pen this one as a bespectacled man. So all credit should go to those spectacles through which he earns his valuable experiences and manages to interpret into his novel.

The book takes you to its story through its protagonist who is a young struggling boy Romal. He fights hard to reach his goals though ups and downs of love life prevent him. The names of the chapters suggest the lucidity of novel and also the simplicity of its subject matter of average Indian boy. The narration suggests that it is an autobiographical work consisting twenty short chapters. I feel that the names of the chapters like 'My Envy, Other's Pride,' 'Flashback: Down The Lane,' 'The Fortune Cookie,' 'The Prey,' 'IIMA Begins,' Summer Placements' 'Set Me Free,' etc. reveal the general nature of student life where completion is everything and take from off the suspense of the next pages. Some innovativeness was required here too.

The story is a combination of Romal's luck and struggle that how he manages to get admission in IIM Ahmadabad, here Romal comes to know about 'different species' of friends. He attracted towards a girl named Varsha and started loving her silently. In the very first few pages, specifically after the prologue, the author has introduced us to the absurdity of life. Some of his friend wanted to get good job which is the most indispensable thing for them since most of the Indian students come from the middle class background whereas some of his friend only wanted to live for fun and romance. Romal had a different philosophy of life. For Him "Moments are not created, they are lived." It watches out the dark emotions and portrays the human psyche in a state of ultimate sorrow and frustration. It painfully personifies the grey shades of human emotions – a conflict of sadness.
"What can I really do? I can't live here. But I can't just let things be like this. I can earn money. But there are things other than money." (pg163)
After few months when Romal completed his IIM Degree he got a new job. Still he was confused that he loves Varsha or not. And, finally Romal definitely stands out a character – a loser in love.

The novel begins with a very sudden outburst "I felt depressed" which suggests the general beginning of the 21st century novel where we usually discern the sudden opening without giving any sort of a detail. The way Vivek Kumar Agarwal has introduced and developed all characters individually by giving them a nice engaging narration shows the general instinct of Indian story-telling and traditional chain in which we surely rule the world.

The targets of his criticism are loss of values and human relationships according to the circumstances. The author challenges the audience for a reform on these exacting points.

Author's novel can be seen as a structure of an unverifiable world, a dream-like world between fantasy and nightmare. He educates a close vision of the traumas and the problems of middle-class man. And he has caught the slight thread of psychological disturbance of human beings; especially he lies in the exploration of the inner world of human psyche and sensibility. His novel exposes our destiny in this life which is generally determined by our karma and dharma. Karma is the action of life and all of the lessons to be learned. For example:
"Well, not quite sure of that either. If Karma and destiny happen, then maybe you two will find a way to each other in some way that I can not foresee now." (pg72)
The author made an attempt to explore the boundaries of being a loser. The character Romal is an unsuccessful hero who realizes his loss when it is already lost. He even starts discerning the resemblance of Versha in other girls:
"For a moment I felt I saw Versha. The next moment I knew it was just someone else". (pg 193.)
In the very first few pages, precisely after the prologue, the author has introduced us to Master voice and inner voice of Mysterious world which suggests that author believes in God or a supernatural power. He is of a view in the novel that God is the one who creates our life and designs every event that happens in our life. Therefore, whatever happens in our life, weather good or bad, is God's will. Only God has the power to change our destiny. He proclaims that we, as human beings, have no power to change our life or our destiny. The novel is a psychological profile, a half-baked record of an IIM student. The narration was so attractive that one can read till to the last end to find the culmination. Vivek has summed up Romal's plight of love with the striking lines of Mirza Ghalib's Shayari which asserts that love is not less than death.
"Mohabbat mein pharak nahin hai jeene aur marane mein
Ki usi ko dekh kar jeete hain ki jis jalim pe dam nikale"
The production quality of the book is average while the editing errors could and should have been easily clipped out. For a new author it is a quite good effort. Among the new crop of authors, Vivek Kumar Agarwal is definitely a talent to watch for. I definitely recommend this book to al young guns of India who want to outshine the world in future.

Love, Me and Bullshit! One man's dream, others' nightmare
(A Novel by Vivek Kumar Agarwal) Srishti Publishers & Distributors (Pages-214)
ISBN: 978-93-80349-54-1Year of release:-2012 Price: - Rs 100