On the Edge - the Great Indian Bustard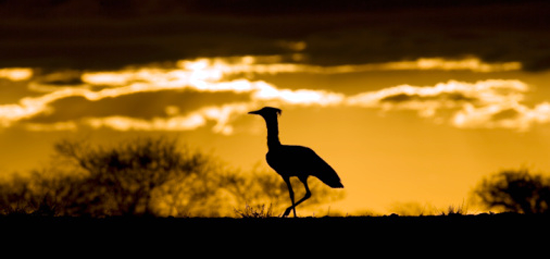 With a rapidly growing population, increasing pressures of development and unconcerned public authorities wildlife in India do not seem to have a chance. A recent list of most threatened species of animals, plants and fungi jointly compiled by the International Union for Conservation of Nature and the Zoological Society of London includes four Indian species.

Questioning whether these are "Priceless or worthless" species and, therefore, whether we have the right to drive them to extinction the two organisations have surmised that humans seem to care more for economic benefits that certain species provide if they are conserved. The rest, it seems, could be left to their native ingenuity to either adapt to the ever-changing environment or to perish.

In India conservation is generally oriented to benefits that are derived from tourism. Hence, emphasis is on conservation of tigers, Asiatic lions, rhinos and elephants. As leopards and wild buffaloes are not glamorous enough for visiting dollar-toting tourists not much attention is paid to their conservation. Likewise, numerous other lower order animals and organisms have met with indifference accentuating their plight in the progressively increasing encroachment by humans in their territory.


Among the four listed Indian species is the Great Indian Bustard (GIB) that has been on threatened list of IUCN and yet no significant efforts were made for its conservation and revival. The GIBs lost out to human greed for land, trade and hunting and, of course, apathy and neglect towards their habitat despite their being declared endangered. They have become so rare that not many of us have ever set eyes on any of them.

Growing up in Gwalior, a city not far from Ghatigaon that then used to be a habitat of the GIB, some of our friends back in school after vacations would talk animatedly about the Son Chiraiya, the Hindi name of GIB, which they happened to have set their eyes on near their respective villages. Ghatigaon, in Gwalior District having significant numbers of GIB, was converted much later into the Great Indian Bustard Sanctuary in 1981. As has been happening virtually all over the country, operations by the ubiquitous mining mafia and, of course, poaching saw the end of the bustards in the sanctuary. A similar fate awaited the Karera sanctuary in Shivpuri district of Madhya Pradesh. For more than sixteen years the bird has not been sighted in the Sanctuary and the lands notified for Son Chiraiya Sanctuary are now awaiting de-notification. MP government has even changed the name of the Sanctuary to Karera Bird Sanctuary, reconciled to the fact of disappearance of the GIB.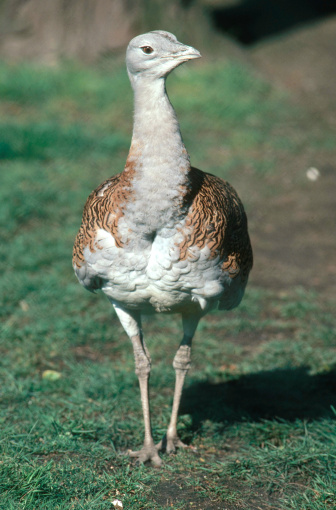 Dr. Asad Rahmani, a leading ornithologist and Director of Bombay Natural History Society, happened to have observed, "Karera Wildlife Sanctuary was established mainly for the Great Indian Bustard in 1981. Now it has got DFO, Forest Rangers, foresters and Forest Watchers but there are no Bustards".



A telling remark!



This seems to be true of the entire country. Formerly distributed in around sixteen states in India, the GIB is now struggling to survive in small scattered pockets against great odds. There are records of the Moguls being fond its flesh, the British finding it a challenging game-bird and, of course, its flesh was considered a delicacy all over. It used to be seen in sizeable numbers in Karnataka (Bengaluru, Bellary, Koppal and Gadag districts), Andhra Pradesh (Rollapadu Bird & Wildlife Sanctuary), Maharashtra (Nannaj near Solapur, Ahmednagar and Chandrapur), Madhya Pradesh (Shivpuri, Gwalior), Rajasthan (Phalodi, Pokhran, Baap, Diyatra, Mohangarh and Ramgarh in the Thar Desert) and Gujarat (in Kutch).

It has since disappeared from 90% of its range. Hunting, poaching, degradation of habitat, over-grazing and change in land-use continue to be threats to the bird's survival, its numbers falling steeply over the years. There are varying counts circulating among the wildlifers but it seems to be clear that there are not more than 300 birds in scattered pockets, most of them in Rajasthan and Gujarat.

In 2011, Bird Life International and International Union for conservation of Nature had to raise the status of the species from "Endangered" to "Critically Endangered". Despite creation of a number of sanctuaries for the bird with all the paraphernalia and concomitants survival of the bird in good numbers has not be ensured. Dr. Rahmani's hard-hitting remarks are, therefore, justified.

In India impeccable systems are invariably put in place but they seldom function well enough to yield the desired results. Tall, handsome and majestic in looks, the rare ground bird GIB thrives in open country with thorn, scrub and tall grass in arid and semi-arid regions with some cultivated lands. It avoids soggy regions and hence is not comfortable with irrigated areas. The major areas where they are known to breed in India are in central and western India – all arid or semi-arid regions. It has deserted the regions in Rajasthan where the new canal system has changed the dry landscape. The species is omnivorous and feeds on insects, rodents and reptiles as also berries and seeds. They may also feed on groundnuts and millets. Fertilisers and chemicals used for growing these crops may also have had adverse impact on their numbers.

Every species has some ecological role. The Great Indian Bustard is considered an "Umbrella Species" for the Indian grassland ecosystems. In fact, the GIB's presence in them is indicator of their health and many other grassland species that they host. Perhaps, because of its utter decimation the Government of India has woken up to the possibility of the species' extinction in the near future. It has initiated a Recovery Plan and Maharashtra government, which has around 25-30 GIBs in the state, has been asked to prepare site-specific plans. The Centre is also reported to be mulling formulation of a project to save the species on the lines of Project Tiger. If it is done it would be none too soon, as the GIB, with its numbers down to 300 or less, is more critically endangered than even the tiger.

While efforts are under way for recovery of the species in various states a special mention needs to be made of Gujarat and Rajasthan. Gujarat government allotted 1500 acres in Kutch district in late 2011 for developing a habitat for the Great Indian Bustard. The area is located close to the existing GIB Sanctuary spread over 2 square kilometres in Nalia "taluka" where a nest of the bird was observed last year. Likewise, having been persuaded by conservationists, the district administration of Ajmer in Rajasthan has decided to set apart a large chunk of wasteland in Shonkalia (where sizable numbers of GIB were sighted recently) for working up a conducive habitat for the bird. Most encouraging is the willing cooperation of the villagers to protect and conserve the bird – a reaffirmation of Rajasthan villagers' conservationist tradition. In the process, another threatened bird, the lesser florican, a seasonal visitor to the region, may also receive protection.

Obviously, there is still hope for the Great Indian Bustard. A rare combination of sincerity and commitment of all concerned might still be able to bring the beautiful species back from the edge.


Image (c) Gettyimages.com

14-Oct-2012
More by : Proloy Bagchi
---