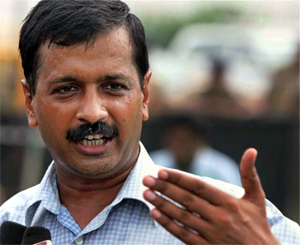 During Anna Hazare's primary fast at Delhi's Jantar Mantar it was speculated in these columns that his endeavor suited Mrs. Sonia Gandhi in as much as it diverted public attention from ongoing corruption cases to the Lokpal Bill. Some doubt was raised about Team Anna's political affiliations. On June 4, 2012 it was pointed out in these columns:
"It is universally accepted that the most powerful politician in the UPA is Mrs. Sonia Gandhi. According to popular belief the PM cannot move an inch without her blessing. How odd, then, that Team Anna can wax eloquent about all ministers and the PM but not one Team member even once has dared utter the name of Mrs. Gandhi…

Arvind Kejriwal quite understandably demands investigation by an independent agency to probe alleged corruption of cabinet ministers including the PM. Admittedly Mrs. Gandhi is not in the cabinet. But is her power and share of decision making in doubt? And does not the fact that Switzerland's most influential journal categorically stated that a Swiss bank account of over 2 billion US dollars in the name of Rajiv Gandhi existed, the fact that a former official KGB Commission member Yevgenia Albats has written in her doctoral research book that the KGB funded Mrs. Sonia Gandhi, the fact that an official spokesperson of the Russian government acknowledged to media that such funds were indeed paid by the Soviet government to Mrs. Gandhi in order to protect its foreign policy, merit in the view of Kejriwal an investigation by a credible agency?

It may be considered unfair to doubt the integrity of Team Anna. But to dispel such unhealthy speculation there is a simple solution. Let Team Anna demand an investigation of Mrs. Sonia Gandhi in the same manner as it does of 14 cabinet ministers. It is an easy litmus test. Will Team Anna take it?"
Much water has flowed under the bridge since then. But recently for the first time Mr. Kejriwal after separation from Mr. Anna Hazare launched an attack against Mr. Robert Vadra based upon an earlier media report.

The real depth of the Dynasty's commitment to Mrs. Sonia Gandhi's son-in-law is not quite clear. Doubts about Mr. Kejriwal's affiliations were not fully dispelled. After attacking Mr. Vadra, Mr. Kejriwal in a newspaper interview had sympathetic words for Mr. Rahul Gandhi and fulsome praise for the late Rajiv Gandhi. He described the late leader as one who best understood the real problems of India.

Soon attention was partially diverted from Mr. Vadra to Law Minister Mr. Salman Khurshid who became Mr. Kejriwal's latest target. A TV channel's expose was seized by Mr. Kejriwal to launch his frontal attack against the Law Minister. Mr. Kejriwal occupied Parliament Street and wowed to stay put till Mr. Khurshid resigned or was sacked from office. He sent a letter to the Prime Minister with his demand and announced that he would take the next step after receiving a response. No response came. But then on that same day, October 15th, a curious sequence of events occurred.
Congress General Secretary Mr. Digvijay Singh alleged on TV that around 2005 Mr. Kejriwal was introduced to him by Swami Agnivesh while all three were in America. According to Mr. Digvijay Singh Mr. Kejriwal sought his recommendation for induction in the National Advisory Council headed by Mrs. Sonia Gandhi. Swami Agnivesh endorsed Mr. Kejriwal's request. Mr. Singh did the needful but Mrs. Gandhi did not oblige.

Within a few hours of this news Mr. Kejriwal denied Mr. Singh's allegation but he suddenly also announced the suspension of his protest against Mr. Khurshid in Delhi. He decided to shift it to the latter's parliamentary constituency in Farrukhabad.

From this it appears that the resignation demand has been given up and the battle is postponed to the next election at the hustings.

That is not all. Mr. Kejriwal also reiterated subsequent to Mr. Singh's allegation his decision to expose the alleged corruption of the BJP President Mr. Nitin Gadkari on the following day.

These inexplicable decisions not surprisingly have raised a few eyebrows.
People cannot be blamed if the sudden twists and turns taken by Mr. Kejriwal create doubts in their minds about where he really stands. The politics of change is very serious business. Mega media publicity is a heady intoxicant. But if unaccompanied by solid achievement it can result in an awful hangover.
Perhaps Mr. Kejriwal and his colleagues need to pause and introspect. Are they on the correct course? Undeniably they are destroying the credibility of the political class. But are they successfully building up their own credibility?