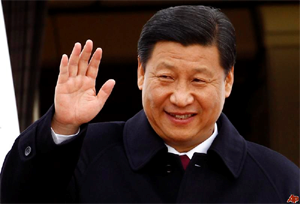 This month, barring unexpected developments, Mr. Xi Jinping will be appointed as the General Secretary of China's Communist Party. That will make him the most powerful man in China. In March 2013 he will then be crowned as China's President. How will his elevation affect India? That will largely depend on how it affects China. The signs are hopeful. Readers might recall that earlier some positive developments related to Mr. Xi's likely ascension to China's Presidency had been noted.

Broadly two reasons for hope were adduced.
Mr. Xi should spare a thought for the rising new
generation of Indians. It will not brook nonsense from any quarter.
First, China's economy is going through transition. Beijing is being compelled to change its low-wage, export driven economy due to shrinking exports caused by the global meltdown. At the same time in spite of censorship the Internet has created a more aware and questioning citizenry. This has compelled Beijing to re-order economic priorities leading to an expanding domestic market that makes up for the loss of exports earnings. All this inevitably is pushing China towards a more equitable and liberal society.

The second reason is provided by Mr. Xi's background. Mr. Xi is an elite princeling. His father was a revolutionary General who participated in Mao's Long March. But during the Cultural Revolution his father became a victim. Both father and son were driven to the hard life of peasants in the countryside. Mr. Xi therefore has experienced both privilege and persecution. He can empathize with the demands of the poor workers and peasants. His wife is an officer in the People's Liberation Army (PLA) which might also help him forge better relations with its powerful elements. The litmus test for meaningful change in China will be provided by its policy towards Tibet and Xingjian.

Can Mr. Xi initiate any real change in Tibet? China watcher and historian Mr. Claude Arpi has researched to discover that Mr.Xi's father was a strong sympathizer of Tibet's cultural autonomy. That is one more hopeful sign.

There are of course serious hazards. Mr. Xi has just emerged from the crisis involving the expulsion and arrest of his powerful rival, Mr. Bo Xilai. It is not at all clear whether an ongoing power struggle under the surface may not erupt any time. Mr. Bo reportedly had powerful friends in the PLA.
Right now India is receiving very mixed signals from Beijing. On the one hand there is aggressive posturing and bullying by the PLA on the Sino-Indian border. On the other hand the Governor of Xingjian is being allowed by Beijing to approach India for investment and trade. The danger in dictatorships is always that during a change of guard one side or the other instigates a foreign adventure to tilt domestic opinion in its favour. Analysts have noted how China has suddenly started to flex it muscles with all neighbours including Japan and Vietnam. Between now and March 2013 India must remain on guard to ensure it does not become the military victim of a power struggle within China. Assuming that Mr. Xi's elevation proceeds smoothly India needs to prepare its strategy for possible negotiations with his government. What might be New Delhi's agenda for any meaningful peace talks with Beijing?

On February 23, 2012 it was pointed out in these columns:
"China desperately needs the Indian export market. Conceivably it could soften its approach towards New Delhi. That is why New Delhi must remain resolutely clear about its core interests to be protected. More than the Sino-Indian boundary dispute is the basic question whether Beijing is prepared to recognize India's legitimate sphere of influence. Beijing must reconcile itself to a consolidated South Asia. If it does, Beijing will have to stop arming and encouraging India 's neighbours to oppose New Delhi."
This can be rephrased in blunt and undiplomatic language.
China must recognize and acknowledge India's sphere of influence just as it jealously protects its own. Both Han and Hindu civilizations provide the handful of source cultures to humanity. And after the world has moved from fiefdoms and kingdoms to states and republics, globalization will now compel it to establish regional groupings based upon cultural nationalism. The European Union is a faltering fore-runner. This will provide the template for a new federal world order. Cultural nationalism may sound politically incorrect and ring alarm bells among smaller neighbouring nations. But this is the bald truth. And let it be noted that genuine federalism does not imply greater power for bigger units. It might be recalled that when BP Koirala stood firm on Nepal's rights while negotiating with Mao, the latter was exasperatedly provoked to exclaim, "The tyranny of you small nations!"

Fifty years after the Sino-Indian border clash there has been a spate of articles urging both nations to forget the past. Detailed studies of the McMahon Line and its origins are being recalled. A whole new book on the subject by Mr. Claude Arpi will soon hit the stands.

Most critics seem to miss the point.

Sparsely populated or even uninhabited border areas were never the real cause of the India-China dispute. These were merely the symptoms. The real reason for discord was that China was not prepared to recognize India's legitimate sphere of influence. India leaned backward to respect China's concerns over Tibet, Xingjian and Taiwan. China continues to fish in the troubled waters of Kashmir and India's northeast. What is worse, Beijing has brazenly armed Indian separatists and afforded them sanctuary on its soil. It has armed Pakistan with nuclear weapons and missiles aimed solely against India. Apart from this it has shamelessly violated protocol and its assurances to perpetually needle India. In 2009 Nigeria discovered a large consignment of fake medicines labeled 'Made in India' which were in fact produced in China. Beijing brazenly flouted its own solemn written commitment given in 2005 not to disturb settled populations in the boundary dispute by claiming Arunachal Pradesh.

All this, then, is what Mr. Xi Jinping will have to revise if he is at all serious about normalizing relations with India. Together India and China comprise almost a third of humanity. Together both nations can help create a just and equitable world order. But that can only be done if China first gives up its hegemonic attitude and allows legitimate space to India and other neighbours. To do that it will first have to recognize and accommodate the ethnic minorities within its own sphere of influence. If Mr. Xi Jinping is not up to it there is an economically adversarial option open to India.
The present impotent UPA government is incapable of adopting it. But this government will not remain in power forever.

Mr. Xi should spare a thought for the rising new generation of Indians. It will not brook nonsense from any quarter.