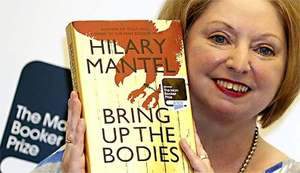 Hilary Mantel now sixty earlier wrote nine novels in just ten years, from 1990 to 2000 and she struck gold with her tenth novel Wolf Hall which won the 2009 Man Booker Prize. But with Bring Up Bodies, Mantel entered history as the double winner of the Man Booker Prize. The third book of the trilogy is to be called The Mirror and the Light which may now be looking forward to getting the third Booker. Bring Up the Bodies begins where Mantel's first book of the trilogy Wolf Hall finished.

The narrative of Wolf Hall fleshes out the historical record of Cromwell's life to produce a complete and compelling character. Mantel is outspoken in her attack on the government welfare policies.

In the second novel Bring up the Bodies there is the same protagonist as in the Wolf Hall which The Observer named in 2012 as one of 'the 10 best historical novels". Set in the period from 1500 to 1535, Wolf Hall is a fictionalized biography documenting the rapid rise to power of Thomas Cromwellin the court of Henry VIII of England. Thomas Cromwell who as chief minister to Henry VIII in 1536, Cromwell tried to pass a Poor Law which would provide financial aid to those unable to work. Thus in some respects, Mantel argued, Cromwell lived in a more enlightened time.
The first novel ends with the execution of Thomas More, bringing Cromwell to the height of his power and influence. Mantel said: "We have reached a period where we are going back to the Middle Ages; where poverty is once again being viewed as a moral failing or a weakness, and relief by the state is a privilege and not a right." Here she reflected on the parallels with modern day Britain.

In the late 1970s, Mantel wrote her first book, an 800-page novel set during the French revolution called Safety. In that novel, Przybyszewska died of Robespierre a century ago aged 33 of malnutrition and morphine addiction. Mantel was obsessed not just with the French revolution but with its leading monster, Robespierre. Mantel's book is provisionally entitled The Woman Who Died of Robespierre and it's hard not to think of it as Mantel looking into the abyss to see what could happen to her.

Bring Up the Bodies is first sequel to triumph in prize's 43-year history, and Mantel is the first woman and first Briton to win twice the prize. Receiving the prize, Mantel remarked funnily: "You wait 20 years for a Booker prize and then two come along at once." She had really rewritten the book on writing historification. Three years ago, she said she would be spending the Booker prize money on "sex, drugs and rock'n'roll.
Bring Up the Bodies "utterly surpassed" the achievement of Wolf Hall. It is a bloody story, but Hilary Mantel is a writer who thinks through the blood and uses her art and power of prose to create moral ambiguities and the real uncertainty of political life then and a pale imitation of a political life now. Paul Laity argues beautifully in The Guardian video that Cromwell is presented as the 'self made man' in the book. There are plenty of fictional accounts told from Ann Boleyn's point of view, so hearing it told from the perspective of Cromwell - a man usually portrayed as a one-dimensional baddie - should be fascinating. What will be interesting to read is how Mantel assesses Cromwell's involvement in Boleyn's downfall, as it is something historians disagree on. Some say he was merely putting his master's wishes into action. Others claim that he engineered the whole thing himself. It is probably one of those historical questions which will never be resolved. But Mantel has come out to fight Cromwell's corner. As one of the chief architects of the very early Reformation and the dismantling of papal power in England Cromwell has had five centuries of people fighting his corner.

Mantel has beautifully grasped both the historical and the personal perspective. While Thomas More's character is depicted in the negative way, Mantel drew a more intimate and well –rounded portrait of Cromwell as a pragmatic and talented man. It is quite interesting that Cromwell was seen as an utterly hateful person: a lickspittle to the powerful, a tyrant to the weak. And yet because of his success, most people now view him as a Renaissance hero. To make the foul seem fair is not what art should be about. Mantel is a novelist, not a historian. Secondly, every era reinterprets historical figures in its own way. Cromwell is usually seen as a comic book villain but recent studies have suggested it may be a bit more complex than that. Here Mantel has done a marvelous job. Cromwell's image as a historical character is refurbished in Mantel's books more clearly in Bring Up the Bodies than in the earlier novel of the proposed trilogy.
The more interesting thing happens in the case of Ann Boleyn. In her own day, and for some time after, she was seen as a sinister shrew who bewitched the king and caused him to abandon the beloved Catherine of Aragon. These days, by contrast, she is seen as the ultimate wronged woman, even as a proto-feminist. But Mantel does not seem to have such a sympathetic view of her in her second book. The most fascinating thing is that, although they ultimately became deadly enemies Cromwell, and Boleyn actually had an awful lot in common.

Bring Up the Bodies is more condensed than Wolf Hall in that it charts the nine months of events in 1535 that lead to the execution of Anne Boleyn. It is one of the greatest, best-known stories in English history. The ambiguities of Cromwell resembles like that of The Godfather. In D.H. Lawrence's The Rainbow we got such a description of the English landscape as we find it in Mantel's book. The book gives us a picture of Cromwell who has to undo the work that saw Anne Boleyn crowned as Henry's wife.

We know how the story ends, but Mantel keeps the reader gripped through deft plotting and a vivid portrayal of Cromwell The King and Master Secretary Thomas Cromwell are the guests of the Seymour family at Wolf Hall. The King shares private moments with Jane Seymour, and begins to fall in love with her. His present queen, Anne Boleyn, has failed to give him a male heir and, as rumors of her infidelity spread, the King seeks a way to be rid of her, and marry the new object of his affections. Anne Boleyn and Thomas Cromwell owe their current high status to each other. They become pitted against each other, as Cromwell seeks to find a legitimate excuse to expel her from the King's court. Cromwell, master politician, uses Anne's fall from grace as a chance to settle scores with old enemies. "Mantel's retelling is that she makes these events fresh and terrifying all over again" wrote Janet Maslin in her review of the book in the New York Times (5 May 2012).