An Untouchable's Narrative of An Untouchable's Life
The name 'Untouchable' always brings to our mind Mulk Raj Anand's book. But Omprakash Valmiki's Joothan is written from the personal experiences of dalit who rises to prominence from his marginalized presence. Omprakash Valmiki's voice is today recognized as an empowered voice of a writer who works on behalf of Dalits. Himself born in a desperately poor family in North India, the lowest caste in Indian society, a community of the illiterate Untouchables, he describes from his personal experiences the torments of the Dalits who even have no right to fight for education or food. He describes how these people are subject to an institutionalized slavery.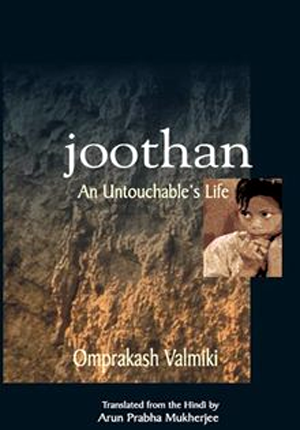 The highest purpose of Dalit writing is not beauty of craft, but authenticity of experience. Omprakash gives us an anatomy of oppression. Most significantly, though, Valmiki's story is a voice from the half of India that has been voiceless for countless generations. Valmiki and a few others like him have breached an opening for our understanding and knowledge about a people so marginalized that they disappeared from the world's awareness, their cultures, lifestyles, folk knowledge, and aspirations represented nowhere in mainstream or scholarly sources.

Joothan by Omprakash Valmiki is one such work of Dalit literature, first published in Hindi in 1997 and translated into English by Arun Prabha Mukherjee in 2003. Arun Prabha Mukherjee, a professor of English at York University in Canada did a great job by making the work available to a wider audience, She has illuminated the book with her thoughtful and insightful foreword. Dalits today constitute about one sixth of India's population. Spread over the entire country, speaking many languages, and belonging to many religions, they have become a major political force.

Jhootan is a memoir of growing up 'untouchable' starting in the 1950s outside a typical village in Uttar Pradesh. "Joothan" literally means scraps of food left on a plate, destined for the garbage or for the family pet in a middle-class urban home. It is related to the word "jootha," which means polluted and such scraps are characterized as "joothan" only if someone else eats them. India's untouchables have been forced to accept and eat "joothan" for their subsistence for centuries. The word encapsulates the pain, humiliation, and poverty of this community, which has lived at the bottom of India's social pyramid for millennia.
Viramma is an agricultural worker and midwife in Karani, a village near Pondicherry in southeast India. Viramma is a member of the caste called Untouchable. Of her 12 children, only three survive. Viramma's story--told over the course of 10 years--is a vivid portrayal of a proud and expressive woman living at the margins of society. Basically the focus is on untouchability which was abolished in 1949 only in paper. For decades after that, the dalits continued to face discrimination, economic deprivation, violence, and ridicule. Valmiki shares his heroic struggle to survive a preordained life of perpetual physical and mental persecution and his transformation into a speaking subject under the influence of the great Dalit political leader, B. R. Ambedkar. A document of the long-silenced and long-denied sufferings of the Dalits, Joothan is a major contribution to the archives of Dalit history. Told as a series of piercing vignettes, Joothan is also a remarkable record of a rare Indian journey, one that took a boy from extremely wretched socioeconomic conditions to prominence. It is a rare glimpse into that other history of India, of marginalized section of people about whom few talks and almost nobody writes. Omprakash Valmiki describes his life as an untouchable, or Dalit, in the newly independent India of the 1950s.

As a document of the long silenced and long denied sufferings of the Dalits, Joothan is not only a contribution to the archives of Dalit history, but a manifesto for the revolutionary transformation of society and human consciousness. Valmiki was born into the Chuhra caste (aka Bhangi) whose ordained job it was to sweep the roads, clean the cattle barns, get shift off the floor, dispose of dead animals, work the fields during harvests, and perform other physical labour for upper caste people, including the Tyagi Brahmins who called out not by their names but as 'ou chuhre' or 'abey chuhre' which reflects disdain and hate. They could touch cows and even stray dogs, but not the Chuhra people who were forced to live outside the village reserved for upper caste people.
Untouchable is Mulk Raj Anand's first novel and it brought to him immense popularity and prestige. This novel shows the realistic picture of society. In this novel Anand has portrayed a picture of untouchable who is sweeper boy. This character is the representative of all down trodden society in pre-independence of India. The protagonist of this novel is the figure of suffering because of his caste. With Bakha, the central character, there are other characters who also suffer because of their lower caste. They live in mud-walled cottages huddled colony in which people are scavengers, the leather-workers, the washer men, the barbers, the water-carriers, the grass-cutters and other outcastes. The lower castes people are suffering because they are by birth outcaste. But Mulk Raj Anand had depicted the hypocrisy of the upper caste people that men like Pt. Kali Nath enjoy the touch of the Harijan girls. Mulk Raj Anand exposes all this hypocrisy and double standard or double dealing. In this novel Bakha is a universal figure to show the oppression, injustice, humiliation to the whole community of the outcastes in India. Bakha symbolizes the exploitation and oppression which has been the fate of untouchables like him. His anguish and humiliation are not of his alone, but the suffering of whole outcastes and underdogs.

Untouchable shows the evil of untouchability in Hindu Society The novel's emphasis on an individual's attempt to emancipate himself from the age old evil of untouchability. Anand is here, concerned with evils of untouchability and the need for radical empathy. He describes the pathetic conditions of the untouchables through the character Bakha, their immitigable hardships and physical and mental agonies almost with the meticulous skill of historical raconteur. In the words of Marlene Fisher: "Anand's first novel, then, is at one and the same time a fine piece of creative work in terms of its own artistic integrity and an indication of it author's humanistic commitments and future novelistic directions."
But Jhootan of Omprakash is a novel of the untouchable, by the untouchable and yet not merely for the untouchable but for everyone's reading. Omprakash's narrative voice in Jhootan brims with a quiet sense of outrage at what he had to endure as a human. We can see his memoir as a form of Satyagraha. The book veritably becomes 'the axe for the frozen sea inside us.' More Indians ought to read Jhootan and let its sharp edges get to operate inside them.