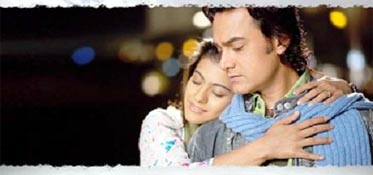 Rating : Good (For a single visit)

Producer: Aditya Chopra
Director: Kunal Kohli
Music: Jatin-Lalit
Featuring: Rishi Kapoor, Aamir Khan, Kajol, Tabu, Kirron Kher (sp.appearances), Sharat Saxena, Ahmad Khan, Master Ali Haji, Jaspal Bhatti & Others.
Meet Rehan (Aamir Khan), a Delhi tourist guide, who encounters the blind and beautiful Zooni (Kajol) from Kashmir when she is on her first trip away from home. Dazzled by her, he bursts into shaayari at the drop of a hat, and for Zooni too, it is instant love.

He flirts in a most outrageous and un-'guide'-like manner with her, to the delight of all her companions, except one, who also comes around soon. Thoroughly besotted with her, Rehan wants to show Zooni all the colors of Delhi, and of life and love. And Zooni reciprocates because she wants to discover all that Rehan has to show her. And Zooni reaches and touches the real Rehan, who even arranges for her treatment (she had lost her sight in a bomb blast) and restores her eyesight. But when vision returns, Rehan has exited from her life - because the 'guide' has a dark - very dark - side to him, and the real Rehan she has touched is suppressed somewhere within that hell.

A pregnant but psychologically battered Zooni moves on, and gives birth to a son (how easily Hindi film heroines get pregnant the first time they get 'physical'!) she names Rehan. Her mother (Kirron Kher, a character that is completely superfluous in terms of the story and script) dies some years later, and Zooni shifts with her father (Rishi Kapoor) and son to a secluded villa in the Kashmir mountains.

And then just when she has outgrown the memories of the past, it is time for Rehan to re-enter her life, this time with his terrible secret, and darken it again. And that's when her father's advice shapes her decision - that you define your life not by choosing between right and wrong, but between the better of two goods and the lesser of two evils.

Fanaa could have been a classic had it been crisper but weightier. At 18 reels, it becomes a tad too long as well as convoluted for a story whose end is not only within expected parameters but without any freshness in treatment. But while a long film isn't necessarily boring (and luckily this film is not, to be fair), the script and direction also lack emotional depth, which is sinful given that three of the biggest powerhouses among actors in India - Rishi Kapoor, Aamir Khan and Kajol - are the protagonists.

One welcomes Yash Raj's slight deviation from their standard formula by blending a thriller with a love story. But the relationship between the lovers that shows so much intensity and promise so consistently in the first half is completely diluted in the second half when the film could have got down to crucial further business in a - well, businesslike manner.

The thawing of the relationship between Zooni and the badly-wounded man that she and her father nurse back to health takes a tad too long and mushy a path, and the revelation that he is Rehan (whom Zooni has never seen) is quite blandly done, and the sequences that follow it lack the kind of emotional voltage that was needed. Also the evolved 2K audience may not take kindly to the long arm of coincidence making Rehan land up injured at Zooni's house, or to the fact that Zooni does not even recognize his voice. The false dramatic ploy of her feeling some familiarity with him therefore emerges doubly fake.

The scenes between father and son (Master Ali Beg - absolutely delightful) as they grow from hostile strangers to their natural relationship have a far better impact precisely because they have the very quality the rest of the second half lacks - a logical brevity and a natural depth.

Most films are made or demolished (at the box-office if not in quality) by the second half, and this is where Fanaa falters and fails to fathom the depths that it could have. The ascending dramatic graph plateaus and then plunges down. Even the pre-climax and climax (that should have been scorchers) end up predictable and limpid.

Kunal Kohli's dialogues are serviceable, but there is nothing extraordinary there just as there is nothing exceptionally riveting in Shibani Bathija's screenplay. But primarily the film fails in a major way, as said before, to capitalize on three of the foremost actors of international caliber in India. Rishi Kapoor, as Beg, does a routine role without the kind of conviction he carried in his brilliant recent work like Kohli's Hum Tum, Kucch To Hai, Pyaar Mein Twist and the first film in which he was Kajol's dad - Kuch Khatti Kuch Meethi.

Kajol is brilliant, rises above the script, but is decidedly not in her element as the (weak) climax approaches. Aamir Khan is his usual self, and those who have been following his career will find nothing fresh in his seasoned but routine performance. Oh, what material is wasted here!

In a short cameo, Tabu scores as the anti-terrorist chief, and Shruti Seth and Master Ali Beg score trumps in their roles. The rest go about their motions, but Lara Dutta and Shiny Ahuja are completely and criminally wasted in roles that did not have meat even for junior artistes!

The songs and cinematography (Ravi K. Chandran) are major assets to the film, though "Mere haath mein " bogs down the pace, but Nitish Roy's production design is delightful. Ritesh Soni's editing seems to be helpless in the face of the weak and indulgent direction, and Salim-Suleiman's background score is ordinary.

Fanaa, like a zillion ambitious films in Hindi cinema, is a film that could have reached classic dimensions as a study of the complex psyche of a 'brainwashed' terrorist, of a woman who lives like a widow and single parent even though her husband is alive with the guilt that she has caused his death, and as a love story between a blind girl and a devoted lover. It just might connect with the urban box-office counters but sadly not with our souls - which is what enduring cinema is all about.