"Is this what I did to myself in the past?
What shall I do Sunil Poet I asked?
Move on and leave them without any coins?
What should I care for the love of my loins?
What should we care for our cities and cars?
What shall we buy with our Food Stamps on Mars?"
Wrote Allen Ginsberg in his famous poem 'September on Jessore Road' where the Sunil Poet was mentioned. Sunil Gangopadhyay is now no longer living to give any direction to Allen Ginsberg on Jessore Road. He breathed his last. The charming lyre is now silent. It will be never heard by us.The seal of death is placed on his mouth.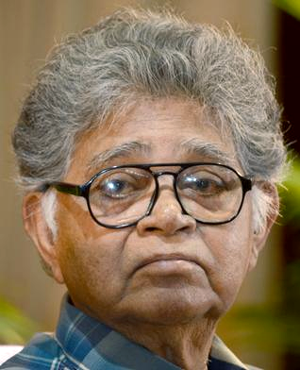 Yes, the legendary Bengali writer Sunil Gangopadhyay passes away on October 23 at his South Kolkata residence, following a massive heart attack. Sunil had enriched Bengali literature through his unique style. He was one of the best intellectuals among his contemporaries. Born in Faridpur, Bangladesh, Gangopadhyay studied B.A. in Dum Dum Motijheel College and obtained his Master's degree in Bengali from the University of Calcutta in 1954.

In 1953 he with few of his friends which included Buddhadev Bhattacharya and Shakti Chattopadhyay, started a Bengali poetry magazine Krittibas. Later he wrote for many different publications of Ananda Bazar Patrika, not only poems, also novels. Dipak Majumdar and Ananda Bagchi were compatriots in this venture of Krittibas, but it was not before long that Sunil Gangopadhyay had to start rowing this small boat himself. The once upon a time small boat has now taken the shape of a huge liner, a platform shared by the veteran and young poets alike. Fifty years is actually a long time. It's quite natural that Krittibas' journey in these fifty years would not have been smooth. Breaking pace intermittently, it nevertheless has trudged on.

When Sunil Gangopadhyay went abroad on a study tour, Sarat Kumar Mukhopadhyay and Belal Choudhury took up the reins. Later Samarendra Sengupta was editor for some time. Some researchers have a misconception, floated obviously by certain pro-establishment academicians, that Krittibas magazine was associated with the Hungryalist (Hungry Generation ) movement. Krittibas was never a part of the movement. In 1966 Krittibas editor Sunil Gangopadhyay in his editorial made it clear that they are against the Hungryalist Movement and that they do not believe in the movement at all. Krittibas poets Sunil Gangopadhyay, Sharat Kumar Mukhopadhyay, Samarendra Sengupta, Tarapada Ray etc etc were always against the movement.

Authors who refused to support Hungryalists during the Trial: Shankha Ghosh, Pabitra Sarkar, Debesh Roy, Amitava Dasgupta, Alokeranjan Dasgupta, Shantosh Kumar Ghosh, Abu Sayyed Ayyub, Saroj Mukhopadhyay etc. So today if Sunil Ganguly is projected as a Leftist, then it is to some extent an exaggeration of truth which is not vital. Towards the end of the Left regime in West Bengal, Sunil Gangopadhyay came a little close to Buddhadeb Bhattacharya, the then Chief Minister of Bengal and he on a few occasions supported some of the welfare activities of the Left Front government. He was never a communist. On the contrary, he was long associated with Ananda Bazar Patrika which was at that time denounced by the Leftists and pro-communist writers as a 'bazari patrika' (commercial paper). His Nikhilesh and Neera series of poems have been extremely popular. Some of which have been translated as For You, Neera and Murmur in the Woods. Among his pen-names are: Nil Lohit, Sanatan Pathak, and Nil Upadhyay.
Since 1974, Sunil has written in many other genres including travelogues, children's fiction, short stories, features, and essays. His historical fiction Sei Somoy. Aruna Chakravorty translated the book as Those Days. Sei Somoy continues to be a best seller more than two decade after its first publication. The same is true for Prathama Alo. Aruna Chakravorty translated the novel recently as First Light, another best selling historical fiction and Purbo-Paschim, a raw depiction of the partition and its aftermath seen through the eyes of three generations of Bengalis in West Bengal, Bangladesh and elsewhere.

Sunil created the Bengali fictional character Kakababu and wrote a series of novels on this character which became legendary in Indian children's literature. In 1982 he received Sahitya Akademi award in 1985 for his novel Those Days (Sey Samaya). He became friends with the beat poet Allen Ginsberg while he was travelling in India. Ginsberg mentioned Sunil most notedly in his poem 'September on Jessore Road'. Gangopadhyay in return mentioned Ginsberg in some of his prose work.

After serving five years as the Vice President, he was elected the President of the Sahitya Akademi on February 20, 2008. In Bengal also he was associated with the Sishu Sahitya Akademi during the Left Front regime and was removed from his post of Chairman during the Trinamool regime. There was much controversy why Mamata Banerjee did not go to his residence after his death although she paid homage to him on facebook: " His contributions towards Bengali literature was well recognised. With his death, Bengal has lost a renowned literary personality."

Sunil is an author of well over 200 books, Sunil is a prolific writer who has excelled in different genres but declares poetry to be his "first love". He is also the winner of the Bankim Puraskar (1982), and the Ananda Puraskar twice, in 1972 and 1989. He received the Indian Sahitya Akademi award in 1985.
As in poetry, Sunil is known for his unique style in prose. His first novel was Atmaprakashand it was also the first writing from a new comer in literature published in the prestigious magazine - Desh (1965). Sunil Gangopadhyay has written over 35 novels of this popular series, most of which appeared in Anandamela magazine. Though he has written all types of children's fiction, one character created by him that stands out above the rest, is Kakababu, the crippled adventurist, accompanied by his young adult nephew Santu, and his friend Jojo. The central character of Atmaprakash is a young man of core-calcutta - Sunil, who leads a bohemian life-style.

Starting his career as a rebellious young poet of the 'Krittibaas' group, he had moved seamlessly on to prose, producing a clutch of fine short stories. The novel Atmaprakash had inspiration from 'On the road' by Jack Kerouac, the beat generation writer. It won critical accolade, but its aggressive style faced the tag of 'obscenity'. Sunil himself confessed later that he was afraid of this novel and went away from Calcutta for a few days. The leftist intellectuals took a high hand on it. Satyajit Ray thought to make a film on it but it wasn't possible for many reasons.

Sunil's great contribution was to the little magazines. Even when he was at the acme of his success as a poet and novelist, he used to send his unpublished poems or stories for little and almost anonymous magazines without any hesitation. In his temperament he was not an extremist. Shakespeare could easily write a few lines of his sonnets for him also : "Shall I compare thee to a summer's day?/ Thou art more lovely and temperate". He was temperate. So his popularity was so much in Bengal.

In his death the communists and non-communists all came to pay their homage to him at Rabindra Sadan. Mamata Banerjee and Buddhadev were found together offering their homage to him. This is how a creative writer can transcend all barriers of party politics and ideological differences. Chief minister Mamata Banerjee, cabinet colleagues and mourners walked the five kilometres from Rabindra Sadan, the state auditorium, to the cremation ground in south Kolkata. Subrata Mukherjee, WBPCC president Pradeep Bhattacharya, former chief minister Buddhadeb Bhattacherjee, Left Front chairman Biman Bose and Leader of the Opposition Surayakanta Mishra laid wreaths on the body. Film-makers Mrinal Sen, Aparna Sen, poet Sankha Ghosh, writers Sirshendu Mukhopadhyay and Mani Shankar Mukhopadhyay, popularly known as 'Shankar', were also present.

Sunil was a prolific writer and film makers like Satyajit Ray made two films Pratidwandi and Aranyer Din Ratri based on the works of Ganguly. One of Sunil Gangopadhyay's very well known poems, 'Smritir Shohor' has been used as a theme song for the film Iti Mrinalini (2011) which was directed by Aparna Sen. Three of his 'Kakababu' series novels have been adapted into big screen— Sabuj Dwiper Raja (1979) was directed by Tapan Sinha. Kakababu Here Gelen? (Kakababu was Defeated?) was directed by Pinaki Chaudhuri in 1996. Ek Tukro Chand (One Piecemeal of Moon) was directed by Pinaki Caudhuri in 2003. Another film on the novel Mishor Rahashya which is scheduled to be released in 2013 will be directed by Srijit Mukherji.

With Sunil's death a generation that started with Shakti Chattopadhyay and Samaresh Basu has come to an end. All these three wove magic with their pen.Growing up in the 1970s-1980s, it was impossible not to engage with the endless variety of Sunil Gangopadhyay's literary output. Sunil in one of his famous poems wrote " No one was true to his promise" (Keo Katha Rakheni). He too could not keep his promise. He promised to write on the legends and myths of Bengali rural life. But he could not keep his promise to write on Vivekananda and Bengali Renaissance as death's icy hand snatched his precious life.