Life... Love... Kumbh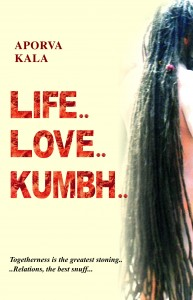 Life... Love ... Kumbh.. is not one of those books that can be read in one sitting. I had a tough time getting through this book. Life...Love...Kumbh reminded me a lot of about Vedanta and Purana. The fact more or less of the Indian Literary world is this: Authors are receiving back to their legendary roots and churning out the so-called, "chartbuster of the year". The book is an ode to literature, the date 13th January is the death day of James Joyce. The references are more to do with Greek mythology and Literature. All the names are a reference to stories of literature. Like the name of the cat Mishti is a story of Guy De Mupassant and so on. Similarly, the references on western philosophy and religion are also a plenty.

Going by the title, one can easily predict, the content of the book. The book is but obviously centered on Life, Love and Kumbh . Kumbh Mela festival is religiously most significant for the Hindus. At every Kumbh time, millions of Hindus take part in the merriment. The Author has successfully described the unity of the contents Life, Love and Kumbh . Kumbh Mela is the major absorption of religious congregation in the world. It's held once in 12 years this festival is a must visit during a trip to India.

The story has the typical Bond stroke – the description of Love Life and Kumbh with usual simple characters and a touch of idiosyncrasy, which is why I love reading what he writes. They take your mind to a dissimilar type of feelings– a tranquility when life becomes simpler and one did not have to think so much and but of course the credit goes to the way the book is written. Everyone seems to be at it, and it does not end at one book.

The book takes you to its story through its three main characters Annant Bharadwaj and Agastaya Vashisth and Aditi. The two protagonists Annant Bharadwaj and Agastaya Vashisth, who go to their separate businesses, in the holy town of Haridwar.

Next day Anant and his cousin Sameer Bhargava, a medical intern who brings in Jorden, a Jew from London who go through their morning rite where they talked about literature, philosophy and the death of Nina who was Annant's disciple and for whom he laments. They decided that they will take the morning dip in the Holy River, but search for an isolated beach where they can bath in nude. They bath naked; certain of their privacy; but two washerwomen observe them.

Annant feels shame and leaves the river bank at once and his two companions in his grieving. He arrives at the famous Birla College, where he lectures Philosophy subject on an ad hoc basis. After the bath Sameer and Jorden go to Annapurna café for breakfast. They are discussing Annant's information and his chances of becoming a writer of repute. Annant had decided to be a writer though he was very confused before writing; he didn't know how to write and finally managed to pen this one as a bespectacled man.

Meanwhile, Agastaya Vashist, a clerk in the district administration office, wakes up and goes for a walk. His wife Aditi is preparing to receive Agastaya's Uncle and Aunt, who are coming for the Kumbh bath. Author has described some beautiful area of Haridwar :

Let us visit the Tapovan; upstream, where thr Rishis meditated; the name of the town comes from them - the Hairs of the Rishis-RishiKesh. (pg. 126.)

Agastaya attends a meeting of the Kumbh Authority on the smooth conduct of the Fair. Aditi requests him to attend the Satsang of Ekaba, Aditi sits in the pandal of the Siddeshwari Akhara and listens to the satsang. She reflects on her life and the role of Annant and Agastaya in it .She had married Agastaya and now she is feeling subdued under the force of adjustments, familial responsibilities and poverty in her life. She thinks of Ekaba's offer to join his Akhara and her elevation as the head of the Siddeshwari Akhara. She discerns that Ekaba is dying but needs that he holds on till she organizes her vocation in arts. She is thrilled about leaving Haridwar after the bath to follow her dreams. She is very thankful to his husband Agastaya because he had given a lot of support to her. Ekaba dies on completing his final lecture leaving Aditi to prefer for her and chose her path in life.

I feel that the names of the chapters like 'Trio, Morning Snaps,' 'Poke,' 'Annant,' 'Annapurna,' 'Agartaya,'Fair' 'Wander,''Karm'', 'Drag', "Swing", 'Confluence", "Aditi", "Gatha", etc. reveal the Hindu mythologies, this is the only time and place in the world where anyone can disburden his sins and attain 'Nirvana' from the ferocious rotation of birth and re birth. Author here tell us through his novel
'How did the Kumbh Fair came into existences?

" A few drops fell during the skirmishes between the Gods and demons, in four places- Haridwar being one of them and therein lays the importance of taking a dip in the holy river Ganga where the drops fell.One who baths gains immortality".(pg.290).

After this Ekaba stood still in his Padmaasana,without the prana; the breath. The narration was so attractive that one can read till to the last end to find the culmination. Aporva kala has summed up the novel with Jai Ghose of Ganga:

"Jai Maa Ganga…Jai Shiv Shankar..Jai Vishnu..Jai Ekaba"

The plot did seem a little ordinary when I started it, but the minute it picked pace and everything fell in place, it was. Kumbh fair. The entire book is a mystery to be solved. Lastly it is a celebration of Indian civilization and the modernization of our country.

The characters are well developed and like I said, they make perfect sense at the end and the reasons why they are there in the book. His novel exposes our destiny in this life which is generally determined by our karma and dharma. Karma is the action of life and all of the lessons to be learned. The writing is hard at times and at others, I thought it was a heave. Having said that, the book is fairly delightful and the mythology angle to it is excellently done. The language is oriental English in nature and many words are invented in Joycian pattern. It's a very good book because it delineates the importance of Kumbh Mela.

We know that in 2013 Maha Kumbh Mela in Allahabad, in Uttar Pradesh, will be the next Kumbh Mela in India. It will take place from two months January to February, 2013. It's a particularly holy event, as it's held only once every 12 years. According to Hindu mythology Take dips in the holy Ganges that is said to wash away all the sins of a person. Light a Diya and make a wish, they do come true. Above all the book harps on that humanity is the supreme aim of any civilization and that creation is necessary for growth and evolution. In a way the book is a frank attempt at understanding women, as a mother, a daughter and a lover. Aditi was the mother of all gods. It encompasses all, philosophy, yoga, literature and the need to grow. This book is a first by an Indian author picking up these subjects. Above all it is a simple love story about three symbolic characters.

Complete credit goes to the hard work of the novelist, who has engaged so much pain to write such a masterwork for the lover of English literature. This is a good book and I would certainly recommend this to everyone who loves Hindu Mythology. And also a must read for true Hindu.
Book Review: Life..Love..kumbh
Author: Aporva Kala
Publisher: Srishti Publishers& Distributors ISBN: 978-9380349503 Pages: 290
30-Oct-2012
More by : Dr. Anshu Pandey
---
---
A WONDERFUL BOOK, FULL OF INSIGHTS AND REAL LIFE EXPERIENCES.
A LOVE STORY TO FALL IN LOVE WITH!!
A MUST READ.
DR PANDEY GIVES US A GOOD REVIEW...
---
WONDERFUL REVIEW OF A WONDERFUL BOOK!! GO FOR IT TO LOVE, LEARN AND LIVE..
A MUST READ..
---
| | | |
| --- | --- | --- |
| | Its very good book review.. Congratulations..ma'am. | |
---
| | | |
| --- | --- | --- |
| | a good review of a great book. all should read it for the sheer joys of writing, english language, philosophy and the power of love..GO FOR IT.. | |
---
| | | |
| --- | --- | --- |
| | Great Review. A Must read for sure. | |
---
a very incisive review by Dr Pandy, indeed the book in mention, life..love..kumbh...is a unique one and reformulates the indian writing in english, raising the bar for the so called popular writers in english..
A MUST READ...
---