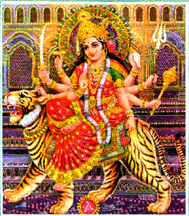 Purpose

The purpose of the Chandi Homam is to remove any obstacles or blocks in growth - both internally and externally - for a person or a group of people.
Visualization

Visualize the goddess Durga riding on a tiger and you sitting in her lap. As she moves forward she is removing all obstacles in the path without you even realizing it. You are her child in a state of bliss bestowed by her proximity and ever-present smile.
Mantra

The mantra for Chandi Devi is called Navakshari or the one with nine-syllables.
The mantra is Aim Hrim Klim Chamundaye Vichhe
Why Homam?

Homam or fire sacrifice is an auspicious way of accessing the divinity within us and manifesting it externally. Fire, unlike earth (solid) and water (liquid), is the first element that is able to make an upward transition, defying as it were, gravity (representing our limitations and attachments). It is this elevating property of the fire a manifestation of grace and compassion of the goddess - that allows the divine purpose of our lives to find expression and be manifest here and now.
Why in a Group?

While the homam can be performed alone or in a group, the latter is preferable. Why? Because there is focus, power, grace and beauty to doing this activity in a group. If you think about it - we are like birds who migrate in groups - in this case we are returning to our home and what better way than all of us going together!
Ritual

The core of the homam ceremony involves a recitation of the Durga Saptashati or 700 verses in praise of the goddess Durga. With the recitation of each verse, offerings are made in the sacrificial fire invoking the goddess. The Durga Saptasati is 13-chapter narration from Markandeya Purana attributed to the rishi Markandeya. In a workbook-like, fascinating, allegoric way the verses demonstrate how the Goddess Chandi vanquishes and anihilates the two demons Shumbha (or Pride) and Nishumbha (or Shame), slaying the negativities of Indulgence and Denial, restoring the equilibrium necessary for perfection.
Why Secret?

The words Para-Para-Ati Rahasya (or extremely secret!) are often used along with any worship of Devi or the goddess. The words are often misinterpreted to mean that it should be not made accessible to the common people. However, the true meaning of Rahasya in these rituals is that a major part of the ritual or ceremony is internal. The external ceremony is often coupled with internal visualizations garnering our infinite resources within, making the ritual both powerful and meaningful. The true purpose of the Chandi Homam therefore is to provide a blueprint for balancing our Passion and Dispassion, Indulgence and Denial, manifesting our true divine Self that unites Selfishness and Selflessness.