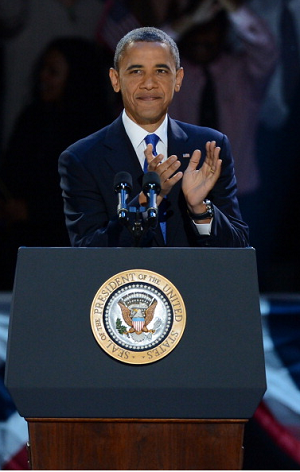 Obama stopped the war in Iraq, set the stage to pull out of Afghanistan, killed America's arch enemy Osama bin Laden, and enacted a public health care system and equal pay for women. 'Give me four more years to finish the job' he appealed during the election campaign and the Americans responded by favoring the status quo to be maintained. Obama notched up a comfortable victory. It does not mean that there will be a revolutionary change in American policies. On the other hand by re-electing Obama, the Americans gave the message to the world that they are with Obama who himself vows to lead Americans into a more liberal future.

Obama got the second chance to right the struggling economy and cement his social programs, including public health care. Romney continued to campaign up to the last minute with unscheduled stops in Pennsylvania and Ohio. But to his surprise Romney saw that Ohio and Pennsylvania, the industrial heartland of America had rallied to Obama's side. Romney headquarters in Boston could not really believe it that Ohio was declared Democrat. After the Sandy devastation in New York, Obama urged Republicans and Democrats to work together to improve the economy and fix the deficit. Obama also took Iowa. In Iowa, Obama first announced his candidacy for president in 2006 and promised Americans a kinder, more liberal country – a new America. Iowa again reposed faith in him.

Obama overtook Romney in the battleground of Virginia, New Hampshire, Colorado and Wisconsin - the home state of Republican vice-presidential candidate Paul Ryan. Obama took all of the New England states plus New Jersey and New York and held comfortable leads in his home state of Illinois and in Michigan. In the West, he won the Electoral College prize of California with its 55 votes.
Obama will find ways to increase trade and investment flowing between countries. His main battle in recent months has been not so much with Romney but with the more than eight per cent unemployment rate. People have started believing that Obama has failed to make America a more egalitarian state. At last he is able to convince the Americans that he can try again. America has slowly emerged from the 2008 economic collapse; most of the wealth has again trickled up to the one-percent, abandoning middle class Americans in their struggle to stay afloat.

Romney's promise to lower taxes for the rich did not yield much dividend. The Republican Party has been unsuccessful to keep up with the changing demographics of America. The growth of the Hispanic community in Florida, Colorado and New Mexico has favored the Democrats as much as 73 per cent. The rise of the black and Latino communities are as solid Democratic voting blocs together with the majority of women who lean Democrat.

Romney opposed environment regulations and his promise to "get rid of" public health care and parental care did not get much positive response. The new Affordable Care Act (ObamaCare), promised by Obama may strengthen economic stimulus programs and the government's involvement in education and retraining of American workers. The abortion issue also played a prominent role in this election. Romney's policy of ending freedom of choice in all abortion cases including rape further defined the huge ideological gap dividing the two sides and the growing opposition of women to his party.