The environmental field has experienced a major transition in the past 20 years. Climatic changes are actually happening and Earth is heating up, the glaciers melting and water is being consumed by the growing population. The changing climate leads to changes in the frequency and timing of extreme weather and climate events, and can result in unprecedented extreme weather and climate events.

Geographically, Pakistan lies between 24o and 37o N latitude and 61o and 75o E longitude. With the scarcity of water, there is less food to grow and South Asia is the most vulnerable region of the world as its population is growing far too quickly and the glaciers in the Himalayas depleting very fast. There are two sources of rainfall in Pakistan: the Monsoon and the Western Depression. The former takes place from July to September and the latter from December to March. For Pakistan, the bad news is that the River Indus is 30 to 40 per cent dependent on the Himalayan glaciers.
Climate change affects the social and environmental determinants of health, clean air, safe drinking water, sufficient food and secure shelter. Climate of Pakistan varies with altitude, which in turn affects the type of vegetation. It has some of the world's highest cold areas that occur above 5,175 meters in the Himalayas and the hottest low areas in the Indus Plains with many intermediate ecological zones. Flooding after effects further causing salinity in many areas that causing shortage of food; salinity affects some 60 percent of coastal farming lands, the United Nations estimates. In recent decades, rising sea levels in the have encroached on vast tracts of low-lying arable lands, making them too salty for some rice varieties to grow and diminishing crop yields.
The increase in population is the main problem that has led to increasing number of disasters. A natural hazard such as a storm or a heat wave becomes a natural disaster depends not only on the intensity of the event, but also on the degree of physical and human devastation.
In Pakistan It is estimated that 24% of the global disease burden and 23% of all deaths can be attributed to environmental factors. About 36% of this burden affects children from 0 to 14 years of age. A lack of safe water can compromise hygiene and increase the risk of diarrheal disease, which kills 2.2 million people every year. According to latest WHO survey Almost half of the population in Pakistan, especially in rural areas has no access to safe drinking water while 22 percent households do not have any toilet facility.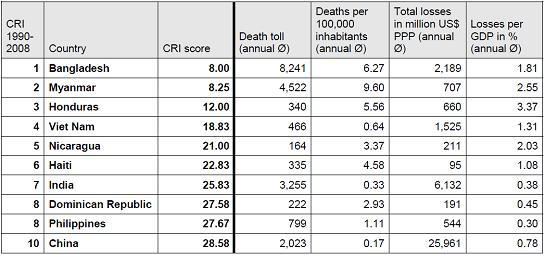 The index, compiled by a European NGO called German watch, is an annually-published pointer of which countries are most in need of shoring up defenses against floods storms, drought and heat wave, which UN climate scientists say will worsen this century. It factors in the cost of the event in terms of human lives and absolute losses in dollar terms, but also the relative cost according to the country's level of prosperity.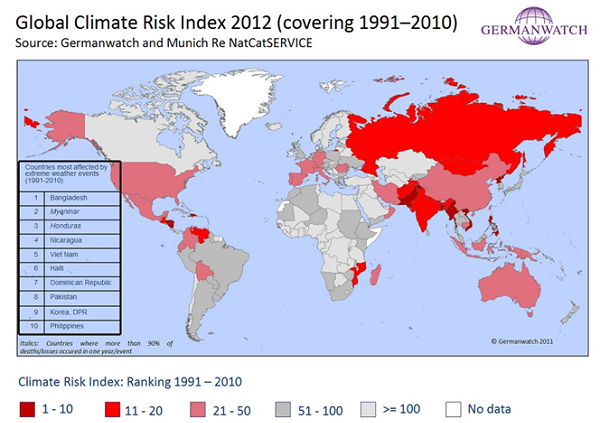 The most recent available data from 2010 as well as for the period 1991-2010 were taken into account by this NGO. Most affected countries in 2010 were Pakistan, Guatemala, Colombia and Russia. Across the world, more than 710,000 people died from 1991 to 2010 from 14,000 extreme weather events, incurring economic losses in today's terms of more than 2.3 trillion dollars, it said. But Pakistan in 2010 was hit by the worst floods in its history, with 84 out of 121 districts affected, German watch said. But in 2012 situation improved much better as no more loss as have been observed in 2010.

Climatic changes also a big cause of disease spread. Better planning reduces the chances of severe catastrophe. The increase in population is the main problem that has led to increasing number of disasters. The German watch report will assist Pakistan in making the case demanding urgency of response both locally as well as in Durban during the climate talks.

After such climatic issues Pakistan was also suffering by major epidemic dengue. The bad news is that in Pakistan, the number of confirmed and suspected cases of dengue has risen with extraordinary speed. This is a disease that can take advantage of any weakness in the health infrastructure. Pakistan is trying to tackle this menace sensibly by initiating civil awareness campaign aimed at ridding households, streets, and bazaars of stagnant water. It is right approach to vector control. Such spirit is needed for the control of climatic factors that cause further flooding and forest firing etc.