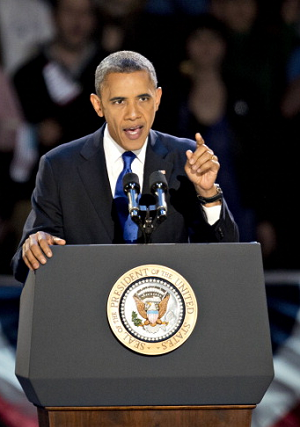 President Barak Obama has won his second term as the President of the Unites States of America. It is a historic victory. It has confirmed that America 's triumph against racism was not a flash in the pan. The victory in no small measure was due to the demographic change in the US. The vote share of ethnic minorities in America has become significant.

In his first term President Obama was doubtless as all US Presidents before him subject to the pulls and pressures of the corporate interests that dominate the US economy. In his second term he is freed from all such constraints. He can act in the pursuance of his goals unfettered by calculations about his political future. How might he use his opportunity?
A future world government is often visualized. A world government would require a world capital. Why not America?
The world is in a critical stage of evolution towards a new global order. A new world order is unstoppable if mankind is to survive. Technology has ordained that. The question is how might that new order be shaped to ensure peace, justice and stability. The European Union could be the harbinger of global federalism. The four years given to President Obama to govern the world's most powerful nation is not a long time. But it is sufficient for him to lay the foundation of such a world order. To create that foundation it would be necessary first of all for him to recognize the ground reality of America in order to determine its role in the world. Before he was elected for his first term as US President I described in these columns what I thought the US signified.
In June 2008 I wrote:
"For the first time, US intervention in world affairs is being balanced by global participation in US affairs. True, up to now global participation in the Obama phenomenon is limited to mere audience participation. But it is a start. Eventually, if globalization proceeds without a major hiccup, it could transform the US.

How?

As this scribe has repeatedly argued earlier, America is not a conventional nation-state. It is a bizarre experiment that succeeded. America is a land of migrants who were fleeing repression or seeking economic gain. Almost all Americans have dual loyalties to America and to their country of origin. This denotes not weakness but strength, if exploited wisely. It can help change America from being the most powerful nation to becoming the world's capital: it can make America to the world what New Delhi is to India. America can rule the world only if the world feels it owns America. Before that, the world has a long way to go. Obama's nomination could be the first half step."
Now after President Obama's victory a full step has been taken. As an ethnic melting pot America also houses the United Nations and the World Trade Organization. It is the natural world capital in which all major global conflicts might be resolved. At present America is controversially interventionist. It is militarily overactive. It is narrow-minded and partisan in the UN. All this will have to change. For it to fulfill its role as a genuine world capital America will have to act only through sanction of the UN and only after a majority of the world's nations endorse its decisions.
Americans will have to change their mindsets and recognize that the world might intervene as much in the affairs of the US as Washington might in the affairs of the nations abroad. If this comes to pass there might even come a time when through some device different continents exercise proportional votes in the US Presidential election. A future world government is often visualized. A world government would require a world capital. Why not America?
Need one point out the natural affinity that should exist between the world's most powerful democracy and the world's most populous democracy? America became multiracial in two centuries while India became multiracial and multi-religious in a history extending over 5000 years. This natural bridge between the developed and the developing world can play a pivotal role in evolving a new world order that is just, equitable and inclusive of all nations. Does all this sound too utopian? Surely the dramatic advances in technology should allow us to think big!