Leema Dhar's "Mom and I Love a Terrorist"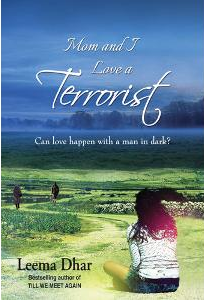 Mom and I Love a Terrorist is Leema Dhar's second fictional work which is full of love, thrill yet has a touch of romance in it. Her debut fiction, 'Till We Meet Again' is a National Bestseller. Once again Leema Dhar has touched upon the lives of those who are never noticed, never cared for. And now her pen cuts a deep wound in the minds of readers, forcing them to sit up and distinguish the crucial from the inessential. The story of the novel is very simple and it can be said that it is written in simple form. Kelly is a young girl and lives with her mother in Andaman Island.

Amaan, the boat maker on the sea, is a superman for her. She is very happy in her life and has no tension about her life. But her life turned in to a very harsh one when a black man came in her home and lives with her mother like a family member, he shares her mother's bedroom. She did not know about him but she was too eager to know who is he? And why he came in her house? These are very difficult questions for her to solve. After sometimes she finds a diary that reveals a secret past about her mother's life.

She asked to her mother about him but did not get any answer. Amaan helped her too much to find out the reality, and finally she met to her father (black man).

We can feel the thrill (and terror) of the heroine's journeying in a new world, of her discovery of her mother's shocking deception, and finally of her catharsis in learning to let decision develop into sympathy and a return to the person and place that almost destroyed her family. Each child is brought up by parents. His first experience with the parent becomes very decisive, because he is protected, comforted, consoled. Leema Dhar has described the love and emotion of a daughter to her father:

I didn't know who my father was. I've never seen his photograph. I didn't even know his name because mom never used his name after hers. I didn't know where he lived. I just had a single letter that verified his presence, somewhere around Me.pg.161.

The old diary explains that she has been keeping secrets from her, and that she must return to the place to resolve some things that happened there with her mother. Kelly is introduced to a whole new life which is much different than the life she leads in Andaman. The ending is indistinct but anticipated that way so maybe readers can draw their own conclusions. It does not spoon-feed the reader which is stimulating. I loved portions of the book when Kelly decides to meet her father, thinking of her mother, since she doesn't know the result:

I promise you, we won't go back today without seeing him. I promise you, mom," keeping an arm on her shoulder, I gave a faint smile.pg.174.

It can be identified that the author likes the atmosphere and beauty of Andaman very much because the way she has presented the scene of Island is marvellous:

Andaman has a low population density. Its calm and serene atmosphere makes it all the more beautiful at night. Everything starting from the cold waves thrashing the shore, the lights that blink at a distance, the small light that wanderes from the light house showing path to the marine navigators, I have started loving all of it.pg85.

What I liked about the book is that it doesn't force anything on the reader. Leema says what she has to through the book and leaves it at the readers. My favourite character in the entire book has to be Kelly – the quiet, sympathetic. Kelly is bold, independent and yet sometimes quite not sure of her conclusion, which I liked, as it made her only more human.

All in all Leema creates the story on the topic of terrorism that could be true and that frighten me also. Author gives it all to you in one book – mystery, thriller, Love, Emotions, nightmare and above all an interesting story. A lot of writers have written about Love, emotions, college life but the topic terrorism which makes this book so different to other writers. I will recommend this novel to everyone.
Book: Mom and I Love a Terrorist: Can Happen with a Man in Dark
Author: Leema Dhar
Publisher: General Press New Delhi. ISBN: 9789380914282 Pages: 192
Price: - Rs 125
09-Nov-2012
More by : Dr. Anshu Pandey
---
---
Looks like a lovely book, I think its gonna make a great read.
Thanks for sharing the review.
I am your reader friend.

http://manjulikapramod.wordpress.com/
---