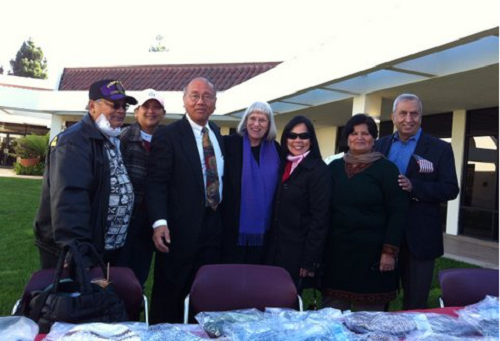 Veterans Day is an official United States holiday honoring armed service veterans. It is afederal holiday that is observed on November 11th. It coincides with other holidays such as Armistice Day or Remembrance Day, which are celebrated in other parts of the world and also mark the anniversary of the signing of the Armistice that ended World War I. (Major hostilities of World War I were formally ended at the 11th hour of the 11th day of the 11th month of 1918 with the German signing of the Armistice.)

Veterans Day is not to be confused with Memorial Day; Veterans Day celebrates the service of all U.S. military veterans, while Memorial Day is a day of remembering the men and women who died while serving.

My wife Anupama donated 100 self made woolen Hats to the War Veterans,one of whom is seen with bandage on his chin with the Mayor of the Milpitas City, California. USA honors its Veterans from the five services viz Army, Air Force, Navy, Coast Gaurds and Marine Services. The Veterans are from various wars since World War I and includes conflicts of WW 2, Korean War, Viet Nam and Iraq.

There may be difference of opinions over these Conflicts but men in arms have made supreme sacrifice for which they should not be forgotten. As it is rightly inscribed on the War Cemetry in Kohima (Nagaland India) "When you go Home, Tell them of Us, For your tomorrow, They gave their Today."