Aniruddha Raha's Twin Time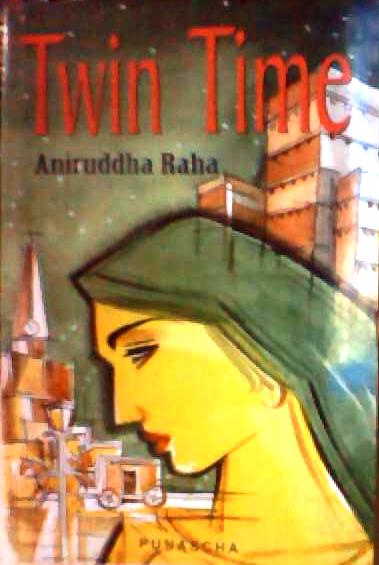 Twin Time, a third novel by Aniruddha Raha, tries to capture the twin times in India—the present times and the turbulent times during the World War II.

As the blurb on the cover goes, "Twin Time—tells the saga of love in two different times—contemporary Kolkata and Calcutta in 1930s.

The love story, dared to venture to critical psychoanalysis of intricate human minds that ultimately leads to a dramatic bend." It is a convoluted story of Mrinalini, Madhuri and Sandra that "wanders" as the cover says "in the misty shroud of mysterious conundrums. Sandra, a recluse somnambulist, hunts for her missing ancestral linkage. The devout love of Mrinalini kept her waiting for her man, confined in Germany during World War II. Madhuri, the poignant loner, roams in her dream love. Living in their own worlds, the lonely hearts get entwined in relations undefined. The lonesome minds, obscure and murky, craft the story that ultimately explores love, undying, and the colossal waves of passion regenerate the eternal melancholy tune. The drama of the past and the thespian present were destined to meet under the mysterious veil of a starry night and the mute Twin Time remains an onlooker of the surge of the passionate hearts."

Twin Time, as a novel, is a good attempt at creative writing in English. The language, however, grammatically and lexically flawed, is full of generalized and clichéd adjectives that finally renders the narrative monotonous. One of the most glaring deficiencies of the novel is the author's choice of some words like 'thespian' as an adjective to 'present' and phrases, especially the strange phrases like 'she could appreciate his curious goggling' (between two strangers) (p.8) or 'slithering like a swan' (about a girl in a party) (p.42) or 'showed no intension to get relieved' (about two lovers in an embrace) (p.63)

These words/phrases do not collocate with their contexts and as such distort the meanings as well. The narrative seems a little flat with too many characters that remain perpetually in the sidelines, yet always overcrowd.

Curiously, most of the characters do not develop— even the main characters are very sketchily portrayed. The theme is a hackneyed old one, triangular love, with a strange and complicated, indeed improbable, melodramatic ending.

TWIN TIME, a novel by Aniruddha Raha,
Punascha Publishers, Kolkata, January, 2012
Pp. 272, Paperback, Price-INR 295.
ISBN-978-81-7332-656-1.
17-Nov-2012
More by : Dr. Sutapa Chaudhuri
---
---
"Great spirits have always encountered violent opposition from mediocre minds."
- Albert Einstein
This is true forever ....... is not it .......
---