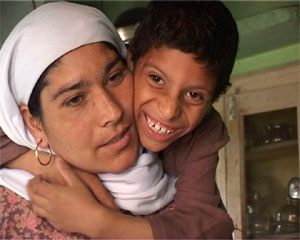 In my first meeting with Shafika, I was captivated by her large brown eyes. Shafika, in her early 20s, lives in a shanty on the banks of a dirty canal in Kashmir. Shafika is a 'half-widow' - her husband is missing, and she is not sure whether he is dead or alive.

Half-widows are a harsh reality in Kashmir today. Their men have been missing for years, probably kidnapped and later killed by the terrorists; or killed by security forces in an encounter. But as their bodies are not found, they are not declared dead.

I met Shafika while filming 'Waiting...' a documentary based on the lives of half-widows and their children. We started filming in 2003.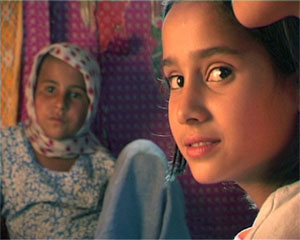 According to media reports, violence in Jammu and Kashmir has resulted in thousands of women becoming widows. Some of these women - over a 1,000 - are half-widows. These women are not allowed to remarry as the Muslim religious leaders are divided over the remarriage issue. While some leaders claim that a woman whose husband is missing for four years can remarry, others say she has to wait for over 50 years. As they are not entitled to government compensation (usually given in case a person dies in terrorist violence or cross-firing), the half-widows struggle to earn a living on their own.

The first time I saw a half-widow was in July 2003, when a young Kashmiri journalist and her researcher friend came to me with some footage on the women who led such fractured lives. Looking at those images, I noticed the strength and resolve of these women. Something within me moved and I thought of making a film on them.

It was clear that such a film could not be sponsored by any government agency or funding organization. There would be too many perspectives to accommodate. For our research, we tapped the Association of Parents of Disappeared Persons (APDP), the Rajiv Gandhi Foundation, some historians, academics, human rights activists and accessed information from print and electronic media.

Shafika's relationships with her own family and friends had broken down during her persistent search for her missing husband. Her in-laws abandoned her and her three children soon after her husband disappeared. Unable to cope with the trauma, Shafika landed in the over-crowded ward of the Government Psychiatry Hospital, Srinagar.

Initially, she was suspicious of me and my team - which included two camerapersons, a reporter and a researcher - but once she was convinced that we meant no harm, she shared her world with us. Shafika came across as a warm-hearted woman who needed a friend, someone who she could talk to without being judged all the time. It has been a struggle for women like her to survive. She works part-time as a peon in a media office, and washes clothes and utensils in some homes.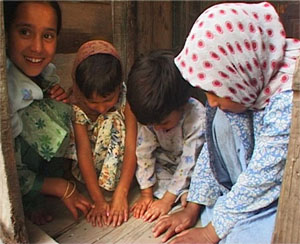 Her daughter, Rukaiya, just eight years old, appeared wise for her age when I met her for the first time in 2003. She seemed capable of looking after the small hovel that was their house. I wondered how she had adjusted to the disappearance of her father; how she reconciled to living in a slum after living in a lovely house; how she felt about not having any relatives. She was playful, but did not have time for friends as housework kept her busy. But Shafika had to send Rukaiya away to an orphanage as she wasn't sure how safe her daughter would be while she is away at work.

When I again met Rukaiya in an orphanage run by Yateem Trust on the outskirts of Srinagar, she looked and behaved like an angel. She sang songs and kept emphasising that she was happy. She said the trust members and teachers very nice, and she needed to study hard. Yet, when I was leaving, she softly told me to tell her mother to take her home during Id.

For our film, we met about a dozen half-widows and their children. The most striking thing about most has been that they all have hope, that one day their husband/father will come back. Also, all the women appear equally skeptical about the army and the terrorists.

In 2003, when I visited Kashmir to shoot the film, it was after a gap of 20 years. I had childhood memories of green pastures, majestic mountains, a myriad of rivers, streams and lakes. And of course, kind-hearted, helpful and ever-smiling people. I remembered being lost as a small child in Srinagar during a storm and being rescued by a tall, bearded person. He took me to his lovely warm house, where his smiling wife gave me hot kehva, Kashmiri tea.

Since 2003, we have shot four times in Kashmir. On the highway, between Jammu and Srinagar, the picturesque road is pockmarked every 100 yards by pickets of grim-faced army men carrying machine-guns. Our jeep has been stopped often, we are thoroughly searched and our bags emptied. When we reach Srinagar, the omnipresence of bunkers is striking. People are helpful but do not smile. And as the sun goes down, the streets are empty except for the security patrols.

Often we were threatened and pushed around by the military; faced hostile crowds and individuals suspicious of us. But once we gained the trust of the people, a whole new world opened to us. People wanted to talk, on camera, about their problems, about the hidden truths of Kashmir. Some talked about the politics, while others shared the violations committed by the army.

It is clear that everybody had been affected by the violence surrounding them. Someone had lost a family member in a bomb attack or police encounter; someone's son or husband was missing; someone has lost a limb or had been sexually assaulted. The insurgency has hurt every home in Jammu and Kashmir.

To most of us, this violence is presented only as cold statistics. So many dead in a blast, so many injured in a terrorist attack. Daily news mostly sees Jammu and Kashmir as statistics, or as politics. How often do we hear about women like Shafika? How often do we read about the large number of children orphaned and the growing number of women-headed households struggling to live a life of dignity. Why does Rukaiya have to be in an orphanage? What are the long term implications of using armed forces within our borders? Our 36 months of filming threw up no answers. Only helped us see Jammu and Kashmir with a different lens.